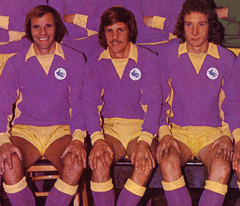 Was that fantastic night when fifty one years of exile from the top flight was ended by that draw with Charlton really just under a year ago? At that time, Cardiff City still had off field issues, but, on the pitch at least, they were going up as Champions of a division they had won at a canter – the two sides that accompanied them into the Premier League (Hull and Crystal Palace) were left trailing in their wake.
The agonies the supporters of the first named side had to go through on the final day of the campaign in a match before their promotion was confirmed against a City team that had been celebrating going up for getting on for a month and the fact that a Palace side that had scraped into the Play Offs after a terrible run of form still had a few more weeks to endure before they got confirmation that they would become a Premier League club only goes to show the in built advantage City had over those two clubs as the summer transfer trading started.
However, it seems everything the hierarchy, both on and off the pitch, at Cardiff City has touched since then has turned to base metal and if you needed any evidence of how much things have declined in twelve months you only need to look at the two "relegation six pointers" we've played at Cardiff City Stadium against those clubs.
Six weeks ago, a Hull side who were ruthless in front of goal on the day, but, just decent in other facets of the game were far too good for a mish mash of poorly selected individuals masquerading as a football team – 4-0 might have flattered them a little, but Hull gave a demonstration as to why it's, correctly, been generally regarded for most of the season that they were good enough to stay up.
That match, along with others against West Ham and Swansea since the turn of the year, encapsulated why it was very likely we were going down, but yesterday's total humiliation by Palace was on a different plane – these four matches were lost by an aggregate of 12-0, but, at least, you could console yourself a little after the first three of them that there was still time for things to be put right. Not after yesterday's capitulation though – forget the fact that there are still fifteen points to play for, we are down now and, in all likelihood, we will be finishing bottom of the league.
Under Tony Pulis, Palace have been predictable but successful – they were not going to change their approach against us and, in that regard, we could plan throughout last week safe in the knowledge that our opponents would come up with little that could catch us on the hop. On the other hand, the Palace boss would have been uncertain as to the personnel and formation his team would be facing.
On the face of it, that last paragraph reads like an advantage to Cardiff going into the match, but you couldn't be more wrong. Pulis' attitude is based on a philosophy which says you know how we play, counter it if you can, whereas Ole Gunnar Solskjær's habit of altering his team and formation every week can only be construed as uncertainty and dithering given the results it's brought.
To an extent, Ole was hamstrung by the fact that yesterday's match was one we just had to win, so he was always going to pick a team which looked more designed to attack than defend, but, like a few others it seems, I must admit I had a sense of foreboding when I heard the side picked for a game where three points were essential.
The selection of Zaha, Dæhli and Mutch in a four man midfield with Campbell featuring in the kind of halfway house role he was used in against Fulham left us looking very open to me. Although Palace beat Chelsea last week, their record against the better sides this season is poor – top half teams can take them on in a football match and be confident that their superior ability will prevail.
However, the reason Palace are, almost certainly, going to stay up is that they have an outstanding record in their matches against bottom half sides (especially under Pulis). Palace don't lose many against teams who also have relegation on their minds and, if they do, then defeat doesn't come about because they were given a lesson in the fine arts of the game – it's because, their opponents stood up to them and ground out the three points.
On the face of it, Ole went into yesterday's match with an attitude that Palace would not be able to cope with the attacking ability of our front five and the defensive side of things would look after itself because our opponents don't score many goals on their travels (only six before yesterday). However, when you look at the attacking personnel our manager chose and the way we've have been defending since he came here. it seems to me that the lightweight side selected was playing straight into Palace's hand – I've no way of knowing this for certain, but I reckon Tony Pulis was very pleased when he heard the Cardiff team.
Although I'd have much preferred us to have faced the second half of the season with Malky Mackay still in charge, my attitude has tended to be that there was no point looking back – he's gone now and we need to move on. Therefore, I've tried to look for positives in Ole's management and, if anything, I have gone against what I was actually thinking at times to give an upbeat assessment on here of the job he was doing.
Sadly though, eight points from fourteen matches is an appalling record in anyone's language and, although I think he should be given his chance in the Championship and so won't be joining in with any "Ole out" shouts at this stage, it's also enough time and games to reasonably conclude that he has come up well short in the challenge of managing a Premier League team in 2013/14.
Selecting Wilfried Zaha and Kenwyne Jones in particular to start looked wrong at the time to me and it looks foolish now with the benefit of hindsight. Zaha reacted to the occasion just like most would have expected him to – i.e. by doing nothing to suggest that his heart was really in trying to keep his temporary club up at the expense of the side where his reputation was founded. He was put in something of an awkward position by requests to do the Ayatollah, but his failure to respond to them still spoke volumes as to his level of commitment to the Cardiff cause – there's also the fact that, even without the Palace connection, he's done little so far to show he is someone who is temperamentally suited for a relegation scrap.
The same applies to targetman Jones – there was one occasion in the first half where he used his power and strength to turn his marker in the penalty area where you saw the player Kenwyne Jones could be, but, for the rest of the time it was the usual "after you Claude" stuff from someone who it seems to me has settled for the comfortable life a career being a squad member of ordinary Premier League sides can provide.
Don't think for one moment that I'm putting the shambles we saw solely down to Ole and a couple of our players. Right from the first whistle, the large majority of our team looked either not good enough, beset by nerves or not interested in proceedings. There were those who fell into one or both of those first two categories, but it was sad to see others join Zaha and Jones in the other one – the least a supporter of a team should expect is for it's members to show some desire, but how many of that starting eleven really cared about what was happening?
For me, the only outfield player who can feel reasonably pleased with his showing yesterday was Mats Dæhli – true, he faded as the game went on, but, shamefully for his older team mates, he was the one who showed a little leadership as he played an important part in the only phase of the match (a quarter of an hour or so from the tenth minute onwards) where we looked like we were competing against opponents who were not mugs. but, more significantly, were far more up for the occasion.
For the biggest challenge of the season when their club needed them more than ever, virtually all of those selected showed themselves to be not up to it and I don't think people will forget the attitude a few of them showed while doing that in a hurry.
In our last relegation season (1999/2000), there was a game with Cambridge United which came to represent that campaign. The visitors were in almost as much trouble as we were, but strolled to a 4-0 win – City were absolutely awful that day and it was a game played at a couple of levels lower than the one we are at now (for a few weeks more anyway), but, in my book, the current team were worse yesterday than that side was fourteen years earlier.
It's possible to get relegated with a degree of dignity – for example, I'd say Yeovil Town and Barnsley are probably doing it in this season's Championship. However, nothing could be further from the truth at Cardiff. Whether you look on the pitch, at the manager, at the "cat that got the cream" Chairman who proclaimed that going down was not an option in the local press on Friday or the owner who slagged off the ex manager in public for the last three months of his time at Cardiff (and still won't let the matter drop) you see complacency in some of them, lack of ability in nearly all of them and an unfailing ability to put his foot in it from one of them – as I always say, if there's a way to cock things up, you can rest assured that Cardiff City will find it and, not only that, they'll do it while displaying an arrogance totally out of keeping with the level of achievement at the club for the last half a century or more.
* picture courtesy of http://www.walesonline.co.uk/