When Michael Chopra buried that chance in added time a fortnight ago to see off Swansea, it was a case of a free scoring side with an occasionally dodgy defence beating a defensively very strong team which lacked a cutting edge, yet in the three matches the sides have played since then, it's almost as if those roles have been reversed! While the jacks have banged in three in each of their two home matches, our last three games have seen us struggle to create clear cut chances (I can't remember many at Forest, there were virtually none against Reading and, based on what I have heard, it was the same again yesterday).
Now, ordinarily, this would be a cause for concern, but the fact that this spell has coincided with a marked improvement in our defending means that our unbeaten run now stretches to nine matches and, after all of the heartbreak of last season, we can anticipate and speculate on how we'll do in the Play Offs with a fortnight of the regular season left – winding up orders permitting of course!
Since Swansea went ahead against us (I'm still not sure who actually scored the goal), we have played three hundred and thirty two minutes without conceding and, given the way we have defended for much of the campaign, that is a statistic which I for one thought was beyond us this year. Up until recently, our success has been based on us scoring enough goals to cover up shortcomings at the other end of the park (our goals against record is still comfortably the worst of the teams currently in the top six) – I remain confident though that the quality we have going forward means that our current "drought" won't last, but will any return to our former free scoring ways also see our new found defensive solidity disappear?
For me, there are reasons to believe that this need not happen. Both individually and as a unit, our defensive five are all inspiring confidence – David Marshall may have a few critics, but I rate him as right up with the best, if not the best, of the keepers I have seen play for us. As I said last week, the return of Kevin McNaughton always improves us defensively and so far at least, Mark Kennedy is finishing this season in marked contrast to the way he finished the last one – he is playing as well now as he has at any time over the past eight months and his cross for the goal yesterday was a beauty. At centreback, Darcy Blake continues to be a revelation (have we had a better player in 2010 than him?), while Anthony Gerrard seems to be developing game by game since he came back from his injury and has emerged as a very important player for us.
With club captain Mark Hudson and Paul Quinn (who, let's not forget, was absolutely outstanding in the great win over Leicester at the end of last month) not even making the bench yesterday, all of sudden our defence doesn't look to be the problem area that it has been – so, given that the top two and a team that is still an outsider to reach the Play Offs (Blackpool) are the only sides in the Championship to have scored more than us, is it worth the other three teams currently occupying the Play Off positions bothering with them once the regular season finishes?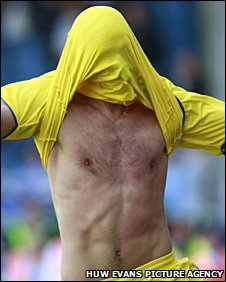 Calling the Play Offs a lottery has become a tired old cliche over the past twenty odd years, but one of the reasons why people in the game, professional hacks, media pundits, blog writers and messageboard contributors keep on returning to it is because it is so true! Over the next week we can expect plenty of stuff telling us how it is so important to keep the momentum we currently have going by getting something from our next two matches, but, while I can, obviously, appreciate the point being made, the evidence of our last two Play Off campaigns says different.
In 2001/02 we ended the regular season with an unbeaten run of thirteen matches and the pundits were lining up to tell us that we were on our way to the Championship – this was even more the case after we went to the Britannia Stadium and beat Stoke 2-1 in the Semi Final First Leg only for us to suffer that heartbreaking late defeat in the return game. Maybe what happened that night was down to complacency, maybe it was nerves, but, whatever it was, I deny anyone to seriously claim that they saw it coming – the reason why I found the Stoke defeat so devastating was that it was so unexpected.
Contrast that to 2002/03, we limped over the line at end of the regular season on a run of no wins in five and on this weekend seven years ago, dissatisfaction with a series of poor home results and performances came to a head at the dreadful 3-0 defeat by Colchester which saw supporters viscously turn against manager Lennie Lawrence and his team. With just one goal scored in those five winless matches and a Semi Final against local rivals who we never used to beat to come, I think it's fair to say that expectation levels were virtually nil going into the Play Offs and, speaking for myself, that attitude didn't change after our first leg win over the wurzels, after our heroic defensive display at Ashton Gate or during the Final – I watched the lot thinking "I know we aren't going to do this" and it was only after Andy Campbell scored that I really believed.
If I am being honest, I think that, even if we can go into the Play Offs not having lost in eleven, my attitude is going to be the same as in 2003 – after all, Cardiff City don't do success do they! However, what I would say is that I think we have more match winners than any of our rivals and if we can keep on defending like we have been then we have as good a chance as anyone in the lottery that is the Play Offs.
So, Dave Jones can now point to a concrete achievement in league terms to go along with the FA Cup Final appearance and a manager that I have always rated as one of the best I have seen at the club can add another line to what is, by Cardiff City terms at least, an impressive CV. I don't think our manager does himself any favours with his dour public persona, but fostering a spirit and togetherness which has carried the team through what has been a very demanding second half of the season for all sorts of reasons is a real achievement which adds to my view that the work that makes our manager a good one at this level is nearly all done behind the closed doors of the dressing room and training ground.
Finally, it's only fair to offer congratulations and thanks to a group of players that I was very scathing about last summer after a top six place had been thrown away, but, by coping with a dreadful injury/suspension/illness crisis and finishing the season so strongly they have shown they are made of sterner stuff than many thought they were – I won't apologise for what I said last year because I believe it was justified at the time, but over the intervening period they have shown that lessons have been learned and so it's only right that my opinion of them should be revised accordingly. One of those players who I had a go at last year was Joe Ledley, but yesterday he continued a habit of scoring the only goals of games which mean so much to his home town club. First it was Sheffield United in 2005 after Black Friday, then it was the tremendous effort which got us into the Cup Final and now he's scored the goal that has taken us closer to the top flight than at any time over the past thirty nine years – if he can keep that sequence going on 22 May, then I think we might see him still turning out for us next season!