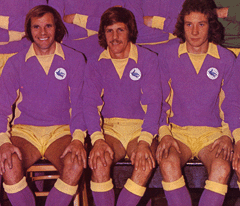 A win next week against Hull would mean seven points from our four league matches from the month which which was supposedly going to see the big recovery. Despite all of the forecasts of us needing a minimum of nine or ten points from our February fixtures, I always believed seven points from those four games would represent an acceptable return given where we were at the end of January, so we are still, just about, on course to achieve that.
However, anyone watching City's display in yesterday's 2-1 defeat in the Fifth Round of the FA Cup by the holders Wigan Athletic at Cardiff City Stadium will have seen very little to have made them think we are going to get the three points next Saturday.
This latest defeat, to a side who are, in my opinion, under achieving in the division below us, brought an end to a thoroughly miserable week on and off the pitch for Cardiff City. It comes to something when the most positive aspect of the last seven days was a 0-0 home draw against a team involved in the scramble to avoid the drop in which we had to rely on a "save of the season" to cling on to our point in a game in which I was grateful to the referee for only allowing two minutes added time because I feared we would have lost if it had gone for two or three minutes longer.
Besides that draw against Villa, we were over run in the South Wales derby and had the latest in a long line of off field rows which only make the task we face all the more difficult in the past week. Therefore, a loss in the competition which was meant to provide a welcome distraction to our league struggles only only adds to the doom and gloom surrounding the club with little evidence, as far as I can see, of us making the progress as a team that is going to be needed if we are to have a realistic chance of staying up.
Sadly, I still see little sign of a coherent plan under Ole Gunnar Solskjær's management. Yes, he wants to play more attacking football and I think it's fair to say that we are seeing a more positive approach compared to under the previous regime, but, boring though many found it, there was a coherent structure before where the players knew what was required of them. Those players might not have always been been able to achieve what was required of them, but there was a purpose to what they were doing and, for much of the time, we were a hard side to play against – I spent much of yesterday's match trying to work out what Ole's last instructions might have been before the team took the pitch.
For example, I was surprised to see the pitch being extensively watered in the minutes leading up to kick off and during half time. Given the weather we've been having (Cardiff and district might have experienced a modern St. Swithin's Day sometime around New Year's Day because we may well have had forty consecutive days on which it's rained since then), you would have thought the last thing the pitch needed was more water on it, so I could only conclude that it was an attempt to make it slicker to encourage the sort of quick passing game which, I assume, Ole wants us to play.
So, what did we get for the eighteen minutes before Wigan opened the scoring? Laborious passing from side to side and backwards as we went through all of the various combinations a team could come up with to play the ball back to their goalkeeper! Don't get me wrong, I prefer to see my team trying to pass the ball, but it should be to a purpose and, for the life of me, I couldn't see what that purpose was in those opening stages – it may not have been as bad as some of the other starts we have made to matches under our new manager, but, for me, it said to Wigan "welcome to Cardiff, make yourselves comfortable and we'll wait until you are ready to start the game properly".
Once Wigan decided that they were ready to start playing, they soon went ahead – Kevin Theophile-Catherine obligingly gave away a needless free kick which we didn't deal with properly and so yet another team were eventually able to get in down our right hand side as we conceded the latest in a series of goals scored by someone on the far post being on the end of a low cross.
City did up the tempo after that and, after Fraizer Campbell had equalised following a goalmouth scramble, there were signs they were getting on top before Ben Watson got the deciding goal from a long range free kick. Wigan didn't cause us many problems after that, but they didn't need to because, as usual, we were so unconvincing when it came to the final pass that there were hardly any times when we suggested an equaliser was coming.
The second half saw us increasing the number of pretty ball players on the pitch, but it said so much about the contribution of Noone, Berget, Zaha and Kimbo that, despite the odd moment which got the crowd excited for a second or two (but came to nothing) from them, it was the youngest member of the quintet who was the only one who suggested to me that something tangible might come from his trickery. Mats Dæhli's ability to spot and deliver short little passes around the edge of the box at least threatened to unlock the Wigan defence in a way the other four couldn't and he came as close as anyone to equalising with a shot which was deflected on to the roof of the net.
However, in many ways, the second half reminded me of the West Ham match. Plenty of possession, but no cutting edge whatsoever with the main difference being that at least the West Ham keeper had a few shots to save whereas, apart from a fairly routine stop from a Noone shot, Al-Habsi had virtually nothing to do as his team saw out the game pretty easilly with Ivan Ramis showing why he would have been a fine signing for us if he had passed that medical.
I don't like saying this, but, based on those two second halves I mentioned, Ole has had a month to put together something approaching the team he wants and yet we seem to have gone backwards – we were poor against West Ham, but we were less convincing against a team from a lower division yesterday.
We seemed to lack the leader who could take the team with him as he tried to bring about a change of attitude and as a series of Zaha stepovers came to nothing again or the latest very hopeful penalty appeal was ignored, I found myself thinking we are too nice a team to play against under our new manager.
Now, I'm not saying that we should start kicking everything that moves or that we should fill the team full of hulking great giants, but we hardly look like a side battling for our lives. The sad truth is that there are few precedents that I can think of where a team at or near the bottom of the league turns around their fortunes by adapting an approach that sees them start playing "the beautiful game".
Words like "battle", "fight" and "scrap" are applied to the situation at the bottom of a league every season because that's exactly what it is and yet all season long, City have had best disciplinary record in the Premier League. Therefore, even Malky Mackay's "negative" teams of the autumn were hardly a bunch of cloggers, but at least they were organised and sent out with an attitude which saw them trying make life as difficult as possible for their opponents – maybe Ole is trying to do the same, but I've seen little proof of this so far.
The league table tells us we are worse than most of the sides we will be facing from now on, so you would have thought that one way that gap could be bridged would be for City to try and impose themselves physically on their opponents. As I mentioned before, this doesn't have to be by kicking opposing players, but it would be good to see us show teams that they are going to face a physical as well as a footballing battle over the upcoming ninety minutes. We need a lot better than what we saw against  a team which were, supposedly, inferior to us yesterday – fear ridden passing it back to the keeper and a front six with four or five "dainty" ball players is not going to get the job done.
* courtesy of  http://www.walesonline.co.uk/