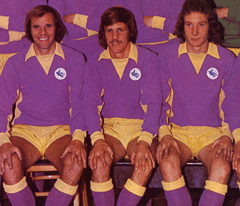 If I'd have been asked to make a score prediction for Cardiff City's visit to Rotherham last night, I'd have gone for a 0-0 draw with the rider that either side may just have enough about them to manage the single goal that would sneak them a win, but there was no way that those attending the New York Stadium would see two or more goals. I'm sure there were more optimistic City fans who were quietly confident  of a victory and there may even have been a few who said we'd win 3-1, but, surely there weren't any who said we'd win by that score and all of our goals would come in an eleven minute spell which would see us 3-0 up after thirty five minutes!
Football is a weird, weird game. Cardiff City's  seven matches since the FA Cup defeat by Reading had produced a grand total of eight goals with only three of them being scored by Russell Slade's team and yet here they were banging in the goals (and having another disallowed before half time), where previously they had mustered up the grand total of nineteen on target goal attempts in the 630 minutes of football they played after they exited the FA Cup.
There was nothing in the opening twenty minutes last night to suggest what was coming. In fact, shortly before our opening goal, I was thinking how similar it all was to the first match between the sides this season where Rotherham swarmed all over us to establish a dominance that they never really lost in one of the more one sided 0-0s I've seen us involved in.
However, then we get our first corner and one of our centrebacks nods it in. Ah, typical Cardiff City 2014/15 then – no doubt the other two goals were in a similar vein, but, no, both of those came from open play with the first coming via a sumptuous volley and the other following an incisive infield run by a winger (albeit aided by the odd lucky bounce)  with the player on the opposing flank finishing it off after he had burst into the penalty area as well.
Now might be the time to mention that Rotherham have conceded twenty seven goals in the twelve matches they've played in all competitions so far this year and, of course, that has to be a factor in why City were suddenly able to find goalscoring so easy, but we've played sides with dodgy defensive records before now (e.g. Blackpool, Millwall, Fulham and Huddersfield) and barely looked capable of scoring – there must have been more to the goal rush (by our standards anyway) last night than just poor defending.
Well, it doesn't take any brilliant analytical skills to notice that our side last night was significantly different from the one that Russell Slade normally picks. Now, on the face of it, Revell and Macheda strikes me as being a less threatening strikeforce than, say, Jones and Doyle, but when you think that Kenwyne isn't really built for the relentless Saturday, Tuesday programme of recent weeks and that Eoin Doyle is showing ominous signs of going down the plenty of industry, but far too few goals route that Adam LeFondre was on, maybe it was time for a change up front.
However, for me, it was in midfield that the significant changes occurred. Peter Whittingham's suspension and the decision to rest Craig Noone meant that we started with a very young looking midfield four with twenty five year old Aron Gunnarsson  as the "old head", accompanied by Joe Ralls, Conor McAleny and Matt Kennedy with a combined age of sixty three.
I suppose there were risks involved in the selection, but, with Kennedy the youngest of the three at twenty, it's hardly as if we were pitching a trio of raw teenagers into the action. All three players are at the sort of age where they should be breaking into the first team if they were good enough, but, as the one I've seen by far the most of, it's Ralls who I want to talk about for now.
The first thing to say is that even when I was watching him as a sixteen year old in the Academy team, Ralls struck me as an "old head on young shoulders" type of player. Not only that, he has always had something of the Steve McPhail about him in that he always looking to be in possession of the ball. Now, that may sound a bit stupid – surely every player good enough to make it as a pro wants to have the ball? My answer to that is, yes, they want the ball when they and the team are playing well, but it's far from true to say that they all show for the ball when they are struggling and if they do get it, they make sure they get rid of it pretty quick.
Ralls makes himself available no matter how the game is going and I don't feel he has any obvious weaknesses to his game. When he first broke into the team at seventeen, I thought we had a superb prospect on our hands, but, perhaps, in a way, our promotion two years ago didn't help his development at Cardiff. As a big supporter of his, I'll admit that he hasn't really put in the performances when he has been given a chance this season that have demanded that he retain his place for the next match, but I'll also add that he has been the victim of what seems to be an unwritten law among football managers and coaches which states that when there is a choice to be made about who to leave out, it's always the youngster, rather than the experienced under performer, who gets the chop.
Ralls' inclusion last night surprised me. It's only just over a month ago that I was thinking he had little future at the club following the signing of Stuart O'Keefe, now we have a situation whereby O'Keefe played a few matches before disappearing from trace to the extent that he has been an unused sub in our last five games and it's a player who has been at the club all along who comes in when the Whittingham/Gunnarsson axis has to be broken up.
If Ralls is considered a better bet than O'Keefe, then why sign O'Keefe in the first place? The only answer I can think of that may apply is that Slade uses a management by numbers approach which says there must always be a grafter/athelete and a footballer as his central midfield two. This may explain why Ralls and not O'Keefe, or Tom Adeyemi, started last night – if it has been Gunnarsson, not Whittingham, who was missing, then the decision would have been a different one.
That to me feels like lower division thinking though. The best midfield players at this level are all rounders who can provide the graft and the craft and Ralls is, in my opinion, the player at the club who is best equipped to stand a chance of being able to do that – I feel he should be given a run of games to see if he can start to look a real first eleven performer, but I suspect that it will be Whittingham and Gunnarsson in central midfield again on Saturday against an in form Charlton side.
The way modern football is, there are probably very few times when a degree of experimentation that sees a manager selecting youngsters not yet established in the team can be attempted, but, surely, City are very close to that sort of position now with two months of the season still left?
I can remember Danny Baker's Sunday lunchtime programme of about twenty years ago having a feature where listeners were asked to nominate a team that defined "mid table mediocrity" and the winners were deemed to be a Shrewsbury Town side that were twelfth or thirteenth in their division having won, drawn and lost the same number of matches with a goal difference of nought,
Now, we are not quite in the Shrewsbury class, but thirteenth position, sixteen points off a Play Off place, and thirteen points clear of the relegation zone is a fair attempt at matching it. If things go as they should do over the next few weeks, it would be good to see some of our young players being given a chance in the first team – otherwise, what is the point of having an Academy if all we are going to do is bring, often mediocre, players in from other clubs whenever a vacancy arises in  the first team?
* pictures courtesy of http://www.walesonline.co.uk/