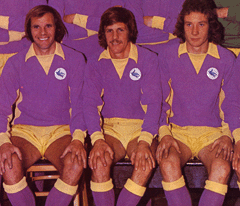 I did mean 1-0 though!
After we beat Derby 6-1 I asked on here whether Cardiff City were the flat track bullies of the Championship because, when things were in their favour, they were almost unplayable, but they had yet to prove themselves in the tight, typically Championship matches in which games are won and lost by fine margins.
Well, one month on, and, on one level anyway, it is still debatable as to whether we can grind out results when not at our best because, for most of the month, we have played very well indeed. Actually though, there is evidence now that City do have it within them to eke out something from close matches. Although I was disappointed by the display and the result against Crystal Palace, it has to be said that battling through for a 1-1 draw doesn't really fit into the with the flat track bully analogy – we faced a bunch of bullies that day and didn't take a backward step.
The same can be said to an extent about yesterday – Sheffield United have had been big and physical for ages and appointing Neil Warnock a few years ago only ensured more of the same. Now, with Warnock's ex assistant in charge, Sheffield United still play the same way and, although it was a good time to play them because of their injury situation and poor form, City still had to pass the physical test that the home team set them yesterday.
One of my pet theories is that a team in our part of the country achieves success in a league by going to grim outposts oop North and returning with all three points having been gained by hard fought single goal winning margins – I must admit though that I wasn't really thinking of heart stopping victories by the odd goal in seven when I postulated that theory!
However, whether it is by 4-3 or 1-0, wins such as yesterdays are the sort of results that are the bedrock of a successful promotion campaign and, although the mood would have been completely different if that linesman hadn't put his flag up when Quinn netted in added time, one of the really encouraging things about this season so far is the number of away wins we have got. With less than a third of our away fixtures played, we have already matched the number of away wins gained by the Cup Final team in the league two years ago and are one short of the number picked up by the side that came so close to a Play Off place last year.
So far, the signs are that we have got out of the damaging habit we had of drawing so many away matches – while a total of twenty four away defeats in the past three seasons is quite an impressive statistic, it is not doing us much good when set against a victories total of fifteen over the same period.
Four away wins from seven is a good record and while Plymouth and Watford offer more proof of how good we can be in putting opponents to the sword when we get on top, the games at Reading and Sheffield United are more the sort that has me hoping that we can push our normal tally of away wins (which tends to be around the four to seven mark) up towards double figures and, possibly, beyond – if we can do that, then the firepower we have in the side should be enough to do the necessary in home matches for us to get a place in the top six.
However, the fact has to be faced that City are not going to be able to keep on conceding three goals a game away from home and maintain a position so close to the top of the table. Although the team look full of goals at the moment, the month of September, which saw us score just twice whilst losing four out of five matches, shows that Whittingham and co are not going to maintain their current strike rate throughout the campaign and we will then have to rely on our defence more than we are doing now.
Although an overall record of fifteen goals conceded in fourteen games is not a bad one at all, there have been some pretty soft goals let in amongst those and yesterday's first one by Sheffield United was a real shocker which both centre backs could have dealt with far better than they did. Darius Henderson's second goal also saw plenty of yellow shirts back defending but nobody close enough to stop two home players having what were almost free headers from less than ten yards out.
It is still hard to shake this feeling that we aren't as strong at centreback as we were last year, but all of this carping at our defence has to be put in perspective though – after all, we could have Sheffield United's back four and keeper!
Having had to suffer the Paul Taylor inspired defeat at Ninian Park by them last March, I took particular pleasure in the blundering of the Sheffield United defence in general and of Chris Morgan in particular. Morgan's clearance, after giving himself the luxury of a touch so close to goal, whacked straight at Kyle Walker which rebounded back for Jay Bothroyd to tap in had me falling about with laughter when I first saw it and it truly couldn't have happened to a nicer bloke! With reports initially saying that Morgan had also fouled Bothroyd for the penalty, it seemed that United's thuggish captain was trying to win the game for us single handedly, but the pictures show that it was Henderson who was responsible – although I have to say that I am still not sure what prompted Bothroyd to fall like he did.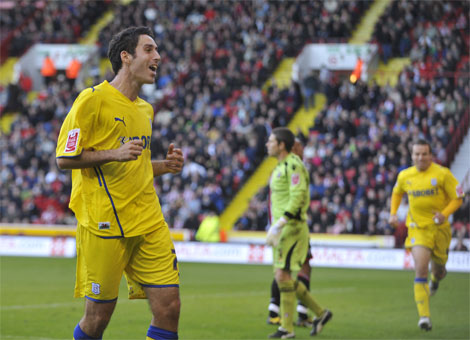 At the moment, Peter Whittingham just does not look like missing from the penalty spot – mind you he is getting plenty of practice. Yesterday's was the seventh spot kick City have been awarded and, amazingly, we are on schedule to beat last season's total of sixteen. After yesterday's match Kevin Blackwell was having a whinge about the number of penalties we have had this season. To be fair, we have had a few soft ones given to us over the past fifteen months or so, but I would say that we also have players with like Chopra, Bothroyd, McCormack, Whittingham, Burke and Ledley who draw fouls from opponents for a variety of reasons which include quick and skilful feet, power and speed.
Whittingham went on to complete his hat trick with two goals of differing quality, but, in it's way, the first goal where he burst forward quickly ten yards or so to get on the end of Hudson's flick from Adam Matthews' long throw was more significant than the other one (which was a candidate for our goal of the season so far). I say that because I am pretty sure that Peter Whittingham would not have put himself in the position to score that goal last season. I don't think he would have reacted as quickly as he did last year – always assuming that the intention and determination would have been there to do so (which I doubt).
Whittingham's hat trick goal was a thing of beauty though and had Leroy Resenior claiming on BBC's Football League programme last night that our front four of Chopra, Bothroyd, Whittingham and Burke was as good as anything in the Championship, but let's not forget Ross McCormack either who started the move – I reckon he could soon prove to the matchwinner for us in one of those close games that I talked about earlier.
I have to finish by talking about Peter Whittingham though who surely has to be a shoe in for Championship player of the month for October. This morning's Sunday Times contains a story which seriously suggests that  Fabio Capello  should have a look at him as a candidate for the full England team. Now, that seems a bit over the top to me, but there is no denying that Whittingham is in the form of his life and, all of a sudden, we have another player that is a target for Premiership clubs – the ACTIM index is going to make for interesting reading when it comes out later in the week.