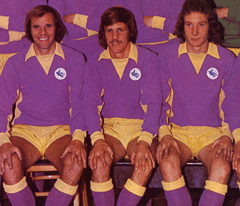 It took over a fortnight from the realisation that Leyton Orient manager Russell Slade was high up on the list of potential new Cardiff City managers to the official announcement that the man had got the job, but on Monday there was finally confirmation that the Danny Gabbidon/Scott Young caretaker manager partnership would be stepping aside with 53 year old Slade (it's his birthday on Friday) taking over the running of the team.
I would by lying if I said Slade's appointment was greeted with unanimous approval by City fans. It was to be expected that some would point to his lack of managerial experience at this level as evidence of him not being good enough for a club of our size, but I get the feeling that people have warmed to the idea of Russell Slade as the new Cardiff manager as the negotiations with Leyton Orient dragged on and I hope and trust he will at least be given a chance to prove his worth in the coming weeks.
Originally I wondered if the fact that Slade had not played professional football would be held against him, but given that nearly all of the squad would not have been old enough to have remembered the playing days of someone his age, I don't think that will be an issue – if there is to be one regarding the players, it will probably relate to his lack of managerial experience at Championship level.
Anyway, Slade's appointment was confirmed by the club on their website . Of course, Vincent Tan had his obligatory dig at Malky Mackay in a reaction that was as predictable as it was graceless – own owner has been largely vindicated over "Moodygate" and I'm one of a what I think might be quite a few City fans who have been prepared to eat humble pie when it comes to the Mackay/Tan relationship and wipe the slate clean, but Mr Tan makes it very hard to do this at times.
If you contrast our owner's latest public put down of a man who left the club getting on for a year ago with what he said about Ole after he left, it seems to prove one thing – although there was some lip service paid to poor results at the time of his sacking, Malky Mackay's dismissal had little to do with what was happening on the pitch. After all, Ole's record was worse than Mackay's while we were in the Premier League and results, and in particular performances, were never as bad under Malky in the Championship as they were in the short time Ole was in charge in this division.
So, one of our last two managers (the one with the far worse record) leaves with the owner's good wishes and the assurance that he and his family "will always be welcome in the Chairman's Suite as my guests" and the other is a target for continual barbs and insults – Malky Mackay left the club because our owner believes he spent money he was not given permission to and this led to a complete breakdown in the manager/owner relationship, football had nothing to do with it.
Getting back to Russell Slade, he was introduced to the media yesterday and acquitted himself pretty well in front of what I would guess was one of the biggest press conference audiences of his career, Predictably, there was some pretty non committal stuff when it came to things like the re-brand and Vincent Tan's problems with previous managers, there was a bit of manager speak as well, but I was struck by the fact that, on this evidence anyway, if you ask Russell Slade a straightforward question, you tend to get an honest and straightforward reply.
For example, he thought one of the main reasons he was brought in was to provide value for money – given the amount Vincent Tan had provided for his two previous managers in the last two and a half years, you couldn't blame him for thinking he didn't get that during that time and, with his reputation for working well with a tight budget, you could understand the attraction of someone like Russell Slade for our owner.
Slade was certainly being honest when he talked about how it couldn't be denied that the squad had under achieved in the first couple of months of the season (there were also references to  alack of physical and mental fitness) and he was forthcoming about his preference being to have two strikers in his team (even if one of them would sometimes play in a withdrawn role). Similarly, it came over that the new boss was not happy with what he had seen at Blackpool – we may have had more of the ball, but we very rarely suggested we would do anything incisive with it, while not enough of our goal attempts were on target.
When the inevitable question about who would be picking the team came up, Slade was emphatic in saying that he would be – he would listen to what others had to say, including the owner, but he would have the final word on selection (I just hope that this proves to be the case in reality).
I was interested by comments about the need to build on field partnerships. Our new manager spoke about us having good individuals, but questioned whether this meant we had good partnerships. Central defence, central midfield, wingers and full backs and strikers were mentioned and the need for players who complemented each other in these areas was noted - these might not necessarily be the most talented footballers. but you got the impression there were more important considerations than that.
All in all, it was a pretty assured performance from someone whose eagerness to let the media know he had been offered a managerial job at a Championship club a couple of seasons ago (his then Chairman at Leyton Orient, Barry Hearn, turned down the approach from the unnamed club), perhaps, betrayed some nervousness about his lack of experience at this level.
The hiring of Russell Slade certainly has the potential to go spectacularly wrong, but, equally, it could turn out to be a very shrewd appointment indeed. Getting awards from your peers has to be as good a form of recognition as there can be and Slade was chosen as LMA Manager of the Year in League One last season – I agreed with him when he said football management is basically the same job no matter what level you are at and if he can prove that to be true in this case, then Vincent Tan (or, more likely, whoever was advising him) will have made a very good choice.
* picture courtesy of http://www.walesonline.co.uk/