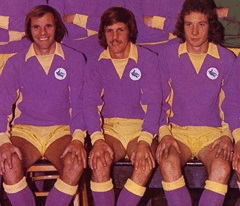 Well, the new players keep on turning up, but unlike the five that had arrived up to last week, I don't think anyone saw the latest one coming!
On Friday afternoon I was sent an e-mail saying we had signed a player from Ligue 2 (France's equivalent of the Championship) and within an hour or so, it had been confirmed by the club that central midfielder Loic Damour had joined us on a two year Bosman type deal from Bourg-Peronnas.
Now, that's a club I'd never heard of before and my initial assumption was that they were from the third or fourth tier of the French game. It turns out that they are based in Bourg-en-Bresse, but, it's hard to find too much on line about them in English, and the impression I get is that, with their 11,000 capacity ground, they are living somewhat above their station at a level they've only been playing at since 2015/16.
Last season was something of a struggle for Bourg-Peronnas as they finished in fifteenth position in the twenty team league, some six points ahead of the side in eighteenth that had to play in a relegation Play Off. So, on the face of it, a twenty six year old from a team like that on a free transfer hardly sends the expectation levels soaring at a time when Wolves are signing a player that has been described as one of the best prospects in Europe (Ruben Neves) from Porto for a Championship record fee of £16 million.
Damour could well turn out to be a French flop at Cardiff (anyone remember Luigi Glombard?), but there are a few grounds for hope that we may have got ourselves a bargain.
One thing you can say about our new player (who speaks good English) is that he is brutally honest, both in his assessment of his early career when saying;-
"I'm 26 years old. I was 17 then. I had a bit of a bug. I made mistakes. I left Strasbourg in 2011 as a pretentious young con. I was a little s***.
I already saw myself in Manchester United. I did not behave like a pro."
and also in saying that the Championship represents a huge step up from the level he had been playing at.
Damour comes to Cardiff having had what he describes as the best season of his career – a season where it was reported that clubs from the French game's top flight had been watching him.
There is the what has become known as the obligatory grainy You Tube video  and it's hardly what I would call spectacular stuff. I've read very contrasting views on what those clips show, but my opinion is that Damour looks a tidy footballer, with a bit of a turn of pace and a good technique. Of course, the level he is showing these qualities at needs to be factored into the equation, but, with a total of thirty nine caps for his country between Under 16 and Under 20 levels, it's fair to say that Damour was considered quite the prospect in his youth and with those comments I quoted above suggesting a more mature outlook at a time when players are generally regarded to be coming into their prime, there may be some grounds for optimism.
Certainly, someone I know who watched City train on Friday was impressed by what he saw of Damour (he was also very complimentary about another new signing, Danny Ward), so, as in every case like this, it's a case of wait and see really.
Also at that training session was Sheffield Wednesday attacking midfield man Lewis McGugan who it's being reported is on a two week trial with us despite having a year left on the deal he signed when moving to the Hillsborough club two seasons ago.
This gives the clue that McGugan's time at Wednesday has continued the generally downward trajectory of his career from a peak of around five years ago. At that time, Lewis McGugan at pre season training with City would have been greeted with huge enthusiasm by supporters because he was considered one of the foremost playmakers in the Championship with an eye for spectacular long range goals.
However, even then, my feeling was always "I wouldn't swap him for Whitts". We had the best player in the league of that type already and, if the thinking is that the former Forest and Watford man is being looked at as some sort of replacement for the man who did what he wanted, I would have preferred to have kept the original.
After making a positive impression initially at Wednesday, McGugan dropped completely out of the picture and this piece, coincidentally referring to a game against our Under 23 team in March, shows how far he has fallen since those early years of this decade when he had such a good reputation.
Before the Damour signing was announced, Neil Warnock was talking about still wanting to get more goals into his squad. With the greatest respect to the Frenchman, there is nothing in his previous career to suggest that he is going to fulfill that criteria for us, so it seems to me that we are still in the market for one or two more attacking players – in his pomp, McGugan would definitely have fitted the bill, but, with the local media saying that it was "unlikely" that he would be offered a deal by City, it seems we will be looking elsewhere for those goals.
As is the norm these days, it was a case of one out, one in at the club last week with Thursday's news that Rickie Lambert had been released from his contract. Neil Warnock had outlined the dilemma the veteran former England striker was facing at City last season when he said he needed to get fitter, but could only do that by playing regularly and he just wasn't going to get those opportunities here – self evidently, it was going to be the same again for Lambert in 17/18 if he stayed here and the current speculation is that he will be playing in League One next season with either Blackburn or Plymouth.
Unfortunately, despite there being much to suggest that City are a better run club these days compared to two or three years ago, they still cannot shake off their habit of being forced into terminating player's contracts by "mutual consent" with the inevitable expenses (that, surely, come from the playing budget) which spring from such decisions.
For all of the talk of an increased budget compared to recent summers for Warnock to work with, our transfer activity so far seems much the same as it's been since the splashing the cash approach which ended with Ole's departure in September 2014. There have been fairly modest fees involved with the Danny Ward and Callum Paterson transfers, but, with Criag Noone, and, possibly, Anthony Pilkington available at the right price and some pretty big earners not having their contracts renewed, the potential is there to recoup these costs and more.
However, it's encouraging that a bid, believed to be in the region of £3 million, for Sean Morrison from Sheffield Wednesday was turned down a few weeks ago and this week it was good to see speculation that Hull were thinking of paying something around double that for Kenneth Zohore being given very short shrift by our manager as he spoke about not accepting £20 million for the man who has probably become our most important player in the last six months or so.
That's about it really, except for a couple of stories about pre season games. Firstly, Neil Warnock confirmed that efforts are still being made to arrange a replacement fixture for the one against Portsmouth scheduled for the weekend before competitive games resume which was cancelled after we were drawn against the same opposition in the First Round of the League Cup. Apparently, our manager would have preferred domestic opposition, but he seemed resigned to the fact that, if a game could be arranged at such short notice, it would have to be against a foreign team.
Secondly, next Friday we travel to Taff's Well and as that's as close as we'll ever get to playing a game where I live in my lifetime (it's about a six or seven minute drive away), I'll be there to watch what should be a pretty strong looking City side get their first run out of the new season.