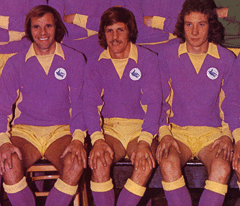 With a welcome home party later today in which an expected crowd of 30,000 will flock to Cardiff City Stadium and, no doubt, thousands more who will line the route of an open top bus journey from the city centre to the ground this afternoon to show their appreciation of the men responsible for Wales' fantastic Euro 2016 campaign, attention has certainly not shifted from international to club football yet.
However, as the reality hits that Cardiff City will be kicking off their 2016/17 Championship season at Birmingham in less than a month's time, it won't be long before talk switches to how City are expected to do in a division where some clubs are already spending significant money as they attempt to secure a return (or a first ever visit) to the Premier League and it's riches.
Although it will never be forgotten, Wales' run to the Semi Finals of the European Championship will, gradually, be put on to the back burner for a couple of months until the 2018 World Cup qualification process begins with a home match against Moldova in early September.
Therefore, at the start of this process where Cardiff City will start to dominate again for a while, it seems a good time to include some thoughts on how Wales' success will, and could, impact on the capital city club while also keeping up to date on events at the club during this week.
Starting with City related news, I was a little surprised to see the club confirm that Kenneth Zohore had signed a permanent deal with us on a three year contract. The fee involved was described as "undisclosed, but when you consider that it was reported that K.V Kortrijk had paid around £1 million for him during the convoluted procedure in January whereby they loaned him to us as a way of overcoming our transfer embargo, then you have to believe City should be paying something similar – who is to know for sure though when you are talking about someone moving from one Vincent Tan owned club to another one?
I say "surprised", because my thinking was that Zohore would be headed back to Kortrijk following the signing of Frédéric Gounongbe last week, but the surprise is a pleasant one – I don't think there's any need to add much to the following, which was my messageboard reaction to the news he's signed for us;-
"When you've watched a player turning out for City for three months you usually think you've got a good idea as to how to rate him, but I can honestly foresee a set of circumstances which see us letting Zohore go after a season or so as we try to cut our losses and another one where we sell him for millions of pounds.
For most of his substitute appearances at home he made little impact when he came on and he was one of many in the team who didn't turn up at Hillsborough in our most important game of the season. However, he did well at Middlesbrough when he came on, even better at Burnley and we may have got a draw if he had been brought on earlier against a Brentford team who probably finished the season as the Championship's most in form side – I think it's encouraging that he made his biggest impact against good teams.
I'd assumed that he'd be going back to Kortrijk after the signing of Frédéric Gounongbe, but, overall I'm pleased we've taken what is a bit of a punt on him – he's got pace, power and some aerial ability, so plenty of the basic ingredients are there and, hopefully, he can add consistency to his game over the coming months."
Instead of Zohore heading back to Belgium. it's Idriss Saadi who is heading that way. I mentioned his loan move to Kortrijk in my last weekly review and said that my understanding was that it was for all of the coming season, but had seen nothing to confirm this – the club have now done so in this story from their website.
Deji Oshilaja has also left for what will be third loan spell at Gillingham. Again the deal is for the whole season and, while it's good to see him getting the likelihood of regular first team football, I also find it somewhat disappointing that he's still not thought to be good enough to have a first team squad role at his parent club. Futhermore, when you consider how much time he's spent out on loan while, seemingly, being surplus to first team requirements at Cardiff, you do have to question the logic of continuing to offer him contracts with the club – he'll be twenty four by the time his latest loan runs out.
Although Deji isn't Welsh, he's been at City since he was sixteen or seventeen and, on the face of it, he would seem to fall into the category of the sort of "home grown" players who the club wanted to see being given more encouragement that there could be more of a way into the first team for them than they ever got under Russell "What's an Academy?" Slade.
The truth is that Deji is probably a bit on the old side to be the sort of player that was being thought of when there was all of that talk of a new approach to youth development under Paul Trollope, but I'd like to think that, with the Wales success story this summer, this will prove to be something more than just hollow words.
City have been handed a huge opportunity on the back of the Welsh campaign in France and it would be criminal for them to waste it. With this in mind, I'm slightly concerned that so far the players we've signed this summer can all be linked to the Kortrijk link up.
As someone who was pleased with the Lex Immers signing, is adopting a wait and see approach towards Gounongbe and has shown above that I'm quite happy with the Zohore signing, my concern is not with any perceived lack of quality with them, but more that the suspicion is growing that our transfer committee only seems to be interested in players based in mainland Europe.
Just as it's always been, the talk is that it is the manager who has the final say when it comes to proposed new signings, but it would be nice to see some proof that we are prepared to buy British if the right player becomes available because it would tend to suggest that Paul Trollope is playing a prominent role in our player recruitment.
How does all of this have anything to do with Wales then? Well, I've been thinking all summer that it would be a shrewd move by City if they looked to bring in one or more players currently involved with the national team – provided such player(s) were good enough to make a positive contribution to the first team squad, there would also be the probable bonus of season tickets being sold as a result of such a signing.
Now of course, there are certain Welsh squad members who have always been out of City's financial range and others who have probably moved into that category on the back of their exploits in France over the past month, but I'd say some of those mentioned in this piece  are possible targets who may be enthused at the idea of coming to Cardiff to work with three of the men in Chris Coleman's highly regarded backroom staff.
With regard to Welsh players who didn't make it to France, I'd say that someone like Emyr Huws could, perhaps, provide qualities that our central midfield is thought to lack and he could do it at a price you'd like to think we could afford (particularly if some of the players I think may leave this summer end up doing so). Also, as someone who you would have thought would be a regular in future Welsh squads, he would also encompass the feelgood factor which is around the national team currently.
Even before Wales' exploits, there was a degree of positivity around the club thanks to the change of manager, better performances through the first three months of the year and the increased season tickets sales and attendances. As mentioned earlier, the club has a fantastic opportunity, which probably won't last too long, to add greatly to the reconnection with supporters which has been something of a work in progress since Ken Choo arrived.
Having read that Aaron Ramsey has been told not to bother reporting back to Arsenal until 1 August, I suppose there has to be the slight possibility that Paul Trollope will not be back at Cardiff City next week as preparations for the new season continue, but I'd be amazed if that was the case and so I look forward seeing some proof soon that he is not the yes man to Vincent Tan that some perceive him as being.
Right back to the days of Sam Hammam, supporters have been able to make pretty educated guesses as to who at the club had been the driving force behind certain signings. For example, Chopra and McPhail were Ridsdale signings, Kevin Cooper was a Jones signing, Don Cowie was a Mackay signing and Lee Peltier a Slade signing. Lately, most of our new players look like Tan/Choo/Dalman signings, I think it's about time we saw at least one Trollope signing – I reckon we need to if City are to truly grasp the chance they have been given by Chris Coleman's team,