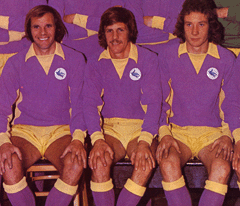 There's no weekly quiz on here during the summer months, but I'm going to begin with an excellent question set by Richard Holt the co author of the Journey Back, the book you can read about in the Cardiff City Books section on here;-
What happened in 39 of City's 46 league games during 2014/2015 but only occurred in 6 league games during the whole of the 20th Century ?
I'll give the answer at the end of this piece, so bear that in mind if you want to give yourself a while to try and come up with it.
As far as the week just ended goes, I suppose the main piece of City related news to emerge from it was confirmation that Aron Gunnarsson (whose deal was due to run out around this time next year I believe) had extended his contract by a further two years. I gave my reaction to this in a messageboard thread discussing this news when it first broke three or four days ago and I've not changed my mind since then.
Essentially, I thought it was good news, but noted that, in the view of many Coventry fans, the Icelandic captains time at that club consisted of him making a very impressive impact initially, but then his level of performance gradually tailing off until it got to a stage where there seemed to be no great sadness at his departure to us four years ago – Gunnarsson began his time at Cardiff with a couple of very good seasons, struggled in the Premier League in his third (no great shame in that, there were plenty of others who did as well) and has just come off his worst campaign for the club, so the challenge for him is to arrest a decline that is in danger of turning his Cardiff career into a repeat of his Coventry one.
I believe he is good enough to rise to that challenge, but there were plenty who were not as charitable about the man who is now one of our longest serving senior players (off the top of my head, I can only think of Peter Whittingham and David Marshall who have been here longer than him) – sell him now or just give him a one year deal were opinions that appeared in that thread I mentioned and I have to admit that, even if I don't support such views, I can understand them to a large extent.
The Whittingham/Gunnarsson central midfield partnership were first choices in the Championship winning team for more than three quarters of that season before the former lost his place for the closing games, so they had a history of proven performance at this level, but if you were to ask most City fans (myself included) what single on field factor contributed to our season turning out like it did, I believe the most common answer would be an under performing central midfield.
Gunnarsson needs to start hitting the heights of his first two seasons with us if we are to fare better than we did in 14/15 – I thought he improved a little in the closing games of the campaign when we were winning more than we were losing and my suspicion is that if the "part of the furniture" central midfield pairing is going to be broken up, it may be Whitts who should be more fearful for his place in the side.
There was also an announcement that we will be playing new Premier League club Bournemouth in what will, almost certainly, be our final pre season match on 31 July and Cheltenham Town have said that they will be entertaining us three earlier (I don't believe there has been any confirmation of this game from City yet mind).
If that Cheltenham match goes ahead, then it will be following the convention that applies in pre season matches about 95% of the time, whereby the side which plays at the lower level is at home. What struck me straight away with the Bournemouth match was that we, as the "junior" side, were going to be travelling to the south coast, so, it certainly is beginning to look as if City will not have a home match before the league season starts on August 8. For the last decade or more, our final warm up match has been at home against continental opponents and, given the cost cutting seen over the last few months at the club, the thought occurs to me that the decision has been taken that City do not want to risk losing money by paying for a fixture which may well be given a miss by many of the apparently meagre number to have bought season tickets so far given the levels of apathy among the club's support at the moment.
On the other hand, perhaps I'm adding two and two and getting five because the indications are that Russell Slade could well have a bigger than expected transfer budget to work with in the coming weeks. Before going on to that, I should just mention quickly that there appears to be interest in Adam LeFondre from a few Championship clubs – Bolton manager Neil Lennon has said he would like to have the player back for next season, but the suspicion remains that they do not have the funds to buy him, so Charlton or MK Dons would appear to be a more likely destination for the striker with the latter being the more strongly linked of the two.
On the incoming front, Conor Hourihane of Barnsley is a name that  has cropped up a bit in recent days. The Irish midfielder was signed from Plymouth last season and was a virtual ever present for the Yorkshire side during a season which saw him make a tremendous goalscoring impact early on. That side of his game tailed off during the second half of the season, but, even so, thirteen league goals is an impressive tally that was enough to make him the Tykes top scorer and, on the face of it, the 24 year old looks the type of player who would be attracting interest from the Championship this summer.
Going back to the amount our manager has to spend this summer, the reason why I feel it could be more than many suspected it would be is that, apparently, our interest in Daryl Murphy, the man who scored more goals than any one else in this division last season, is a genuine one. I made my feelings clear on this possible signing last week and the news from the Ipswich end that they, seemingly, value the 32 year old at £4 million only makes me repeat that, surely, this should mean that this is a deal not worth pursuing from our point of view?
On the other hand, this is Cardiff City we are talking about and they are a club where the large majority of transfer deals in recent years have been all about short termism. The only signing Russell Slade has made so far that I can think of who would fall into the "one for the future" category is Matt Kennedy and when you also consider the complete absence of young home grown players from the first team squad for those, largely meaningless matches we played through April and much of March, I find it hard to avoid a feeling that while our manager may trot out the term "youth development" from time to time to keep people on board, in reality, it is low on his list of priorities.
This brings me back to Richard's question. The answer relates to the number of Welsh born players selected in the team. Last season the only Welshmen to feature in the first team in the league were Declan John, with two starts and four substitute appearances, and Danny Gabbidon with just the one appearance off the bench – there was no Welsh representation in thirty nine of our games and this is more than six times the total number of occasions in which this happened throughout the whole of the last century!
Yes, the game has changed and I think it's fair to say that it is harder for young players to break into first teams than it used to be, but, for a side that is. allegedly, looking to balance the books these days, I find it baffling that there is an almost total reliance on looking elsewhere for new players when they are needed – it all comes back to the lack of a "plan" which I find so frustrating, it still only seems to be about the here and now at the club.