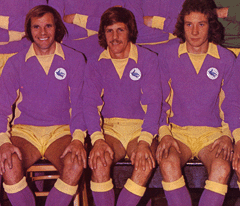 The week got off to a good start with the expected confirmation of Andreas Cornelius' transfer on Monday. No shocks there then, but what did come as a very pleasant surprise was that the young Danish international has signed a five year contract with us which will ensure that if our new striker makes as big an impact as some neutral observers believe he will over the next few seasons, then it should be that we can hold out for the player's true transfer value if bigger teams start showing an interest in him.
Supporters hoping our first signing of the summer would signal more new players arriving in a rush were to be disappointed though because the week became like so many others so far this close season with plenty of speculation, but little concrete information – in fact, it could be argued that with one or two transfer targets (e.g. Bafetembi Gomis and Oscar Cardozo) looking even more unlikely now than they did a week or two ago, it was a bad week for Cardiff City transfer info junkies.
So, our chances of signing one or both of two experienced international strikers currently playing for clubs who are no strangers to the Champions League look to have declined – no great problem there as far as I'm concerned though, because I find it very hard to believe that we had much of a chance of getting them in the first place, Victor Wanyama is a little different though. For a time it appeared Cardiff was the likely destination for the powerful Kenyan midfield player, but, if this Daily Mail story is to be believed, it looks like we never got to the stage where Celtic gave us permission to speak to the player and, so having had two bids for him rejected, we've now dropped out of the running for someone who his club appear to value at around £12 million.
Now it needs to be said that the idea of Cardiff City bidding so much for a player would have been dismissed as nonsense as recently as a month or so ago, but the fee paid for Cornelius shows that City do have serious money to spend in the transfer market and the truth is that we as supporters shouldn't be as surprised about this as we are because the new TV deal gives all twenty clubs the opportunity to significantly increase their transfer budget for this summer. So, that being the case, it does seem a little strange that we have not been prepared to get closer to Celtic's asking price with our second bid (of course, this presumes that the figures quoted in the story linked above are correct). It seems pretty obvious that our interest in Wanyama was/is genuine and I wouldn't be wholly surprised if there is not more to come with this story – although if newspaper reports this morning that Southampton are prepared to come in with a higher bid than they previously had accepted for the player in an attempt to put off other potential suitors are true, then that would make this less likely I suppose.
Another transfer rumour/deal which has been rumbling on for the past few weeks is the Tom Ince one. I think it's now generally accepted that we've had a big bid for the England Under 21 player accepted by his club Blackpool and earlier in the week Malky Mackay said he would be talking to Ince in the next few days. So, the assumption has been that this deal is a lot further advanced than others which we are supposed to be trying to tie up. It was a little disconcerting to learn therefore  that Ince played, and scored, for Blackpool in their pre season game at Penrith yesterday.
Now, it needs to be said that some "in the know" messageboard posters who over the course of the summer so far have managed to maintain their reputation for largely being correct when it comes to transfer targets (and one or two who haven't!) are still saying that the Ince transfer will go through early next week. Perhaps yesterday's game was Ince's chance to say goodbye to the club who have helped him to become one of the best players in the Championship, but I have to say that it seems odd that someone on the brink of completing a club record transfer to a Premier League outfit would turn out for his present team against a side which could well contain a few players who wouldn't be averse to kicking  the opposition's "star" – I suppose that, once again, it's a case of wait and see.
Another name to crop up this week is Le Havre's eighteen year old left back Benjamin Mendy. The youngster looked to be on his way to Sunderland when he and his agent met representatives from the wearside club a few days ago, but the transfer was not completed and this has alerted City who have, reportedly, put in a bid for the player. If there is something to this story, then Malky Mackay and his recruitment team will face the same problem which has made this summer the toughest one they have faced so far when it comes to attracting players to Cardiff – when  they are in competition for a player with an "established" side from the money bags league, what can they offer which the other team can't?
We were told last year that Malky Mackay had managed to sign all of his main targets for the 2012/13 Championship campaign. That may or may not be true, but surely no one would really believe such a claim for the 2013/14 Premier League season? If we were to get Ince, I'd say that would probably be two main targets we've managed to sign and, under our new circumstances, I reckon that would be a pretty good return (it also presupposes that there aren't ongoing negotiations for prime transfer targets which have not found their way into the media yet).
Anyway, if it does turn out that we might have to lower our sights a little, there are still plenty of good players out there we can go for and there's still about eight weeks left for us to bring them in – there's certainly no need for panic and despondency yet.
Finally, there was confirmation that Kevin McNaughton has signed a new contract with the club this week – it's not for the two seasons stated in the media when the deal was originally offered to him, but the one year contract ensures that the popular full back will be spending his eighth season at Cardiff City since his arrival in the summer of 2006.