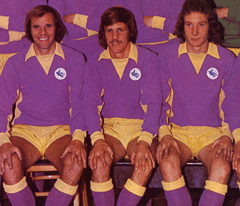 I've always thought that the new football season is not too far away once Wimbledon is over and done with. I've watched more of the tennis than normal this year and enjoyed the actual games, but have had more than enough of all the bollox spouted by the commentators about "body language" and the endless banal shots of each player's "entourage" celebrating every point he or she wins. It seems almost compulsory that points won have to be followed by mad fist pumping and shouts of "come on" and I hope so much that virtually the only player who does not follow these guidelines and just gets on with playing the game ends up winning the title – I'd want Roger Federer to win anyway because he is such a great player to watch, but a victory for him would be a shot in the arm for those who just get on with playing the game.
Anyway, the last day of Wimbledon and the news that many clubs (including City) have started their pre-season training means that the big kick off is getting pretty close. The early part of the training routine varies little from club to club with an emphasis on physical work and a series of tests to monitor general levels of fitness – on that score, I hope there is no truth in the story I was told last night that three City players failed their tests because they had not met the standards set for them as far as keeping fit during their time off was concerned. If it is true, then it goes straight to the heart of why I'm not as convinced as some seem to be that we can go straight back up (stuff like this does nobody any favours in my opinion) – in a league where team spirit and discipline counts for so much, having players who return to training out of shape is a bad sign and I just hope that, if some of ours did this, they are among the ones that will be leaving the club in the coming weeks.
Ole is following the route that Lennie Lawrence, Dave Jones and Malky Mackay went down by visiting mainland Europe as part of the build up for the new campaign, but, whereas last year Mackay preferred not to play any games on the first team squads pre-season trip, Ole is following a more conventional route in that there will be three matches for the team during the week they spend in Austria from July 17 to 24th. Indeed, it appears our manager wants as many pre season matches as possible and I must say, given a choice between last year's approach and the one we have adopted this year, I prefer the option Ole is taking.
City's pre-season programme reads as follows;-
July 7, Carmarthen A (confusingly, this match is being played at Haverfordwest)
July 12, Bath A (this replaces the game originally planned for Hereford)
July 19, TSV 1860 Munich and KS Teuta Durrës A- the game against the German team beaten by West Ham in the 1965 European Cup Winners Cup Final kicking off at 4pm, followed by the match with the Albanians two and a half hours later.
July 22, FK Amkar Perm A – they play in the Russian Premier League and will probably be the toughest opponents we face in Austria.
July 27, Yeovil A
July 29, Chasetown H – pretty sure this is a Development team game
August 2, VFL Wolfsburg H
On the transfer front, a bid from QPR which matches the player's relegation release clause fee has been accepted for Steven Caulker – there is also reported interest from Southampton in our captain . Gary Medel has indicated that he would be open to a move to Italy amid reports that Inter Milan are preparing a bid, while, disturbingly in my view, there has been talk of City being willing to accept a fee of £5 million for Jordon Mutch in the light of Sunderland's renewed interest in the midfielder (it's reported that they have had a £3.5 million bid rejected). One move that doesn't seem to be going ahead now is Fraizer Campbell's to Leicester – the newly promoted Foxes have a wage policy that they are determined to stick to and it seems our striker's demands are not acceptable to them. Finally, Bolton and Reading are, apparently, interested in one of City's forgotten men, Joe Mason, with the latter thought to be favourites to get him  if we decide to sell.
As for players coming in. Southampton have seemingly turned down a £3 million bid from us for their Portugese centreback Jose Fonte. The 30 year old was a regular starter last season for an impressive Southampton side which is in the process of being dismantled with Lallana, Shaw and Lambert all sold already and reported interest in some of their other key performers, so their reluctance to let the reliable Fonte go is understandable and I tend to believe there would be Premier League interest in the player if the Saints did decide they would sell. Another name I've seen linked with us is Matt Besler who did a fine job for the USA team which won a lot of friends with their showing in the World Cup, with their 2-1 last 16 defeat by Belgium being one of the matches of the tournament so far.
Sadly, but predictably, the World Cup is getting less entertaining as the tournament goes on and the stakes get higher, but it retains it's capacity to be eminently watchable. For example, a pretty turgid set of Quarter Finals were rescued to some degree last night by the Costa Rica v Netherlands encounter in which a mediocre and goalless eighty minutes was followed by ten minutes of siege on the Costa Rican goal as the Dutch did everything but score and then an amazing extra time  period which ended with both teams going hell for leather for the goal which would end the need for a penalty shoot out. In the event, it was Newcastle's Tim Krul, who was brought on just for the penalties, who was the hero with a couple of saves, to take his side into the last four.
The Netherlands will face Argentina on Wednesday after hosts Brazil have taken on Germany twenty four hours earlier, so earlier stories about South American dominance at the expense of Europe have proved not to be the case. That said, my prediction is for an all South American final, but I say that while believing that one of the main reasons why the 2014 World Cup has been an enjoyable one is that there is no outstanding team in it. I think this competition has been a little like the Championship in that you almost get the feeling that any one team in it is capable of beating any other. It's the old argument as to whether having one outstanding team in it makes a competition strong and does a tournament where all the sides are pretty evenly matched make it a weak one?
I'm not sure if there is a right or wrong answer to those questions, but would always prefer to watch something where the winner is hard to predict. As for a winner this time, I'm sticking with Brazil – like every side left, they have their weaknesses and losing Neymar makes their task harder, but I still feel that none of the other three sides left are good enough to overcome the huge advantage the hosts have in terms of support and their incredible record in competitive matches played in their own country.