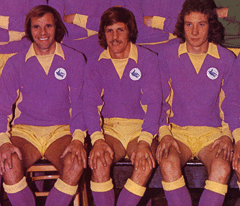 It was getting to the stage where I was going to struggle to put together a couple of paragraphs about the events of the last week when the news broke quite late on Friday afternoon that Russell Slade had left Cardiff City.
I had definitely been of the opinion that Mr Slade's time at the club was going to come to an end sooner rather than later, but was expecting his tenure as Head of Football to be a bit longer than three and a bit weeks that it turned out to be.
I mentioned last week that Mr Slade had been linked with the vacant jobs at Blackburn and Charlton, well the appointment of Owen Coyle put paid to the first of those options, but the second one is still very much a possibility. In fact, it's more than that – Sky are reporting that Mr Slade is in discussions with the London club as they face up to life in the division he probably knows best of all and the bookies have him at 8-1 on favourite for the job.
Therefore, although it's fun to speculate on what brings about someone's departure from a position they had only occupied for not far short of a month, the pretty banal truth in this instance would appear to be that the person concerned has had a job offer for a position which he feels more at home in than the one that had been created for him.
So, having moved halfway out of the door, so to speak, at the beginning of last month, the job has now been completed for the man who has been in charge for the vast majority of the past two seasons. No doubt, those City fans who had pushed for Mr Slade's removal will be happy with this news, but I suspect that even among those who were prepared to fight his corner, there is relief that what looked like an unsatisfactory state of affairs has been resolved by a clean break being made.
Having been around long enough to have seen City finish a season as the third worst team in the Football League, I had problems with the attitude shown by some on Mr Slade's appointment that, basically, said that a club like Cardiff was too big to be employing someone like him as manager. Such opinions were criticised in the local press as being arrogant and I tended to agree – however, as the man makes his departure from South Wales some twenty months after he was made manager, I can't help thinking that those who were against Russell Slade because he was too "smalltime" for Cardiff City have been proved right.
In saying that, it doesn't mean that I rate Russell Slade among the worst managers I've seen at the club. Indeed, in terms of league position at least, I think a decent argument can be made for saying he over achieved in 15/16 at first team level given the playing and financial resources at his disposal.
It should also be said that, in the eyes of many supporters, perhaps a majority of them, a manager is perceived as having done a good job if the first team are able to carry a promotion bid on until the penultimate game of a season.
Furthermore, anyone who saw the system we were playing as we into added time against Bolton (it was almost a return to the 2-3-5 of my youth!) would have to concede that our former manager was not averse to risking defeat in pursuit of going for a win sometimes.
However, that game has to be looked at in context. We were up against a team which finished at the bottom of the league a very long way short of safety that day, we were facing a team which only picked up four away points all season and we were facing a team which had to play for an hour with ten men – anything less than a win that day and I dread to think what the reaction towards the manager would have been.
We made our usual low key start to a home game against Bolton, which pointed to the caution that I thought was always at the heart of Mr Slade's approach at Cardiff. Cautious and uninspiring tactics (at home and away), cautious and uninspiring substitutions, and, although he was hamstrung to a degree by the size of the budget he was given, largely cautious and uninspiring work in the transfer market (three of the sides which finished in the top six featured signings made from the league Mr Slade was supposed to know all about  – a league which he virtually ignored when it came to bringing in new players to Cardiff) all pointed to someone who, for me, never really believed he, or his team, could compete on equal terms with some of the Championship's big names.
Just to confirm, I was talking about League One when I spoke of the league Mr Slade was supposed to know all about. During the 13/14 season when they so nearly got promoted, Russell Slade's Leyton Orient played with a freedom and style which his Cardiff sides very rarely matched and I can remember being impressed by his Yeovil team at times – I don't think the awful punt it upfield stuff we saw from City around the middle of the 14/15 campaign represented Mr Slade's preferred method of playing, but I don't believe he ever truly felt confident that he could really "go for it" in the Championship at Cardiff.
So, I suppose what I'm saying is that Russell Slade probably was too smalltime for a club whose owner believes they should be finishing in the top six in the Championship as a matter of course – it looks like he is returning to a league he feels more at home in and maybe he can now get that promotion which has eluded him up to now.
What Russell Slade leaving will do is silence the talk about nothing having changed at the club despite the shake up announced a couple of days before our final match of 15/16 – Paul Trollope is assuredly in charge now and, hopefully, we will soon learn the identity of the back room staff he wants to bring in to help him.
The only other items to mention are the announcement of a couple more pre season matches – we travel to Forest Green on 13 July and there's another game for the first team in Germany when we play Bochum (who finished fifth in Bundesliga Two last season) at Herne on 26 July, so, for the first time in my memory, it looks like we won't be playing any warm up matches at home.
There was also the, almost compulsory, transfer speculation when it was claimed we were chasing experienced former Celtic centreback Terry Wilson who has been released by Forest and then was promptly denied by "club sources" within hours.
*picture courtesy of http://www.walesonline.co.uk/