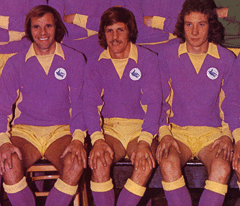 While most of the attention has been on Wales' historic journey to the Semi Finals of Euro 2016, a busy week at Cardiff City has passed virtually unheralded.
I always think of late June/early July as the time when supporters of clubs who haven't signed anyone during the summer so far can start getting a little concerned because it could mean that they have not succeeded in attracting their number one transfer targets to throw in their lot with them.
I say that for a couple of reasons, first, it's when players report back for pre season training (City's did on Tuesday I believe it was) and second, and more importantly, players contracts at their old clubs invariably run out on 1 July, so, if a club have been pursuing a Bosman signing, it should really become clear pretty early in July whether they have succeeded in getting him to sign for them or not.
There are exceptions to this rule. For example, those who are good enough to attract plenty of suitors are able to play them off against each other to get the best possible deal, with the result that they can gladly go weeks without being employed by anyone because they know it is not a situation which is going to last. Then there's occasionally the sort of situation someone like Hal Robson-Kanu is in now where it looks pretty obvious that an announcement as to where he is going after his Reading contract expired is being delayed while he's in France representing his country.
Generally though, my natural pre season optimism levels fall a little bit if we've not signed anyone by this time of the summer. Of course, this was never going to happen this time, because we signed Lex Immers on a permanent deal within days of the 2015/16 season ending and, unusually for a new signing, we knew exactly what to expect from him because we had already watched him performing in a Cardiff shirt for four months.
Based on what they'd seen of him from mid January onwards, Immers' signing was welcomed by most City fans, but it's hard to know what to expect from Frédéric Gounongbé the twenty eight year old Benin international who joined us on a Bosman transfer on Friday from Belgian club Westerlo.
On the face of it, this looks very much like another Immers/Kenneth Zohore type transfer whereby the club have been heavily influenced by the connection with KV Kortrijk (against whom Gounongbé scored last season) the Belgian club owned by Vincent Tan.
A look at Gounongbe's Wikipedia page will tell you that he entered full time football at a late age and that his scoring rate since doing so is very close to a goal every other game, which strikes me as impressive whatever level you play at.
Westerlo were a struggling side in the Jupiler Pro League (the highest level in Belgian domestic football) last season as they just about managed to maintain their status. On the face of it, the thirteen goals Gounongbe managed to get for them must have played a major part in them staying up and you can see them all while getting an idea of the type of player he is by watching this video .
Having been burned by the Andreas Cornelius experience, I'm not going to read too much into what I see in that compilation of Gounongbe's goals, but there's a good half volleyed finish in the early stages of it and he seems to be a calm penalty taker, as well as having decent aerial ability.
What the video doesn't really show is how much of a commodity which has generally been lacking in City's attacking play for a few seasons now he possesses – pace. Encouragingly, this piece from the local media (presumably compiled after consultation with someone who has seen him play at Westerlo) contains the following;-
"The Beninese striker also has enough pace to trouble defenders in a foot-race, making him a target man with a difference."
If that is true, then, perhaps, we've done well in bringing in someone who doesn't have the most exciting of CVs to the club, but it is very much a case of wait and see at the moment.
There were also two more new arrivals at the club this week. Lennie Lawrence's return to Cardiff to act as an assistant to Paul Trollope did not come as a surprise given the former City manager's name had been heavily linked to the club for weeks and, presumably he will be playing a leading role in overseeing the preparatory work for 16/17 as the new Head Coach's formal return from France keeps on being delayed for some reason!
The really interesting appointment for me though is the one which brings Rylands Morgan (someone else who is otherwise occupied in France at the moment) to Cardiff. This article  even poses the question will Rylands Morgan be City's best signing of the summer.
I was made aware of our interest in getting him some weeks before his arrival was confirmed and after a bit of research found that he definitely has a good reputation within the game – certainly, his specialism is in an area where I would say the City squad has generally been found wanting since their return to the Championship.
With us, seemingly, returning to being the sort of club where new people coming into the club tends to mean that someone has to leave to help pay for them, it's no surprise to see Eoin Doyle depart for Preston, on a permanent basis this time. The Irish striker was, almost certainly, the biggest signing of the Russell Slade era in terms of transfer fee paid and I can't help thinking that we've made a significant loss on someone who could, realistically claim he was never given the sort of run in our first team which proved conclusively one way or the other that he was up to Championship level football.
Certainly, four goals in twenty eight appearances during his season long loan at Preston does not look that impressive and they are hardly figures that you would have thought would have persuaded Simon Grayson to pursue his interest in the player, but that's what he has done, so he must believe that Doyle has it about him to make a success of himself in the Championship.
Having mentioned Andreas Cornelius earlier, another player with an impressive You Tube video has left the club on a temporary basis as Idriss Saadi has joined up with Kortrijk on what I believe is a season long loan, although I've not seen any official confirmation as to the length of the deal yet.
Also, I'd should record a belated best wishes to Ben Turner who will be returning to Cardiff City Stadium next year as part of a Burton Albion squad currently preparing for their first ever season in the Championship – Ben signed for Burton about a fortnight ago after his release by City.
One final thing, City have added another game to their programme while they are over in Germany later this month as they take on Rot Weiss Ahlen, who play in the fourth tier of the Germany league system on 20 July – full details of our pre season programme are shown here.