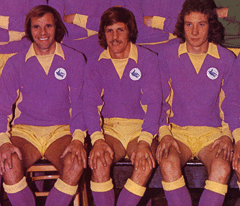 Just a run down on what, warm up games apart, has been a quiet week at Cardiff City this time. The senior team has played a couple of games in the past seven days that have left me, marginally, less upbeat about our prospects for the coming season than I had been after our winning of that tournament at Osnabruck just over a week ago.
I feel like I do largely because of the way we performed in the first half of our games with VFL Bochum and AFC Bournemouth over the past five days. Both of these teams were very dominant in the first forty five minutes against us and it could be said that we were a little lucky to get to the interval a single goal down.
In both matches we made changes which improved things for the second half. At Bochum, this paid immediate dividends when sub Semi Ajayi's long pass found Frederic Gounongbe who was hauled down in the penalty area and so Peter Whittingham was given his first opportunity from the spot of our embryonic season – Whitts duly scored and with him later hitting the woodwork (Kenneth Zohore had also done so in the first half), the 1-1 draw could be said to have been a deserved reward for our improvement, but I'm not sure if Bochum would have felt the same way after a ninety minutes they generally had the better of.
As for yesterday's 1-0 defeat, losing by a single goal at the ground of a Premier League club  is no cause for alarm, but when you also consider that, just as they did when we won there last season, Bournemouth, effectively, split their first team by playing two games in two days (they drew 1-1 at Reading on Friday night), then it was hardly a case of us playing their strongest selection.
On the other hand, I had the feeling that the side Paul Trollope sent out was very close to the one he would have wanted to have at Birmingham next week. The back three in front of David Marshall saw Lee Peltier line up on the right, Sean Morrison making his first appearance of the pre season programme in the middle and Matt Connolly on the left. Jazz Richards and Fabio were the wing backs with Joe Ralls and Peter Whittingham the deeper lying midfielders as Lex Immers tried to support Anthony Pilkington and main striker Frederic Gounongbe.
Interestingly, Paul Trollope said in his post match interview yesterday that our problems in the first half at Bochum had stemmed from the back three sitting too deep whereas Bournemouth were quick to take advantage of us perhaps playing too high a line at times as we sought to rectify what went wrong four days earlier in Germany.
Whatever the reason, Bournemouth were able to ask the defensive questions of our wing backs the sides we played before last week were unable to do. On the home sides's right Jordan Ibe, their £15 million signing form Liverpool, found plenty of room to cause us problems in the first half especially. Ibe's most crucial contribution came when he scored the game's only goal after eleven minutes with a shot across Marshall which was described as lucky in the online City website commentary because of the deflection it took, but as a fine goal everywhere else (Bournemouth's website broadcast a live video of the match and, although the pictures weren't always crystal clear, I saw no deflection on the shot).
Ibe cause Fabio problems, but Connolly was unable to help him much – now I think he's been a very good signing for us, but Connolly's least effective performances for us have tended to come when he plays on the left and, anyway, given the importance of passing the ball out well from the back under our new system, I think I'd prefer to see him used as the middle of our centrebacks.
On the right, Richards would have been concerned at how easily Brad Smith (another Bournemouth summer signing from Liverpool) burst past him once and, having had his defensive problems during his first forty five minutes as a City player at Bochum, the Welsh international was hardly convincing in the opening half an hour yesterday. The reason why Bournemouth weren't able to fully exploit this was that Peltier (good in his first forty five minute run out of the season at Bochum and one of our better players here) was able to provided the defensive cover on his side of the pitch that Connolly occasionally was unable to do on his.
By the time Richards was withdrawn on the hour mark, he was looking more convincing, but it must be said that the introduction of Declan John, along with the switching of Fabio to the right, saw our wing backs looking far more dangerous as they spent more time attacking than defending.
A half chance fired over from Pilkington aside, City did not present much of a goal threat before the break with one of the main reasons for this being the lack of a decent service provided from the flanks, but that changed in the second half. On this evidence, Fabio and John looked the better bet to start as wing backs next week with my one slight criticism of the latter being the lack of faith he showed in his weaker foot when he opted to pass with his left, rather than shoot with his right when presented with a decent scoring chance.
City definitely finished the better of the two sides with much of this being due to us having the stronger bench – besides John, we were able to introduce players such as Bruno Manga (for Morrison at half time), Craig Noone, Stuart O'Keefe and Aron Gunnarsson (another who played his first forty five minutes of the campaign at Bochum), whereas Bournemouth opted to bring on players largely drawn from their Under 21 team.
City came closest to equalising through Ralls's side footed effort from twenty yards which flew about a yard wide and a header which missed by about the same distance from considerably closer by another sub, Kenneth Zohore, from Noone's fine cross. However, there were enough moments of anxiety caused to the home defence to back the feeling that although Bournemouth were probably, just about, the better side over the ninety minutes,  City might be justified in feeling their second half performance was enough to earn them a draw.
As to what our side will look like at Birmingham, my guess is that, with both of them absent for most of our pre season programme, we won't see Morrison and Manga included from the start – with the latter having played more, maybe he will start alongside Connolly and Peltier (who's shown that, at the very least, he can be a competent fill in at centreback until our three experienced specialists in that position are all fully match fit), but I wouldn't be totally surprised to see Morrison start and Manga on the bench.
Despite what I said earlier, I get the feeling Fabio and Richards will be the wing backs – central midfield is difficult to predict though. What seems clear is that Peter Whittingham, who gave the ball away in sloppy fashion in the build up to Bournemouth's goal but has generally passed the ball well in pre season, is almost certain to start. For me, the deep lying play maker position is the one Whitts is best able to fill at this stage of his career, but I say that knowing that his contribution without the ball may not be that great – his Paul Scholes like tackling will also leave him a real candidate for at least one suspension during the season.
Whitts' defensive limitations make the selection of who plays alongside him most important – Gunnarsson did a great defensive job for his country in the Euros, while  O'Keefe is probably the most effective box to box player at the club presently, but I feel Trollope will opt for the all round game of Ralls for now at least.
Immers seems to be a shoe in for the most advanced midfield role and, although Noone as a centrally placed number ten cum striker is an interesting thought which has been given some credence by his pre season displays, it must surely be Pilkington to play off the target man type striker who will, almost certainly, be Gounongbe.
What seems fairly certain is that we will not see any new players arriving in the week before the big kick off. There is a proviso to that though because it's become increasingly clear that, in the absence of big money bids for any of the players I've already mentioned, some, or all of, the trio of players the club said it was willing to let go this week will have to leave before the squad is added to.
Getting Adam LeFondre's. Federico Macheda's and Kagisho Dikgacoi's salaries off the club's wage bill (or at least a portion of them as the result of loan deals) would make a big difference to the recruitment options available to Paul Trollope it seems. Indeed, our Head Coach virtually said as much as he talked of a very busy few weeks before the closure of the window – he is definitely still looking to add to his squad, but added this may include player(s) (probably arriving on loan?) who will be viewed more as squad members than first team starters.
As I always say at this stage of a new season, the real time to make any informed prediction as to how you feel your team will do is in early September straight after the transfer window has shut, because then you know virtually all of the squad that you'll be watching until at least January.
So, I'm not going to make too many predictions now, but I would say that, although I believe Paul Trollope would prove himself to be a good City manager if he was given a couple of seasons to fully implement his ideas at the club, I don't see us improving on last season's finishing position of eighth in the very, very  unlikely event of him having to operate with our current squad for the whole of the coming season.
Our weakest area, by some distance, last season was up front. The two clubs who were automatically promoted and the four who contested the Play Offs all scored at least seven goals more than us and I believe that a further ten to fifteen goals scored this season would, in all likelihood, see us make that climb of at least two places that we need. Unfortunately, I've not been convinced yet that the addition of Gounongbe alone to the group of forward players we had for the latter months of last season, will be enough to provide those extra goals we need.