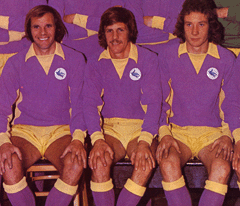 There's seldom a summer goes by without plenty of online messages from supporters of football clubs bemoaning their team's lack of activity in the transfer market during the close season. Well, I saw my first Cardiff City one of 2015 on a City messageboard this week. It matters not that the 2014/15 domestic season only formally ended yesterday with Arsenal beating 4-0 in an FA Cup Final that was even more one sided than the score suggests or that I'm fairly sure that the summer transfer window hasn't formally opened yet, this person was getting in a right panic about how some of our rivals have already done some good business, while we sit about doing nothing.
Now, there have been some years when we have been pretty busy in the weeks immediately following the end of a season and I think it's fair to say that the results of this early business have been mixed. For example, I can remember us bringing in Kevin McNaughton, Steve McPhail and Michael Chopra early on during the summer of 2006 and they all turned out to be superb signings who played leading roles in a very strong start to the season that year. Likewise, I can remember us signing David Marshall in 2009 within days of his Norwich side being relegated to the third tier and I think there'd be general agreement now that the £500,000 we paid for him was money very well spent.
On the other hand, I can remember this time last year there were plenty saying how good it was that we had acted so quickly to bring in new players – I can remember because I was one of those saying it! The bookies agreed as they installed us as favourites to win the league (I see we are, predictably, in the middle range of the betting in the, completely pointless, list of odds brought out for the 2015/16 Championship recently). We spent all last summer as the team most likely to be preparing for the Premier League currently - and then we started playing and reality dawned!
At this time in 2014, it was believed that the recently arrived Messrs Guerra, LeFondre and Macheda would help give us a formidable strikeforce that would have Championship defences quaking in their boots. Even if Fraizer Campbell was likely to leave, we still had Nicky Maynard and Kenwyne Jones as well as someone like Joe Mason contemplating another season which would see him loaned out somewhere because he had no chance of breaking into the City side with the galaxy of striking riches we had to choose from – well, we all know now how that worked out.
While I can understand why managers say that they prefer to sign new players early enough for them to have a full pre season with their new club and, failing that, early enough to have them ready for the start of the season rather than when the transfer window closes after three or four league games have been played, surely the truth is that, no matter when they arrive, new signings can simply be broken down into good ones and bad ones? It doesn't matter one bit when they come as long as we eventually end up with newcomers who can turn us into a better side than we were last season.
No, the only real reason I would have liked to have seen us sign someone by now is because it may have cast some light on something which I believe has become less clear over the past week – just what sort of budget does Russell Slade have to work with this summer?
Given our transfer dealings in January and the way we were loaning out first team players in March, my first assumption was that we would, to borrow a bit from our manager, be shopping in Poundland rather Harrods, but I have been told the names of three players we are chasing this summer by someone who has been a very reliable source in the past and, if he is right this time, then we are, maybe, giving Harrods a miss, but we are still shopping in John Lewis'.
However, if there is any substance to some of the names we were linked with last week, then maybe Mr Tan is still permitting the occasional visit to Knightsbridge!
Daryl Murphy was the Championship's top scorer in the season just ended – he found the net twenty seven times in league fixtures and every time I watched Ipswich last year he showed there was more to him than just being a penalty box predator. I've always liked Murphy, as hinted at earlier, he always puts in a real shift for the team, is decent in the air, yet mobile enough to be used as a wide player and he has a little bit of quality about him that has always made me think he should have played more top flight football than he has done.
However, his goalscoring record last season was something of a one off – his thirteen goals in all competitions in 13/14 was, by some distance, his next highest scoring season. Now, if he was a twenty two year old making a reputation for himself with that sort of increased goalscoring record, then it would be one thing, but Daryl Murphy is ten years older than that and, although I'd say he would, almost certainly, be an improvement on what we've got, it seems to me that spending even half of the £4 million valuation Ipswich have, apparently, put on him would be too much for someone of his age.
By contrast, Crystal Palace striker Dwight Gayle is only 24 and, unlike Murphy, has a good Premier League goalscoring record. It would appear that Gayle is available at the right price, but that price would surely be one that cast serious doubts about how intent the club are on ending the days of £10 million plus annual losses. Reportedly, the deal which saw Gayle sign for Palace could have ended up costing the London club £8 million and, given that he has been far from a flop in the top flight, I would have thought they would want to get virtually all of that back if they sold him.
It would surprise me if there were no Premier League clubs prepared to sign Gayle, but, if he was to end up with us, surely he would be paid for by the departure of three or four of our most saleable assets and so you'd have to wonder about what sort of Cardiff squad he would be joining for the new season.
To be honest, I hope we don't sign either of these players. That's not to say that I wouldn't be excited by their arrival, but it would feel a bit like us keeping on digging when we were already in a massive hole.
More likely for me than either the Murphy or Gayle rumours is the one linking us with a £500,000 move for Swindon left back/winger Nathan Byrne who was voted into the League One team of the year by his fellow professionals in April. In saying that, I see speculation this morning that West Brom are going to bid £2 million for Byrne, so, maybe, this is another one that should be filed under "unlikely" – I suppose my point is more that a £500,000 move for any highly rated young League One player has a ring of truth about it that Dwight Gayle to Cardiff does not in my book.
Finally on the transfer rumours front, it's been reported that Cardiff could be a destination for a couple of young centrebacks that Everton are looking to loan out to Championship clubs. Tyias Browning and Brendan Galloway will it seems by playing in our league next season. Browning, who made his first team debut for Everton when he came on as sub in the Merseyside derby match back in September, has  already done so with a couple of appearances for Wigan in a loan spell with them in January 2014, while Galloway, who arrived from MK Dons last summer, started against West Ham and Spurs in the Toffee's last two matches of the season. On the face of it though, with centreback being the area where we are strongest, it's hard to see how either of them would get many first team opportunities for us unless we see a few established names leave in the coming weeks.
If you read last week's piece, you will have seen me discounting Norwich's chances in the Play Off Final simply because I wanted them to win. However, they overcame this huge disadvantage quite easily as it turned out scoring twice early on to secure a comfortable 2-0 win over Middlesbrough with ex City striker, and my man of the match, Cameron Jerome getting the first one. So, Boro will be one of a few Championship teams looking to do a spot of rebuilding after the loss of some very influential loan players back to their parent clubs – it's another reason why the Championship is such a fascinating league, the widespread use of loan players by some teams means that there can be a loss of continuity with success one season often not being guaranteed to follow in the next one.