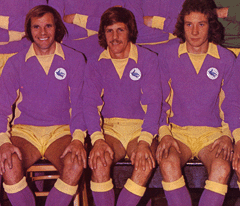 It's not been finally completed yet (a medical originally scheduled for late last week has been rescheduled for this weekend), but Cardiff City have, to all intents and purposes completed their first signing of the summer by bringing in 20 year old Danish International Andreas Cornelius from FC Copenhagen in a deal which smashes their old transfer record – certainly, the club feel confident enough about the deal being completed for them to put this out on their website on Thursday. As is nearly always the case these days, the fee is officially "undisclosed", but media reports have set it in the £7.5 to £8.5 million range.
At six foot four, Cornelius is the sort of target man striker that most supporters had agreed we needed for the top flight – perhaps his youth and inexperience may go against him, in the short term at least, when it comes to a place in the starting eleven, but there is plenty in his CV to indicate that City should utilise his talents to the full right from the start of his Cardiff career Eighteen goals in thirty four appearances during his first full season in the FC Copenhagen side made Cornelius the top scorer in Danish domestic football's top flight and helped his team to the League title. Now, I'm sure that there will be those who will say it's one thing to score goals in the Danish Superliga and another completely to score them in "the world's greatest league", but  standards in Danish club football are decent (the Superliga is ranked the fifteenth strongest in Europe apparently) and it seems there are plenty of media critics around who feel Cornelius will easily cope with the step up in class.
I know you can read any old rubbish in a blog (there's be an appropriate smiley here if I had access to them!),  but Cornelius is described as "the coup of the summer" in this piece from a site which contains much interesting reading regarding the league we'll be playing in for the first time in the coming season. If this was the only online piece out there saying very complimentary things about our new signing, then it could be easily dismissed, but what I've read so far is almost universally positive, with this piece being another to come to confirm the feeling that this has been a very shrewd bit of business by Malky Mackay.
From a personal perspective, I should admit that I'm maybe a little bit biased already when it comes to Andreas Cornelius because, unlike many City fans I would guess, I knew a fair bit about him before the deal was announced. I know it's maybe not the done thing for fifty seven year olds to be the researcher for their club on a computer game, but Football Manager can be a superb football reference tool and I became aware of Cornelius while playing FM 2013 – his excellent ratings and relatively cheap transfer value (this was before his great first full season in senior football) made him someone I always wanted to sign for Cardiff, but never could because he was obviously destined for better things than playing for a Championship side with unknown manager in charge of them!
Right, coming out of my second childhood now, the end of June/first week of July always tends to be a busy time in the transfer market and there is certainly plenty of speculation doing the rounds, that other new players will be making their way to Cardiff City Stadium sooner rather than later. According to the Daily Mail, we've gone back to Celtic with an offer which is close to or matches the £12 million bid by Southampton that was accepted by the Scottish team only for the move to, seemingly, break down over terms and agents payments – it's reported that these won't be a problem for City if their bid is accepted and, even if he doesn't end up with us, there's plenty of evidence around to suggest our interest in the player is genuine.
Similarly, with many others appearing to be put off by Blackpool's valuation of their goalscoring winger Thomas Ince, we are being widely reported as the only club willing to pay the £8 million plus being asked for by the Championship team. Of course, none of this means Ince will end up at Cardiff (I've seen one newspaper report claiming that the player is looking for a "bigger" club than us for his next destination), but, again it would appear that we are in there competing for him. Finally, and most incredibly for me, Benfica's Oscar Cardozo was linked with us in a piece for a foreign paper (sorry, I can't find it now) – in fact it went further than just linking us with the prolific striker who is generally regarded to be a Manchester City target, it said we'd had a £12 million bid for him rejected!
Now I know that, Andreas Cornelius apart, we have no confirmed info about how much we are willing to spend during this transfer window, but all of the indications are that it could be substantially more than the £25 million that Vincent Tan talked about when he was interviewed immediately after we'd clinched promotion. I've mentioned before on here that I'd have decidedly mixed feelings on such a level of spending given the level of the club's debt and the example of QPR, but I also take some consolation that, thirty year old Cardozo apart, the players referred to in this piece are in their early twenties and would have a very good resale value for us if they played to their potential. So, it would seem that Malky Mackay is intent on continuing a policy which we have seen over the previous two summers, whereby he includes a healthy number of promising youngsters whose transfer values should appreciate in his summer intake of new players – this is easier to do when you have access to the sort of funds our manager had last summer of course, but it was something that had almost stopped happening during Dave Jones' latter years at he club.
Finally, just a couple of things to finish on – firstly, a repeated thank you to those of you who responded to my request for feedback on whether you were a fan of electronic or printed books. All comments have been noted and, hopefully, there will be  more details about how and when the book my friends and I are working on will be published in the next couple of months or so. Secondly, I can confirm that this blog has finally made the big time – Wales Online ran this story during the week in response to Swansea's unveiling of their purple and yellow change strip for the new season which, tucked away in the middle somewhere, included the following;-
Star players like Phil Dwyer, Willie Anderson, Bobby Woodruff and Brian Clark represented the Bluebirds the unusual strip, which has been honoured with its own blog called "Cardiff City mauve and yellow army."
hardly enough to get us on to this list I know, but from little acorns………….!
Edit – a belated thank you to Gareth Rogers for the mention, apologies to him for not mentioning him earlier.