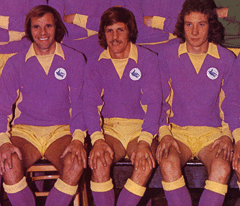 A shorter piece this week to reflect what has been a quiet week at Cardiff City. Main  interest I suppose has been come from the announcement of pre-season fixtures with City's participation in a four team tournament in Germany to be held on 23 July.
Yes, a four team tournament to be held on one day does seem a bit odd doesn't it, but it can be partially explained by the fact that the matches will only last sixty minutes each, not the usual ninety.
The mini league will consist of hosts VfL Osnabrück, FC St. Pauli and Bundesliga club Borussia Mönchengladbach as well as City – each team will play two games with us facing the first two named clubs. The tournament gets under way with us facing St Pauli at 3.30, they then play Mönchengladbach, before Osnabrück, who finished fifth in the third tier of the German league system in the season just ended, enter the tournament by playing us at 6 and the competition winds up with a game between the hosts and Mönchengladbach.
I'm guessing that most reading this will be familiar with St Pauli and the type of club it is, but suffice it to say for anyone who isn't, they are one of the most unusual clubs in Europe – a look at their Wikipedia entry will show you what I mean.
So, our first match will represent an interesting clash of philosophies, with the archetypal modern day Premier League/Football League team under the ownership of a foreign billionaire in the money obsessed domestic game, coming up against a left wing, "punk" club who are probably the most extreme practitioners of "fan power" from a country where supporter rights are an accepted part of the game in a way I can't see them ever being here.
St Pauli don't do too badly with their diametrically opposite viewpoint to City's either – they finished just short of the one Play Off position in Bundesliga Two this year and did make it into the top division in 2010, but, like us, they ate at the top table for just the one season.
The similarity with us doesn't end there either, because, although St Pauli's fourth placed finish in the German equivalent to the Championship looks very impressive, the truth is that they also finished a long way short of the Play Offs when you use points rather than league positions as your guide. The Hamburg club finished twelve points behind third placed Nuremburg, who were beaten over two legs by Eintracht Frankfurt in the promotion/relegation Play Off.
Still, St Pauli would seem to represent testing opposition for us following our first warm up match at Shrewsbury on July 16. City will then fly to Germany on 19 July and stay there for eight days before facing Bournemouth on 30 July, a week before the league season starts.
We traveled to Shrewsbury and Bournemouth as part of our pre season programme last year and it struck me as odd then that we should play a Premier League side away from home – it seems doubly so that it should happen again, especially when you consider that, although the club say there will be more fixtures announced for the first team, it's hard to see where a home game could be fitted in.
Just one last thing on pre season fixtures, a Cardiff City eleven (presumably made up of Under 21 players and Academy members) will play at Exeter on 28 July.
Apart from that, there isn't a great deal to report. Paul Trollope has traveled to Malaysia to visit Vincent Tan and "club sources" have said that, in contrast to some of his predecessors who seemed intimidated by our owner, it was the new manager/coach who was behind the meet up.
I do find it a little concerning though that one and a half weeks after Paul Trollope said new arrivals to the coaching and backroom staff will be announced within days, we still haven't heard anything. There was a story that the transfer committee would have to approve the new men Trollope wanted to bring in and I sincerely hope that the delay is not down to the money men digging their heels in, because that would send out completely the wrong signals as to the club's level of ambition for the new season.
Some predictable, to me at least, news to emerge this week was that it looks like Russell Slade's stay in his new role as Head of Football is going to be a short one. While being the bookies favourite for a job isn't a guarantee that the person concerned is going to get, City's former manager was installed as 1-2 favourite to take charge at Charlton a day or two before reports saying he had also been interviewed to become Blackburn's next manager emerged – one way or another, I don't believe Mr Slade will be at Cardiff much longer.
Finally, congratulations to Hull City on their 1-0 victory over Sheffield Wednesday today to take the final promotion place in the Championship. Steve Bruce's side were well worth their win over a Wednesday team which rode it's luck to get past Brighton in the Semi Final and they just didn't turn up as an attacking force today – to be honest only keeper Keiran Westwood looked to be of a Premier League standard today for an Owls team which, let's not forget, were far too good for us in our "big Play Off decider" last month.