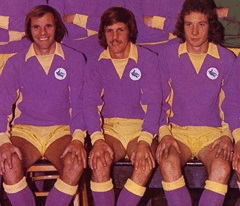 We're still at that stage where there is nothing much to talk about really other than transfer speculation, but there has been a feeling this week that one or two of the rumours regarding new players for Cardiff City may have something more substantial to them.
For example, after first being linked with us in January, Callum Paterson's name has come up again and what sets this speculation apart from most of the other stuff we tend to hear at this time of year is that it's been reported that he has already visited Cardiff for a meeting with Neil Warnock as his contract at Hearts winds down.
There is a general acceptance that the twenty two year old right back and occasional striker, who has won five Scottish caps, will be leaving the Edinburgh club this summer and there had been speculation that his destination would be Glasgow – in particular, the blue half of the old firm.
However, while there was a time when the news that Glasgow Rangers were interested in a Cardiff City transfer target would have been a signal for us to accept defeat and move on to someone else, those days are long gone now.
I say that not because we have grown from where we were, say, seven years ago, but because it would appear that, although Rangers are now back in the Scottish Premier League, they are still some a long way from being the financial powerhouse they were during the Graham Souness days when current England internationals were being tempted north of the border.
The consequences of the liquidation which saw the Ibrox club demoted to the fourth tier of the Scottish game five years ago are still being felt and so the player pool they are forced to fish in these days appears to be the same one as middle to lower ranking Championship clubs like us are using. Therefore, stories the like of which we saw this week where it was reported that Rangers seem to be losing the race to sign Callum Paterson to Cardiff City should not be treated with scorn - there probably will come a time when the "natural order" of things whereby we would be long odds second favourites in any race with Rangers for a player will be restored, but that time's not here yet it seems.
Perhaps tellingly, there has been no denial from Paterson or his representatives or Neil Warnock and Cardiff City that the reported meeting between the two parties did take place. Therefore, I would conclude that there was a meeting – consequently I feel that Patterson is someone we are very interested in capturing.
Of course, it could be that stories saying we look favourites to sign the player could all be part of a ploy to alert other clubs that a deal is imminent and they need to get a move before it's too late for them. However, there is the fact that Paterson is only just back into light training following his knee ligament injury early in the year which threatens to keep him out for the early stages of the new season to take into account as well – this may mean that there are clubs, who would otherwise have been interested, who'll now be looking elsewhere, but, assuming that meeting with Warnock did take place, it does show how much we want this player and that may be something which Paterson would appreciate at this particular time in his career.
No one is claiming yet that Joe Ledley has met with Neil Warnock with a view to signing for City, but, let's face it, if, as expected. Crystal Palace do not renew his contract when it expires at the end of next month, then we would be better placed than many other Championship clubs are to persuade the man from Fairwater to step down a division.
I've always felt that Ledley was a strong candidate to return to the club he left in 2010 eventually, but as he only turned thirty in January, I thought that day would be a few years down the line yet. However, albeit on a smaller scale, it would appear that we are now in a similar situation to where we found ourselves when it was first mooted that Craig Bellamy could be coming "home" – the signal us not being interested in a player who is currently still good enough to be selected in what Chris Coleman would consider his strongest Wales team would be harmful to City if said player was amenable to such a move.
Of course, there is nothing official yet to confirm that Joe Ledley would be amenable to a return to Cardiff and it should not be forgotten that there has been no official confirmation from Palace yet that they will not be offering him a new deal.
It is a fact though that Ledley has, seemingly, said his goodbyes to a member of the Palace medical staff on social media and this, together with the fact he owns a house in Penarth (apparently, he has done for a couple of years mind) is enough for some to conclude that Matt Connolly might face competition for the number sixteen shirt at Cardiff in 17/18.
For myself, I'd say that it wouldn't surprise me too much if we were trying to get Ledley and, if we are, then I think there's a decent chance we'll get him.
So, I'd say we are almost certainly in for Paterson and it's more than likely that we are for Ledley. I'm not so sure about reports that we are interested in another Scottish international defender in Newcastle's Grant Hanley mind. The centreback, who struggled to get games for the title winners in 16/17, is the subject of a reported £4 million bid from Derby and, surely, we need to be spending such a fee in other areas don't we – always assuming we are in a position to spend millions on one player of course.
Two things occur to me about Hanley – first is he really that much better than what we have already and, second, if we really are chasing £4 million rated centrebacks, then you have to conclude that Vincent Tan has authorised transfer spending of the level we saw in the summer of 2012 before our Championship winning campaign – that just seems very unlikely to me.
Finally, Millwall's Play Off Final win over Bradford last weekend means that we will have a relatively short away trip to go with the treks up north for visits to relegated sides Sunderland, Middlesbrough and Hull and newly promoted Sheffield United and Bolton. With Reading and Huddersfield meeting tomorrow to decide the final promotion place (it goes without saying that my prediction was for a Sheffield Wednesday v Fulham Play Off Final!), the full make up of the 17/18 Championship will soon be known. I suppose on geographical grounds alone, I should be rooting for Huddersfield and I do slightly favour them, but it wouldn't bother me too much at all if Reading went up – either way, promotion for one of these teams (as well as Brighton's automatic promotion) offers yet more proof that the Championship is a league where you do not need to have millions of pounds in parachute payments behind you to be successful.