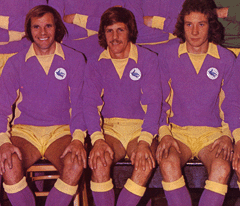 I covered the resolution of the Langston loan note debt earlier in the week, but newly installed honorary life President of the club Sam Hammam didn't waste any time in giving us the benefit of his opinion as this piece appeared in the local press almost within twenty four hours of the announcement of the settlement. It's all pretty standard Hammam stuff in which he goes on about the need for fans to support Vincent Tan and make him feel loved. I'll not comment on that except to remark that while someone receiving an endorsement from Sam Hammam a decade ago could have relied on the guaranteed support of a large percentage of the Cardiff City fanbase, I'm not sure that's true anymore – in fact, it could be said that, with attitudes towards our former owner as they are amongst a very significant proportion of City fans, Sam Hammam's public support might be seen as something of a poisoned chalice for the person concerned!
Anyway, enough off the pitch stuff, thankfully things have started happening on it, both in terms of new players arriving and some football being played, in the past week. The one guaranteed new player is Derby fight back John Brayford whose signing on a four year contract was officially confirmed yesterday – a fee of £1.3 million (which could rise to £2 million with various add ons) being the widely reported cost of securing his services. It's also generally accepted that Brentford goalkeeper Simon Moore's arrival at the club will be confirmed early next week and, seemingly, City are still chasing Toulouse midfield player Etienne Capoue, while a new name to enter the fray is Espanyol's Mexican international centreback Hector Moreno who the Spanish media are reporting has been the subject of a bid from us.
Those last two players named appear to confirm that City are still chasing the sort of players that would not generally be targeted by a newly promoted club – Capoue has been a target for some of the top clubs in the UK (e.g. Spurs and Arsenal) over the past year or so and Atheltico Madrid, Fiorentina and Monaco are all being linked with him this summer. Under those circumstances, I suppose it's not surprising that it was being reported in the French media a few days ago that Capoue had "refused" us and was not interested in coming to Cardiff, but it's emerged recently that City have had a bid for the player accepted and it appears that there has been some dialogue between the player's agent (and possibly Capoue himself) and the club. Malky Mackay is rumoured to have flown to Toulouse yesterday to handle negotiations and you get the impression that City are prepared to push the boat out in terms of wages for this transfer – the deal is not dead in the water by any means.
Quite where we are at with Moreno is more difficult to gauge. Strangely, sections of the media are reporting that we've offered Espanyol (who probably need to sell because of their financial problems) £4 million a few days after Swansea's higher bid was rejected by the Spanish club – my guess is that this information is wrong because City's approach this summer to trying to sign players which I would say are on their A or B lists has tended to be to offer what the selling club wants in the hope that other clubs will not follow through on their interest in the player.
What cannot be denied is that Malky Mackay and his recruitment team have not been put off pursuing the type of player which I would guess most City fans thought we'd have no chance of signing because of their failure to land the likes of Victor Wanyama and Thomas Ince. The prevailing view in the media and amongst supporters is that 25 year old Capoue (a technically proficient defensive midfield player with a decent goalscoring record and six full caps for France) would represent a tremendous signing and a real coup for the club if we could get him ("the signing of the summer so far" is how I've seen him described in a couple of articles), while Moreno, who has an impressive forty five caps for his country at the age of twenty five, is seen as a footballing defender, capable of making the adjustment to the more physical Premier League.
I've raised my concerns about the possibility of us missing out on cheaper, perhaps more realistic, transfer targets as we go off vainly pursuing players with a big reputation once or twice on here in the past couple of months , but, to be fair to the City hierarchy, it needs to be said that the signing of Andreas Cornelius is an example of this approach working and it's probably true to say that it would only need to work again on  one or two occasions for it to be judged a success. It's also reassuring to see that the signing of Brayford and the impending arrival of Moore indicates that City haven't abandoned the sort of philosophy shown by Norwich for example in their first two seasons back at Premier League level.
The Championship attracted more than it's fair share of flak last season when it came to the standard of football on offer, but there were some decent right backs around at that level in 2012/13. Charlton's Chris Solly and Burnely's Keiran Trippier (who was picked in the PFA Championship team for last season) are two players capable of making the step up to the Premier League in my opinion and Huddersfield's Jack Hunt might well be able to as well, but John  Brayford is, arguably, better than all three of them. I first became aware of him at Crewe, but it was at Derby where he really began to stand out as a quick attacking full back, capable of knocking in some superb crosses at times. Supporters of the team you bought a player from might not always be the best people to look to for an objective view of him (especially if he has turned down a contract offer and is looking to "better" himself), but you can usually piece together a consensus view on him as a player – Brayford is the first player I've come across who had a 100% positive feedback from his former team's supporters when I went on one of their messageboards to gauge opinions.
Hopefully then, we've signed someone, for a relatively cheap fee, in one of the positions we needed to strengthen who will be able to cope with the step up in class from the Championship . There's no indication yet of how much we are going to pay for Simon Moore, but I think it might well be a tidy sum – after all, the twenty three year old impressed so much in his first full season of league football that he was invited to train with Manchester United at one stage and was also linked with the likes of Newcastle and Sunderland during the winter. I doubt it very much if Moore will be displacing David Marshall any time soon, but I also can't see him becoming our third choice either, so I wouldn't be surprised to see one of him or Joe Lewis loaned out (or possibly sold in the case of the latter) in the coming weeks.
Anyway, the pre-season build up is well and truly under way now with all of the sides from the Under 18's upwards having played a game. The Academy side drew 1-1 with Taffs Well's senior team ten days ago with striker Yora Enzam getting the goal, the Under 21's beat Haverfordwest 4-1 with a squad which included five trialists. Raphael Calvet from Auxerre, who I mentioned in last week's review, was one of them and, another one, a Portugese winger called Correia got the fourth goal, but it was Kadeem Harris who took the eye with a fine hat trick – all this from someone who I had down as a poor finisher!
The senior side also scored four, but struggled to put away Conference side Forest Green Rovers before edging to victory by the odd goal in seven – mind you, 4-3 looks good compared to last year's 1-0 defeat by the same side in the opening pre season friendly! Just like last year, Malky Mackay used all of his first team squad (with the exception of Aron Gunnarsson who is still recovering from the dislocated shoulder he sustained playing for Iceland in early June) with eleven changes made at half time and then Joe Mason and Rudy Gestede only getting a quarter of a game each as the latter replaced Mason midway through the second half. City goals came from first half headers by new signing Andreas Cornelius and Nicky Maynard, Peter Whittingham scored just after half time from the penalty spot after Mason had been fouled and a lovely goal by Craig Noone restored City's two goal lead at 4-2, only for the home team to capitalise on some shoddy defending a couple of minutes later to ensure some dodgy moments for the side before victory was confirmed.
Today sees the first team go to Cheltenham where John Brayford is expected to get some game time and the Under 21's will have Gestede, Mason, Velikonja and Kiss in their squad when they face Barry Town United. On Tuesday, the senior side go to Brentford and then face Italian team Chievo a week today in their first home friendly, while the Under 21's travel to Port Talbot on Wednesday before playing Hereford at Edgar Street in a week's time.