Although I plan to do one or two more entries about how 2010/11 panned out yet, most of the stuff I will be doing over the close season will be a review (I could hardly use the word "update" could I!) of Cardiff City related news over the past week. I was thinking of doing these on the weekends normally, but now seems to be as good a time as any for this first one.
As far as City are concerned, there are two main topics really. Firstly, the future of our manager Dave Jones who we were reliably informed by many sources earlier in the week was at the top of West Ham's shortlist of candidates to replace the sacked Avram Grant. Yesterday brought a different take on things though, as the man himself denied any contact from the Hammers and David Gold, West Ham's joint owner tweeted that they hadn't spoke with our manager and he wasn't their first choice for the job either.
Anyway, there is still the small matter of whether there is a job at Cardiff for Dave Jones to be sorted out yet. From the little we have heard from him since the Reading defeat, it would appear that our manager plans to stay on despite his rather ambiguous comments after the Play Off defeat. However, with him having been involved in meetings with Gethin Jenkins, TG and Vincent Tan yesterday reviewing where the club goes from here, it is by no means certain yet whether the powers that be are prepared to let him have another crack at the Premiership – with getting on for £800,000 due to Dave Jones under the terms of his one year rolling contract if he is sacked mind, my increasing suspicion is that, unfortunately in my view, they will be.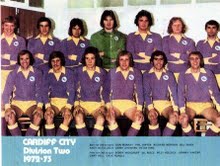 The retained list was announced earlier week and I wasn't surprised to see the name of Jay Bothroyd on it because it seemed the only chance we had of keeping him was by getting to the Premiership (that said, BBC Wales were reporting that City were still in talks with the player some hours after they announced he was not having his contract renewed). The presence of Chris Burke's name in there was a bit more of a surprise, but maybe the rumours about him wanting to go back to Scotland were true. Anyway best wishes for the future to Jay (even though he has really blotted his Cardiff copy book from January onwards), Chris, Gavin Rae, Adam Matthews, Martin John and Academy players Sameth Al-Basith and Steffan Jones.
There is some breaking news (I've never been able to use that term on here before!) at the moment in that the front page of the Echo this morning has a story about Craig Bellamy possibly playing for City for nothing next season. No more details than that at the moment, but I've never really believed he could come back here under the terms of his current contract at Man City without a very big reduction in what we were paying for him – perhaps this might offer an explanation as to how it could happen?
I can't put off referring to the disaster area which is the Welsh football team any longer I'm afraid. They were beaten 3-1 in Dublin by Scotland in front of a tiny crowd (the Carling Nations Cup looks set for a very short existence unless the format changes) last night.  Typing anything about Wales currently gets me miserable on the sunniest of days (which today certainly isn't!), so I'll not waste too much time on this game.
Wales fielded a team reading Myhill; Eardley, Blake, Morgan, Taylor; Dorman, King, Tudor-Jones, Easter; Earnshaw; Vokes. Now, if that team played a season in the Championship, I think it would end up being relegated, so there's not too much surprise in the result then and, to their credit, Wales dominated possession without looking too dangerous for the first half an hour. However, when Earnie took advantage of some poor Scottish defending by Crainey and Brown after 36 minutes, Scotland were in the process of taking control and we were quite lucky to still be in front at half time. After the break though it was virtually one way traffic as Wales, again, showed how low they have dipped since thrashing the Scots 3-0 in Cardiff eighteen months ago.
If there is such a thing as a "must win game" in a tournament like this, then I think Friday's match with Northern Ireland falls into that category because if we don't beat them (Steve Davis and Sammy Clingan are both out injured), it's hard to see when we will get that win which I reckon Gary Speed needs to keep the critics off his back for a while.
A couple of other things, my thanks to Ken Davies, who has a very interesting website featuring this page on ex City player Dave Powell, for providing me with the team photo of the 1972/73 side wearing the ground breaking (well that's one way of describing it!) mauve and yellow kit that was the source of so much hilarity throughout the land thirty eight seasons ago – see if you can name all of the players pictured.
Finally, a mention for the Cardiff City Supporters' Trust end of season social evening on Friday 10 June which will include a reunion of some of the players who were in the City side which beat Real Madrid forty years ago (see below – N.B. Bobby Woodruff and Steve Derrett will also be there);-