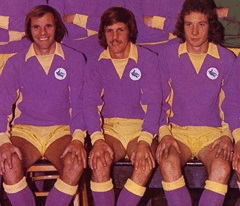 With the City players reporting back for training in the next seven days, I think Neil Warnock can feel satisfied as to how successful he has been in his stated aim of getting much of his incoming transfer business done early so that our arrivals can get a full pre season programme behind them at their new club.
Having secured the signatures of four players already, Friday saw the expected confirmation of the signing of Rotherham forward Danny Ward on a three year contract and, unlike with Messrs Camp, Etheridge, Mendez-Laing and Paterson (who we did have to pay a compensation fee of around £450,000 for), Ward arrives with an "undisclosed" transfer fee to his name.
Various reports I've seen put the fee we paid for Ward as anywhere between £1 and £1.6 million pounds once all of the add ons are accounted for. Whatever the truth, we've paid considerably less than the figure Ward was valued at in January when his old club turned down three bids for him (wouldn't be surprised if one of them was from us).
With Warnock saying that the man he had managed before when he turned around Rotherham's 2015/16 season can play on either wing, as a number ten or up front by himself, it seems to me that our manager sees Ward as a replacement for Anthony Pilkington who, it appears, we are prepared to listen to bids for.
Indeed a look at this video of goals scored by Ward during his spell at Huddersfield from 2011/15 had me thinking I was watching a reel of Pilks' best moments with the same club nearly a decade ago.
However, to repeat something I said on a City messageboard this week, I'd say that any objective analysis of the two men's careers up to now would have to conclude that Pilkington has been the more successful and talented player.
In saying that, I suppose the most relevant argument has to be how do the two of them compare now and, with Ward having netted twelve times last season for a team that had the worst record of any Championship club since our return to this level in 2003, and Pilks providing flashes, but no more than that, of his best in 16/17, our new man probably looks the better bet to be successful for us next season.
While the goals tend not be as spectacular in this more recent Ward video, there is evidence to suggest that he may be the sort of penalty area poacher we have tended to lack in the last couple of seasons.
When Neil Warnock talked about the transfer business he wanted to do this summer, he tended to say that he was looking at four or five new players, so it seems to me that we have seen the bulk of our incoming transfer business done already. However, the impression I got recently was that we were in the running for a striker (which turned out to be Ward), as well as Jonny Hayes, who moved to Celtic from Aberdeen a week or two ago, not one or the other, so you would assume that we are still in the market for another player in the Hayes mould.
Obviously, things would change if one of our current stalwarts like Sean Morrison was sold following a bigger bid from the likes of Sheffield Wednesday or Bruno Manga chose not to stay with us and I notice that there were reports linking Aron Gunnarsson with Maccabi Tel Aviv in the week.
There has been good news on the contract front in recent weeks as a succession of first team squad members have agreed new deals with the club, but Gunnarsson's name has been conspicuous by it's absence so far and this is a worry with the Iceland captain's current contract due to run out in a year's time.
So, it's certainly not beyond the bounds of possibility that City would be looking to get a fee for the man who is now our longest serving first teamer (in terms of when he made his debut for us at least) this summer if the signs were not good about him agreeing to extend his stay at Cardiff,
Even if Gunnarsson stays though, the departure of Peter Whittingham, the almost certain departure of Tom Adeyemi and the likely departure of Emyr Huws would leave us looking light on options in central midfield and so now may be good time to mention this story from a few weeks ago. I thought it was a longshot at the time and still do now, not least because there would, surely, be tremendous competition for such  a player on a Bosman, but N'Doye would appear to possess the leadership and genuine box to box qualities that some say we lack in the middle of the park.
More likely for me is that Warnock might start looking at the loan market now, particularly if someone like Manga is retained, as we may see a "balancing of the books" becoming more of a priority.
Moving on to other things. Although I suspect everyone who reads this will be aware of them by now, here's a list of our fixtures for 17/18 – two games stand out for me, a very attractive first home league match of the campaign against Villa and a Boxing Day home encounter with the most entertaining side in last season's Championship.
Staying on the subject of fixtures, hardly surprisingly given the League Cup draw last week, the only scheduled home pre season fixture, against Portsmouth on 28 July, has been cancelled. The fact that Pompey have been able to announce a replacement game, at Crawley, for that weekend shows that it is not impossible to arrange another fixture at such short notice, but I can't help thinking that, for the second consecutive season, we are not going to see a pre season game at Cardiff City Stadium.
One thing  that should be emphasised though is that the game at Hereford arranged this week for 25 July is not a first team fixture – it's been advertised by the club as a match involving "A squad predominantly made up of Bluebirds U23s players".
Finally, Kenneth Zohore added to his burgeoning reputation last night with a very influential performance in the European Under 21 Championships in Poland, Mysteriously confined to the substitutes bench for Denmark's defeats by Italy and Germany, the City striker started as the Dane's bowed out of the tournament by beating the Czech Republic 4-2 with Kenneth contributing two goals and two assists.
If you can stand the small screen and the advert which breaks in a few minutes into the video, there are ten minutes of highlights from the game here – I'm sure Kenneth was one of the players the commentator was referring to when he talks at the end about the Danish coach regretting previous selections.