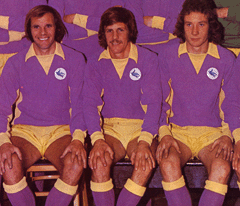 This time last week City were a few hours away from playing their second pre season match, now they are days away from playing their fifth, so, although the wait for any truly meaningful news on the transfer front goes on, there has been a lot of football action to focus on and, in terms of results anyway, most of it has been good.
The 2-2 draw at Shrewsbury last Saturday to follow on from another draw at Forest Green three days earlier hardly got anticipation levels rising. After falling behind to an early penalty, carelessly conceded by Lee Peltier, City recovered to level through a close range goal by Joe Mason before half time and then a cutely taken free kick by Anthony Pilkington had them ahead ten minutes into the second half, However, the closing stages of the game saw the home side get on top and a late equaliser gave them a draw that, based on what I have seen and heard, was the least they deserved from the match.
From Shrewsbury, City moved on to the Netherlands for their week long visit which had seen them in the headlines for reasons they would not have wanted, but,even so, with just one proviso, the trip can be called a success.
Besides the two matches the team played, there was also further training and an element of team building involved. Given Matt Kennedy's comments in this piece, there was a need for the sort of team building exercises that an old fuddy duddy like me used to hate when I had to attend them while in my previous job, but I was one of a group of people who generally got on well enough to socialise together whereas I don't think anyone who saw much of City playing last season would have been surprised by what Kennedy said.
Of course, everyone is likely to get on just fine when there are no league points, or win bonuses, at stake, and the real tests of City's new found esprit de corp are still to come, but a tangible improvement (and I always believe fans are generally pretty quick to spot such things) on the team spirit front will make a big difference in a league where teams with divisions in the dressing room tend to come nowhere.
Anyway, on to the football. Tuesday saw City performing in front of a smattering of diehards who had made the trip from South Wales on a training pitch next to a small stadium where Dutch lower league football is played. The setting was hardly glamorous then, but with opponents Ironi Kiryat Shmona having come second in last season's Israeli League to ensure Europa League qualification, it was always going to represent a proper test for the side.
With Shmona dominating early on and bringing a physical edge to proceedings, this was just the sort of competitive encounter that managers want for their teams at this time of year – actually, perhaps it was a bit more than Russell Slade wanted! Having come through the early pressure on their goal, City scored from their first meaningful bout of attacking when a Whittingham corner was cleared to Craig Noone who hooked the ball back in towards the far post where Bruno Manga controlled well before unleashing a fierce shot into the roof of the net from eight yards – it was a very accomplished finish by the centreback.
Just as at Shrewsbury, there was a goal scored in the dying minutes when City were defending  a narrow lead, but this time it was they who got it, when Scott Malone's far post cross saw the unmarked Pilkington direct his header back across the goalkeeper and into the net to seal a hard fought, but deserved, 2-0 win.
The tour drew to a close yesterday with the behind closed doors match with Sparta Rotterdam (they finished eighth in the Dutch version of the Championship last season). This time the match took place in a tiny ground in Nijkerk (pronounced "kneejerk"?) a small city in the middle of the country. For a long time it looked like the game would be remembered only for the injury which saw Bruno Manga withdrawn after just fifteen minutes – the man who is probably regarded as City's leading centre back was helped off by colleague and captain for the day Sean Morrison and early indications are that he will be missing from the Fulham game in a fortnight's time.
Manga will have a scan on his damaged knee on Monday amid fears that he could perhaps be out for a long time and, obviously, he will be a huge miss if the news is bad on him, but, against Sparta at least, City's defence coped well without him. The second half saw the wholesale substitutions which have become the norm in games like this, but City's appeared to cause them less disruption than is often the case and, as the match it's fourth quarter, they took the lead with a superb left shot from twenty five yards by Pilkington that gave the keeper no chance as it flew in off the angle of crossbar and post.
With his third consecutive goal in City's build up matches, Pilkington has probably been the stand out performer so far and, given the lack of new signings this summer, it was predictable that our manager would come out with the old chestnut that, following his injury problems in 14/15. the ex Norwich man is almost like a new player for us – a manager's cliche it might be, but in this case it has a ring of truth to it.
As far as "proper" moves in and out go, there was one arrival and one departure , but, once again, they were transfers that fell into the "low key" category – a source of frustration I suspect to fans who want to see exciting new players arriving and finance men who want to see expensive and highly paid under achievers leaving!
The arrival was right back/centreback Jordan Blaise who signed on a two year deal after leaving Bordeaux without featuring in their first team. If the nineteen year old Frenchman does nothing else at Cardiff, he will be remembered for having to be shown how to do the Ayatollah by Craig Noone when he came on as a trialist at Forest Green – see the video in this article .
The player leaving is Deji Oshilaja who joins League One team Gillingham in a loan deal which will run until the new year. Now, I could go on at length here about how our manager seems to be reluctant to give the young players he inherited at Cardiff a chance – with Joe Ralls and Declan John first team squad members when he arrived, Russell Slade still hasn't promoted a locally produced youngster into the senior side and I find the absence of the likes of O'Sullivan, Wharton, James and Tutonda from the group taken to the Netherlands telling.
However, with me having seen little of Semi Ajayi (who must come into first team contention after the injuries to Manga and Ben Turner) and nothing of Jordan Blaise, I'll leave my theories about Slade's habit of looking outside rather than inside the club for potential first team players for now – also, I started this week's review with the intention of making it a more upbeat piece!
Picture courtesy of  http://www.walesonline.co.uk/
Just realised I didn't include the results of the teams below senior level – they're not bad at all and, up to now anyway, City have not suffered a pre season defeat at first team, Under 21 or Under 18 level. The Development team have a solid defence to thank for their unbeaten start – last week they added a 1-0 win at Carmarthen (Dylan Rees got the goal) and a 0-0 draw at Aldershot to their earlier 4-0 beating of Barry. By contrast, it's been a case of goals galore for the Under 18s – they'd beaten Exeter 5-4 and despite taking the lead four times,had to settle for a 4-4 draw at Wolves before repeating the 5-4 winning scoreline yesterday at Guisborough Town.