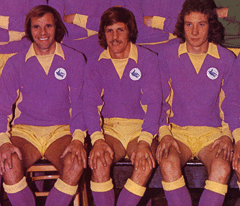 The bulk of this week's review will consist of comment on the three pre season matches played over the last four days, but I'll start with a spot of transfer speculation which, for me at least, asks questions about what we can expect from the club in the next five weeks or so while the transfer window remains open.
Of course, placing too much emphasis on a piece of "gossip" is always dangerous, but, in this case, I'd say the speculation is likely to have some truth in it. This Charlton site is claiming that David Marshall's understudy, Simon Moore, will be joining them on a season long loan deal next week and, having lost two senior goalkeepers in the past week,  there is no doubt that they are in need of another one. Add in the Russell Slade connection and the fact that Moore does not appear to be out in Germany with the senior squad (Marshall and Ben Wilson have been the two keepers used out there so far) and you begin to see why I feel there is something to this rumour.
So, if it is true, three things spring to mind for me. First, I'd like to think that it means that the club feel pretty confident that David Marshall will still be at Cardiff next season (Steve Bruce's resignation at Hull this week means that, at worst, the recent speculation that the Humberside club wanted him has become a little less likely to be true and at best that it just won't happen now) – that's assuming there was ever anything to the rumour in the first place.
Second, I'll admit to being surprised by a decision to let Moore leave on purely footballing grounds (unless, of course, there are plans to bring in a new reserve keeper for the season), because I'm not sure that Wilson has done enough so far to suggest he is up to being second choice at a Championship club for the course of a full season, as opposed to the covering job he's managed for a few weeks at a time that we've seen in the past.
This leads me on to the third point. Is the failure, so far at least, to get rid of the highly paid senior players the club want to be rid causing them to look at letting others they'd prefer to keep go in an effort to balance the books?
The fact that Adam LeFondre, Federico Macheda and Kagisho Dikgacoi are all still back in Britain while Paul Trollope's squad prepares for the new season in Germany, makes it pretty clear that there is little or no future for them at the club. However, even though they are in the last year of their contracts with City, you get the feeling that they wouldn't come cheap to any club wishing to take them on permanently, despite none of them having done a great deal to prove they are up to the rigours of the modern day Championship during their two years at Cardiff.
I'd be surprised if the three of them will continue training with the Under 21s at Cardiff throughout the coming season, my guess is that all or some of them will move on, probably on loan, but it may be it will only happen late on in the window and, even then, City could end up still paying a significant portion of their wages.
So, in those circumstances, would City be forced to look at cashing in on players they want to keep? On the face of it, the story about ten days ago that City had "offered" Anthony Pilkington to QPR looks a strange one with little in it to suggest that it is true.
However, if the fact that Pilkington is one of a number of first team squad players whose contract is also up at the end of the 16/17 campaign (I cannot be sure here, but I think Bruno Manga, Tom Adeyemi, Stuart O'Keefe and Peter Whttingham also fall into that category) is taken into account, then, perhaps, there might be something to the story?
Is it beyond the bounds of possibility that, with everything which has happened at the club on the financial front over the past two years suggesting that City are hardly going to be offering any of those players a greatly enhanced deal from their last one, that some of them may be more inclined to move on, than accept terms which they don't find attractive (I seem to remember Manga's agent suggesting this would be the case earlier in the summer)?
So, I'm certainly not ruling out us losing one or more established members of the first team squad in the coming weeks, be it to pay for the new recruits Paul Trollope says will be coming in or to keep us within the confines of the FFP regulations – in a summer which has been relatively quiet so far in terms of transfer spending in the Championship (Newcastle aside), I don't think we are by any means the only club in this league who finds themselves the sort of position I've outlined.
Anyway, having spent much longer than I'd planned to on the subject of possible player departures, let's concentrate now on what's been happening on the pitch!
Unfortunately, the planned match with German fourth tier outfit RW Ahlen on Wednesday evening proved to be a bit of a shambles. The City squad turned up at their opponent's ground (which had, apparently, hosted a match last month with no problems) only to find the pitch in what they considered to be a dangerous state – certainly, the pictures published by the club and the local media proved that it was in nowhere near the sort of condition you'd expect to see at this time of year.
After negotiations between the two clubs, it was agreed that the match be switched to the training complex City were based in at Harsewinkel, some forty two kilometres away. The lack of floodlights at this facility made it unlikely that the planned ninety minute match could be completed though and with thunder and lightening storms threatening as well, the ref decided to call it a day at half time with the score still at 0-0.
City played with the same three centrebacks formation which had worked so capably at Shrewsbury and, apart from the absence through injury of Manga (who has not featured in Germany yet) and the return of Joe Ralls after illness, the personnel was the same as well, but, this time, although, they never really looked like conceding, there was little to suggest a goal from them either against impressive and committed opponents.
I'm not sure that any of the responsibility for what must have been a frustrating and disappointing evening could be laid at City's door. It wasn't either, but I daresay that they were grateful that the unfortunate episode happened under the watch of a new regime which still has the goodwill of the vast majority of the club's support behind it – I dread to think what would have been said if the same thing had happened while Russell Slade was here!
Thankfully, yesterday's four team tournament at VFL Osnabruck could be deemed to be a complete success from a City point of view as they continued with a pre season programme which, even allowing for what happened against Ahlen, has to be viewed in a very positive light up to now.
As mentioned in an earlier piece, the format was for all of the sides to play two matches lasting sixty minutes and, having originally been down to open the tournament and then play in it's penultimate match, City found the schedule altered so that they would play their second match almost straight after the first one had ended – it made little difference though as we recorded two wins which means that we already have won a trophy in 16/17!
Based on what we have seen so far, it's looking increasingly as if Paul Trollope's preferred formation is the three centrebacks with wing backs system used by Wales this summer. We've started four matches with it now and, very interestingly, the personnel used in each case has been virtually identical.
Yesterday, in the opening match with the hosts, it was Marshall in goals, with Connolly, Ajayi and Tutonda in front of him, with Fabio and John the wing backs. Whittingham again played as the deepest central midfielder and it was O'Keefe lending him company with Immers and Pilkington as number tens behind striker Gounongbe.
VFL Osnabruck finished in the upper reaches of the third tier of Germany's domestic system last season and so I suppose they were loosely comparable to the Shrewsbury team City saw off to the tune of 4-0 a week earlier.
City had been very comfortable against the Shrews and it was almost as one sided against Osnabruck – once again, our opponent found it very difficult to get within sight of our goal, while there was an impressive poise and control to our football.
Frederic Gounongbe scored his second goal for the club quite early on when a fine cross by Fabio presented him with a headed opportunity which was almost impossible to miss and, with Whittingham being given the sort of time to show the full range of his passing which he probably wouldn't get here, the lead should possibly have been greater than 1-0 after thirty minutes.
Rather like Shrewsbury had done a week earlier, Osnabruck improved in the minutes following the half time break, but the only "reward" they got was to fall further behind. Declan John had never scored a senior goal for the club before yesterday and I daresay he would have preferred his first to have come from the twenty yard volley he fizzed narrowly off target in the first half, but, when it arrived, it was from an overhit cross which embarrassed home keeper Lehman.
The goal may have been fortunate, but it came at the end of another bout of pleasing and, more importantly, telling passing from City. Having got lucky a few minutes earlier, John's contribution towards a lovely third goal was more indicative of what he can provide going forward, as he checked back to take a couple of opponents out of the game before feeding O'Keefe in an inside left channel who then took the ball forward for a few yards and then slipped a neat pass through to Pilkington who confidently slotted home to give a final 3-0 scoreline which did not flatter City in the slightest.
Paul Trollope decided to keep the changes to a minimum for the next match against a St. Pauli outfit whose record in the second level of the German game more or less mirrored City's in the Championship, in that they finished comfortably in the top half of the table, but were some way adrift of the promotion Play Off teams.
With Wilson replacing Marshall and Ralls in for Whittingham, City had the advantage of going into the game match ready so to speak and this may have played a part in the opening goal within less than two minutes of the kick off. John skinned his marker on the left and put over a cross which attracted three defenders towards Gounongbe, only for it to drop at the feet of the unmarked Immers who controlled and crashed home from about five yards out.
Again, City were looking  comfortable with their 3-4-2-1, 3-5-2, 5-3-2 or whatever you want to call it, but having given it an hour, Trollope did what he did at Shrewsbury at a similar stage as a raft of substitutions brought a change to more of a 4-3-3 or 4-2-3-1 approach.
Off went Connolly, Fabio, John, Immers, Pilkington and Gounongbe and on came Tom James, Kadeem Harris, Tom Adeyemi, Matt Kennedy, Craig Noone and Kenneth Zohore. When the dust settled, it could be seen that City were now playing with a flat back four of Harris (!), James, Ajayi and Tutonda – friendly or not, can you imagine Russell Slade coming anywhere remotely close to fielding that combination in a match which was considered to be one for the first team?
Kennedy and Noone played out wide in support of Zohore and, perhaps it was down to the changes all of these substitutions caused that our defence was opened up pretty easily down the left and Maurice Litka was left in glorious isolation to sweep home the resultant cross for the first goal conceded by the senior team so far.
City were soon back in front though, with another goal which owed much to luck as St. Pauli centreback Lasse Sobiech's backpass eluded keeper Philipp Heerwagen and bounced gently into the net. To be fair, Zohore deserved to be awarded an assist for the goal, because, having got his reward when he closed down the Shrewsbury goalkeeper so effectively last week, the striker put Sobiech under such pressure that his pass was slightly more wayward than intended and was also played with more pace than the keeper would have wanted.
Credit to Zohore then, but he really should have given City a two goal lead when he crashed a header against the woodwork from point blank range after Kennedy and Ralls had combined sweetly to open up the St. Pauli defence.
After that miss early in the second period, City were a little fortunate to hold on to their 2-1 advantage through to the end, because the German team put on most of the pressure after that and they really should have scored from at least one of the opportunities they had.
Nevertheless, there was something impressive about the way City were able to up their game a little to see out the dying minutes and players such as Harris, James, Adeyemi and Kennedy (none of whom would be called likely starters in the Championship in the coming season) still were able to show that they would not find the step up as severe as the previous management appeared to think they would.
Special credit too to O'Keefe, Ajayi and Tutonda who played all 120 minutes in the two games. I'ts been a very significant week for the last two named – Ajayi has impressed in all four matches he's played in and looks closer to being a possible first team player than at any other time in his spell at Cardiff, while Tutonda has done very well in a position which I for one thought he was ill suited for. Indeed, it could be said he looked a better centreback than full back yesterday, because he got beaten a bit too easily once or twice when he was moved out wide, but, to be fair to him, there were occasions when his pace was vital defensively as he covered round well to snuff out dangerous looking attacks.
Finally, a few quick words about the Under 21/Development team which followed up a poor 1-0 loss at Havant and Waterlooville in midweek, with a 5-1 triumph at Barry yesterday. LeFondre and Dikgacoi started at Havant and Waterlooville, but were missing for what has become a traditional warm up match at Jenner Park. There were a couple of eye catching features about who got the goals at Barry, first, that we scored five and Rhys Healey didn't feature on the scoresheet and, second that Marco Weymans, who I cannot remember scoring for the club previously, did. In fact, the Belgian scored a hat trick, with Rollin Menayese and Jarrad Welch getting the others.
The Under 21's conclude their pre season programme with games at Exeter and Reading in the next week, while it's Bochum (who finished a place below St. Pauli in Bundesliga 2 last season) on Tuesday and then Bournemouth away next Saturday for the first team.
*picture courtesy of http://www.walesonline.co.uk/