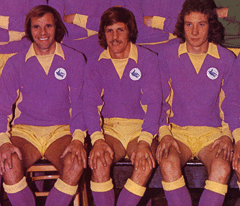 Well, it was Paul Trollope then. When the news came on Wednesday that the former Bristol Rovers manager was to be the man charged with overseeing Cardiff City's 2016/17 season, it was regarded as such an inevitability that the lack of "pomp and ceremony" which accompanied it seemed so appropriate.
Of course, there will be those who will say that the low key nature in which the news was broken, and then received by City fans, was wholly appropriate – after all, this was the club which made one of the most low key managerial appointments in ages only eighteen months ago offering up more of the same.
To a large extent, I said all I wanted to say about Paul Trollope as a new City "manager" in my piece last week and this one will be more about where do we go from here really. However, I do want to mention that my view is that low key doesn't have to mean bad and, having got to know and hear a bit more about the man in the last seven days, I'm more optimistic than I was that Trollope can do a good job as the man in charge of the footballing side of things at Cardiff.
One thing which occurred to me for the first time on hearing news of his appointment was that I couldn't remember Paul Trollope talking in public once since he arrived at Cardiff – I must have heard an interview with him when he was at Bristol Rovers at some time or another, but it didn't make any impression on me.
Now, in the past, I would have said I would have said I couldn't really care less how a City manager came over when speaking in public as long as he was doing a decent job for the club where it really counts, but that was in the days before Alan Cork.
Apparently, Cork was one of those players who is portrayed as being good for team morale because he is one of the dressing room jokers. At Wimbledon, he was considered one of the primary reasons for the "Crazy gang" tag which became a virtual trademark of theirs while they were tweaking the noses of the elite for more than a decade during the eighties or nineties.
Cork was a funny man it seems, but it was never a talent which manifested itself in his media appearances during his time as Cardiff manager. Not to put too fine a point on it, Alan Cork was very poor at media relations – at times, he came over as being virtually monosyllabic.
City were the league's leading scorers in winning promotion from what is now called League Two in 2001 under Cork's management and the man deserved credit for turning around the fortunes of a talented squad which had been under performing before his appointment.
However, there was a feeling abroad at the time that virtually anyone could have got us promoted that season given the amount of money we were spending compared to others in that division and, when the spending increased dramatically in the third tier, there was a notion that nothing but promotion would do for Alan Cork.
I was among very many City fans who was not convinced by Cork at League One level and welcomed his dismissal when it came, but, in a funny way, I didn't like myself much for wanting the man sacked because I had to admit that one of the reasons for this was that he was so poor in front of the cameras and microphone.
So, going back to Paul Trollope, I was a little concerned that I'd not heard anything from him in public because I figured that one of the last things someone who needed to be able to convince sceptical City fans that he was the right man for the job wanted was a weak media presence.
A bit of research on a Bristol Rovers messageboard reassured me to the extent that, generally speaking, the reviews of him as a manager of their club tended to be pretty positive. There were critical opinions of him, but I'd say there was something like a 2:1 ratio in the "did a decent/good job" camp to the "was an awful manager" one.
Among the criticisms of him though was that the football his team played was generally effective, but dull and I saw the word "mogadon" being applied to the style of football played under him and, on one occasion, to how he came across when interviewed.
Having now heard Paul Trollope speak as City's new (and old!) Head Coach, I can, to a degree, understand that mogadon comment. Trollope certainly didn't come over as poorly as Alan Cork did, but, whereas one of his predecessors, Malky Mackay, was able to get the media eating from his hand after his first press conference as City manager and generally said all of the right things to get fans onside, it was hard to imagine him convincing those sceptics I mentioned earlier with the power of his oratory.
Adequate, but no more than that, was how I would describe Paul Trollope's performance in his first meet the media appearance as Cardiff boss – I'd put him around mid table when it came to City managers as public speakers.
One of the men I'd have above Trollope in that table would be Lennie Lawrence, who always came across as being completely at home in front of the media. It was interesting, as well as fairly predictable, therefore to see the man who was in charge here for three years from 2002 being linked with a return to Cardiff in the kind of father figure/advisory role he had with Trollope at Bristol Rovers.
Lawrence held similar positions when working with Dougie Freedman at Palace, Bolton and Forest and it's worth remembering that he was hired initially at Cardiff fourteen years ago as a "consultant" who would work with Alan Cork.
In many ways, bringing in a senior and respected figure like Lennie Lawrence would be a good move by City in my opinion, but you would have to wonder where it would leave former manager Russell Slade?
Mention of our "Head of Football" brings me on to the oft repeated line which goes "nothing has really changed at Cardiff except that Trollope and Slade have swapped jobs". This viewpoint (which, incidentally, is not strictly true – Slade has a new job title, while Trollope's is the same as it's always been!) has it that it will be business as usual at City with little or no real change to what we've seen in the past eighteen months or so.
People who feel that way claim the news that, apparently, his employers at City are willing to allow Trollope to continue with his work with the Welsh squad supports their position – Slade will still, effectively, be calling the shots on the playing side when it comes to the first team and it will be business as usual during international breaks when Trollope is absent.
Maybe they are right, but I don't believe that they are – my guess is that briefings being given by the club about Slade playing no further part in first team matters are the truth. Indeed, whether they are true or not, I feel the recent stories linking Russell Slade with the vacant manager's job at Blackburn offer the clue that our former manager's lifespan at Cardiff is likely to be a fairly limited one.
If Paul Trollope is going to be allowed to continue in his Wales role, then I'm sure it will be a subject that is raised if or when we make a stuttering start to the new season and the first international break comes along.
I am tempted at this point to say that, in my youth, Dave Bowen was able to take Northampton Town from Division Four to Division One while also managing Wales, but I suppose those who say that it's a completely different world now compared to fifty years ago do have a point.
Therefore, the identity of the new appointments, which Paul Trollope said were imminent, among his support staff becomes very important. For me, someone like Lennie Lawrence would be a safe pair of hands who could oversee a lot of the Head Coach job demands while Trollope is away and one or two quality additions to the coaching staff could ensure that things would be able to tick over well enough during those periods in the season when the first team aren't playing.
Whether it be regular season or international break time, one person who will not be involved with the first team any more is Scott Young – he's another one who will still be employed at the club, but as to how he'll be involved, your guess is as good as mine,
Not surprisingly, things are pretty quiet on the transfer rumour front right now – I mentioned our reported interest in Norwich's Alexander Tettey last week and the only player I've seen linked with us in the past week is also at that club.
I would have loved us to have signed Gary O'Neill permanently after he had played so well for us during his loan spell here back in 2004 – in fact I would have immediately installed him as club captain and started to build a side for the next five years around him if it had been my choice to make.
Having just turned thirty three, I wouldn't be as enthusiastic about O'Neill coming here now, but I suppose that, if one of our targets for the new season is a leader in the middle of the park, we could look to him as a short term fix.
If the local press are to be believed, Paul Trollope has three main targets for the new season – that leader type in  central midfield, a winger who will add pace to the squad and, hardly surprisingly, a goal scorer. Chairman Mehmet Dalman has said that there will be funds available to Trollope when it comes to recruiting new players, but I can't help thinking that the transfer kitty is going to have to be boosted significantly by wage bill savings as a result of player departures if we are going to have a reasonable chance of succeeding in finding someone who scores at the sort of rate that will help us make the transition from Play Off hopefuls to serious contenders.
Whether those wage bill savings can be achieved is certainly debatable. This week, Tom Adeyemi joined Adam LeFondre as someone who will not be signing for the club they have spent the season on loan at.
On the face of it, I find it very hard to come up with many players who would be likely to return to the clubs they've been loaned to if the opportunity arose. I'm pretty sure Justin Edinburgh would have Deji Oshilaja back at Gillingham if he could and the same could probably be said about Semi Ajayi at Crewe, Declan John at Chestefield and, maybe, Tommy O'Sullivan at Newport.
The thing is though that the departure of such players would send out completely the wrong signals at a club which is, supposedly, looking towards youth again after a period where including a twenty five year old in the first team was seen as a move fraught with danger amid fears that they weren't quite ready yet!
Not only that, the wage savings to be made from such moves would be pretty small. No, the departures have to be from that pretty large rump of senior players who are costing the club a lot and, in most cases, doing little to justify all of the expense.
Maybe, Reading's reported interest in LeFondre will come to something, I suppose Preston could be interested in getting Eoin Doyle back on a permanent basis and there may be some Italian team desperate enough to take Federico Macheda off our hands, However, I can't help thinking that we're going to have to be looking at letting regular members of last season's first team squad like David Marshall and Bruno Manga go to help finance the sort of signings which stand a chance of bringing lost fans back and convincing those who are not enthused by Paul Trollope's appointment.
picture courtesy of http://www.walesonline.co.uk/