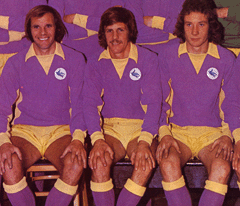 After a few weeks where it was hard to find things to write about at times, there has been plenty happening with City this week and the problem I may have is that I will forget something important!
The first thing to mention is that on Tuesday the draw for the First Round of the Capital One (League) Cup gave us a home tie with Neil Ardley's AFC Wimbledon. This match will take place on Tuesday August 11, three days after the Championship season starts and, when the fixtures for that competition were announced twenty four hours later, City were given their first home opening day fixture for three years with Fulham providing the opposition for the big kick off.
The four league matches which follow (QPR A, Blackburn A, Wolves H, Forest A) look tough on paper, but one thing that more than a decade of Championship football since 2003 has surely taught all City fans is that it is a league where things rarely turn out as expected – maybe stranger things haven't happened than Russell Slade being named August Manager of the Month, but you get the point I'm trying to make!
City's programme for 15/16 can be viewed here and, before finishing with fixtures, I should mention that the club appear to have run into problems arranging games against opposition of the desired quality for their week in the Amsterdam area next month. This story shows that City are, apparently, having trouble getting local permissions for matches against top flight Dutch opposition, so, while the tour still looks like going ahead, it may be that it will see City having to play lower league teams. Finally, on the fixture front, it was confirmed that City will have a home pre season match with Watford visiting Cardiff City Stadium on Tuesday 28 July.
Cardiff's new kit for the upcoming season was also unveiled yesterday. As far as this subject goes, I was guilty of not knowing my own feelings when the change to red was first announced because my initial reaction was that I didn't think the colour we wore was that important, so I couldn't get too worked up about the fact we were going to wear a red and black kit. It took a few months for the penny to drop, but what I really felt was that I wasn't (and never have been) too bothered about the kit we wore as long as we had blue shirts.
That said, my preference would be for us to wear the white shorts which were considered good enough for the first forty or so years of our Football League existence, but I'm not going to die in a ditch about the fact that they will be blue next season. Here is the kit, and probably the best thing to be said about it is that, unlike so often in the past, supporters won't have to wait until about November before they can buy it – well done to those at the club who enabled it to be available from 3 July.
On the transfer front, there was little in the way of speculation this week, but, better than that, there were a couple of actual moves to talk about. Actually, the first one didn't really feel like we were losing a player because I'd guess I wasn't the only City fan who thought we'd never see French full back Kevin Theophile-Catherine play again for the club once his loan move to St. Etienne for virtually all of last season was announced. Well, after a year where he was a regular starter for the Ligue 1 side, the move became a permanent one in the week with the club paying around £1.5 million for a player who, like so many others, fell away during the second half of our Premier League season after a decent start to the campaign.
All in all, I'd say that was a decent fee from City's perspective and they didn't have to give another club any of it to make Semi Ajayi our first signing of the summer. The young centreback, who had been on loan to us from Arsenal for the closing few weeks of last season, was not going to be offered another contract by the Gunners when his current deal runs out at the end of this month and so joins us as a free agent on a two year contract.
The Nigerian Under 21 international, who moved to the Emirates from Charlton two years ago, looked pretty promising in the couple of Under 21 team games I saw him in (given that the Development team largely gave up on scoring goals from about December onwards, the fact he got two in one game against Coventry was probably enough alone to get him his move!), but, at the risk of sounding like someone who always looks for the negatives with City these days, I do find it a bit sad and a little concerning that we get rid of a locally produced centre back in Josh Yorwerth, who Ipswich (a club which finished well above us last season) manager and former Republic of Ireland international centre half Mick McCarthy thinks is good enough to merit a two year contract with the Suffolk team and bring in a player who McCarthy decided not to offer a deal to after a trial period at his club in January.
In saying that, I accept that Yorwerth and Ajayi are at different stages of their career development, but it would be good to see some evidence soon from our manager which counters the growing suspicion about him I have that he is doing little or nothing to offer encouragement to local youngsters that they can work their way into the first team squad under his management.
Finally, although the cynical view would be to say that anything above, say, 5,000 could be rounded up to arrive at the "approximately 10,000″ season tickets sold  as mentioned in this announcement by the club confirming the Watford friendly, I think this is something which should be seen as good news given the dire pronouncements about the number sold from the "in the know" brigade. Whether the earlier figures such as 2,500 sold at the end of March and about 4,000 as the league season ended were true or not, it looks like there have been pretty significant sales in recent weeks and, who knows, perhaps reaching three quarters of last season's total of 16,000 by the beginning of August isn't completely out of the picture – if that were to happen, I would say it would be an impressive figure given the way 14/15 went.
* picture courtesy of http://www.walesonline.co.uk/