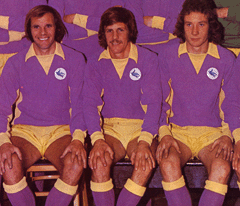 I'm guessing that at the end of last season most people with the interests of Cardiff City football club at heart would have agreed that it needed to up it's game all round over the summer if it was to start to reconnect with it's support – I'm afraid that last week events did not help that ambition at all.
There has been evidence through the summer that the situation is not as bad when it comes to the relationship between club and supporters as some of the doom mongers might have you believe. As mentioned before, the new Adidas kit has proven to be very popular with record sales over the weekend of it's release on the 3rd of this month and this shot in the arm appears to have had something of a knock on effect when it comes to season ticket sales. It needs to be said that it's a measure of how bad the situation had got that the latest estimate I've read of 10,500 having been sold can be presented as some sort of triumph, but, although reaching the 12,000 target the club appear to have set itself would represent a drop of in the region of 35% from last season, I believe it would still be at the upper end of any expectations they would have had in the spring.
So, it's not been all doom and gloom by any means and they do say absence makes the heart grow fonder, so a few months without watching City play will have devotees trying to convince themselves that 14/15 wasn't really as bad as it seemed at the time. Also, I've probably mentioned before on here that if supporters cannot be optimistic about their team's prospects at this time of year, when can they be. However, to reach, or possibly exceed, that 12,000 target, I can't help thinking something more is needed in the next three weeks to really capture the imagination of potential season ticket buyers.
Unfortunately, in my opinion anyone wanting that extra bit of good news before committing to buying a season ticket is less likely to do so after the last seven days than they would have been this time last week. A series of events, some admittedly pretty minor in the grand scheme of things, have conspired to present the club in the poor light which I would argue people have become far too familiar with in recent years.
Firstly, there has been the announcement by the FA that they would not be taking any further action against Malky Mackay and Iain Moody over the controversial e-mails and texts they sent during their time with the club. Now the first thing that needs to be said here is that, having created a precedent with their whitewash concerning the sexist e-mails sent by Premier League Chairman Richard Scudamore, the FA had, effectively, painted themselves into a corner when it came to their decision regarding Messrs Mackay and Moody.
To exonerate the two men on the grounds that the offensive messages were sent in private seems a particularly feeble cop out to me and the club, in the form of Chairman Mehmet Dalman, were very quick to condemn that decision. All fair enough then, but, amid what I see as fully believable rumours that Vincent Tan is prepared to take the matter further to FIFA or the Court of Arbitration for Sport, I do find myself asking a couple of questions – firstly, would any further action Mr Tan takes be fueled by a genuine desire to fight racism, sexism and homophobia in all of it's forms or a need to punish men he has spectacularly fallen out with as much as he possibly can (don't forget that the messages were only found because of Mr Tan's desire to find incriminating evidence against the pair on an unrelated matter)?
With the tedious Langston loan notes dispute also seemingly heading for the Courts again, my second question is who is going to end up being held responsible for all of the legal bills arising from these matters? Will we see the club being loaned more money by Mr Tan to pay these bills? That would be understandable and justifiable in the Langston case maybe, but I would argue that the other matter is a personal one between Messrs Mackay, Moody, Tan and certain other individuals on the club Board and, as such, there is no reason for the club's already horrendous debt to be made any worse through it having to pay legal costs in the matter of the abusive messages.
So, why does any of this paint the club in a poor light? Well, I think it does because of a passage in the FA's statement announcing the decision not to take any further action against Mackay and Moody which I'm amazed has not attracted more attention up to now. Here is the FA statement and the piece I referred to above comes under the heading "Other developments in The FA's investigation".
Now, if all of that means what I think it does, the lack of a response from the club disputing or clarifying that section of the statement (especially in light of their immediate criticism regarding the FA's verdict) does look fairly damning – if I, and the others who have commented on that section of the statement, am jumping to a wrong conclusion, then I apologise unreservedly, but, as I say, it does send out a certain signal and I believe it's in the club's best interest to correct this straight away if they are able to do so.
Moving on, a few weeks ago I wondered if anyone at the club who recalled Swansea's cancelled game with NAC Breda during a pre season tour of the Netherlands would have asked if a week's visit to that country, which we were told would feature a couple of games against top quality Dutch clubs, was such a good idea. Well, after last week's developments, the tour has begun to resemble the sort of thing you'd see in an episode of The Thick of It or Veep.
At one time it looked like concerns over crowd safety would see no matches played by the team while in the Netherlands, but about ten days ago it was announced that a behind closed doors match with Sparta Rotterdam had been agreed and that Israeli side Ironi Kiryat Shmona would be the other opposition we'd face in a game to be played in Putten.
What has happened in the past few days regarding the latter game has all been pretty predictable. Firstly, news broke of a petition calling on the fixture to be cancelled amid condemnation of City for their insensitivity, which was countered by an  open letter of support from "the North West Friends of Israel". Now, I have my own views on this, but I'm not going to make what is going to be a long piece anyway even longer by going into them now – they are not important anyway, given the point I am trying to make here.
With Israel able to play in FIFA and UEFA sanctioned competitions and Israeli clubs regulars in the Champions and Europa Leagues, City are not guilty of breaching any rules by agreeing to play a friendly match with a club which, apparently, is more racially diverse than many in that country. However, the reaction to this fixture has shown what a minefield (perhaps not the best word to use in the circumstances) City have entered by agreeing to this game.
I've seen messageboard criticism accusing City of being "insensitive and provocative" in taking this game on and I've got to agree with that, although I would add that I don't believe they have been deliberately so.  No, for me, they have been careless for, seemingly, not recognising the possible problems that may arise when touring the Netherlands and then naive and, to be frank, stupid, for not spotting the potential for attracting the wrong sort of headlines arranging a game with Israeli opposition would cause.
I daresay that compared to what has gone before, the next two matters I mention will seem quite trivial, but, again, the amateurishness shown by an organisation in desperate need of some goodwill from supporters is, I'm afraid, typical of so much we have seen from the club lately. Firstly, a Development team match with Haverfordwest arranged for Sunday has been called off at very short notice – to be fair, the piece makes it clear that this is because of injuries and City have said they will fulfill the fixture later in the season, but, surely, there are players from the club's Academy who could have been drafted in to make up a team which would ensure a competitive fixture?
The second point concerns the club botching what should have been a good news story concerning the first team's only home pre season match against Watford in ten days time. You get the impression that the club are making a real effort to repair the damage in the relationship between them and the fans caused mainly, but not exclusively, by Vincent Tan's rebrand and the news that season ticket holders could attend the Watford match for free could, and should, have been another step along that road. Instead, the deal was announced on the club's website in such a confusing way that many supporters (including myself) took it that what was being announced was that they would have to pay £10 for their ticket, but this would entitle them to a free complimentary ticket for someone else – more confusion and misunderstanding where there should not have been any.
Now, some of the things I've detailed here would not warrant a mention from me under normal circumstances, but they all help to present a picture of a club that is making things harder for itself than they need to be as they try to rebuild bridges – so much of what I've talked about could have been avoided with a bit of forethought and professionalism.
As well as all of this, it was another frustrating week on the transfer front which offered little evidence that the boost needed to take that season ticket sales figure up to 12,000 will come via an exciting new signing who would get people upbeat and expectant about the new campaign. Increasingly, I get the feeling that we will not see any new arrivals until there are more departures from the club and, on that score, Tom Adeyemi has been loaned to Leeds for the season with a view to him signing a permanent deal with the Yorkshire club next summer.
There's two ways of viewing this news – on the one hand, you can say that, as someone who was never able to establish himself in a badly misfiring central midfield last season, Adeyemi won't be missed and then there's the view, which I tend to subscribe to, that he was never given the opportunities he should have been given how poor we were in that part of the pitch. Either way, while Kagisho Dikgachoi may turn out to be the equivalent of a new player after his injury and fitness problems in 14/15, the fact is that the squad is weaker at the moment than it was last season in the area of the pitch it struggled most in – you can only assume therefore, that when we do make a signing, it will be someone to replace Adeyemi.
Given the lack of new players, it would appear that Vincent Tan gave Russell Slade a very limited budget to work with this summer and, when you consider the lack of a worthwhile return on the funds he had made available in the previous two summers, I for one don't blame him for that. That said, all of this is another thing which makes it harder to get a feelgood factor around the place. Furthermore, it is has to be said that a great deal of the wasted money has come through contracts which were, seemingly, negotiated by club officials not employed on the football management side of things.
On the playing side, the first team are at Shrewsbury  today and the Under 21s at Carmarthen as they both play their second pre season games. On Tuesday, the Development team beat Barry 4-0 and the following evening the senior side drew 1-1 at Forest Green in a match which, by the sound of the commentary on the club's website, they really should have won, but they were caught out shortly after Peter Whittingham had seen his penalty saved when former Newport man Aaron O'Connor equalised Joe Mason's second half effort.
Mason's performance was one of the pluses in an encounter that saw City almost completely change their team at half time (only Joe Ralls was not substituted at the interval and he was replaced around the hour mark) with youngsters Macauley Southam and Robbie Patten both showing up well in midfield and Dikagcoi able to get forty five minutes in as well. Unfortunately Matt Connnolly and Deji Oshilaja picked up injuries which will keep them out today and, having been absent for the start of last season, a minor operation means that Ben Turner will not be fit for the big kick off against Fulham in three weeks time.
Finally, the club's second kit for the coming season was revealed last week – here it is.
* picture courtesy of
http://www.walesonline.co.uk/