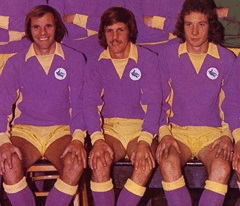 Having already done a piece to cover Peter Whittingham's departure on Wednesday I believe it was, this weekly review is, in truth, a daily one because all of the other significant Cardiff City news in the past seven days came on Friday.
There were always going to be a couple of stories for me to comment on. Firstly, this weekend had been signposted as the time when City's kit for the coming season would be revealed and, with it going on sale yesterday, the welcome recent trend of supporters being able to wear the current shirts for the club's first competitive fixture, as opposed to it's tenth or twelfth as has been the case in the past, is continued.
Speaking as someone who, to my shame now, was not overly bothered about the change from blue to red at the time, I'm hardly best qualified for the job of Cardiff City fashion correspondent. However, I will say that, while being mildly disappointed that it's now going to be six years, at least, since we wore our "proper" colours of blue shirts, white shorts and, ideally, white socks, I quite like the new home kit (see below) and really like the change kit.
City have always managed to find a way to wear a third kit for one of their games in recent seasons and, apparently, it will be last season's red outfit if needs be in 17/18 – I can't see how this will happen given the combination of colours which will make up our first or second kits, but many and strange (barking mad would be another way of describing them!) are the regulations which deem when a team needs to change their kit these days, so it may not be appropriate to write off the accursed red just yet.
June 16 was also set aside for the draw for the First Round of next season's League Cup (Mauve and Yellow Army is pleased to announce that, in keeping with other seasons, it will be a tournament sponsor's name, I believe there is a new one for this competition, free zone in 17/18) and so we now know of one of our competitive fixtures for the new campaign.
Pre season matches whereby a team from a higher division entertains one from a lower league are rare occurrences, but, having done so for our only home warm up fixture, Sod's law was always going to decree that we were going to end up with exactly the same game when the League Cup pairings were made.
As an aside, Cardiff City v Portsmouth would make an excellent pre season fixture in 18/19 as a celebration of the tenth anniversary of the Cup Final the two sides played in 2008, but, if we have to play a League One side at home in one of the pre season matches this year, then Pompey are up there with the more attractive options available – having them turn up again some ten days later (the friendly is to be played on Friday 28 July and the League Cup match will be played in the week beginning 7 August) does seem like overkill though!
While on the subject, this may be a good time to list all of the first team friendly fixtures;-
Friday 14th July — vs Taff's Well (Rhiw Dda'r stadium, 7pm kick off)
Monday 17th July — vs AFC Tavistock (Langsford Park, 7pm)
Wednesday 19th July — vs Bodmin Town (Priory Park, 7pm)
Friday 21st July — vs Plymouth Argyle (Home Park, 7pm)
Tuesday 25th July — vs Shrewsbury Town (Greenhous Meadow, 7pm)
Friday 28th July — vs Portsmouth (Cardiff City Stadium, 7pm)
Anyone intending to take a City watching West Country break should also be aware that the Under 23s will be playing a couple of games in the region, St Austell on 20 July and Bideford a couple of days later, as well.
For some reason, the league fixtures are being announced later than normal this year, we'll know who we'll be playing next week (think it's on the Wednesday), but the Premier League has already announced their programme and, based on where Swansea are playing on particular days, you are able to make some educated guesses as to what that means for us.
If we assume that, as usual, the authorities will be reluctant to have Cardiff and Swansea playing at home on the same days, the likelihood is that we'll be home when they are away and vice versa. I accept this is not a faultless system because there could definitely be times when both sides play away matches on the same day, but I'd say City fans can expect the following when our fixtures are announced;-
We'll be away on the opening day of the season (August 5) because Swansea are away to Southampton when their season starts on August 12.
We'll have our first home Boxing Day fixture in four years because Swansea are at Liverpool that day – the jacks are home to Spurs on 1 January, so we'll be travelling on New Year's Day.
With Swansea going to Manchester United on the Saturday of the Easter Weekend, any Easter Monday fixture we have is likely to be an away one.
Swansea are at Bournemouth on 5 May, so we can expect to end our season at home.
On the playing front, we made a fourth new signing of the close season when, to no surprise whatsoever, it was announced that Lee Camp had signed for us on a two year contract following his release by Rotherham.
Although I accept it would be wrong to think this of all thirty two year olds, I would generally have some concerns if we signed an outfield player of that age. Arguably though, goalkeepers are at or around their peak at such an age and, when you consider that the huge majority of his four hundred and sixty odd club appearances (he's also played nine times for Northern Ireland and five times for England Under 21s) have been at Championship level,  then Neil Warnock's description of Camp as a "steady Eddie" seems an appropriate one.
Camp, who has spoken of how pleased he is to be reunited with both Neil Warnock and, goalkeeping coach Andy Dibble after their time together at Rotherham, will, most likely, start as our first choice keeper. However, Neil Etheridge seems to me to be a Simon Moore type signing who will be capable of doing a decent job when required, while also putting the incumbent under serious pressure – it shouldn't be forgotten either that Brian Murphy did a thoroughly decent job when required in 16/17.
Indeed, the only potential problem I see is that, like Callum Paterson, Camp missed months of the season just ended with a knee injury and has not played since November – a month before the Scottish full back sustained his ligament damage.
During the closing stages of the season just finished, Warnock often talked of his desire to get as many new signings as possible in before pre season training starts n late June or early July. This is a wish that many managers have expressed down the years, but it's harder than it might appear and, usually, they are fully involved in the scramble for new recruits which gets more and more mad as August progresses (perhaps significantly, most of Huddersfield's summer recruitment work last year had already been done by this time).
However, with four in already, Warnock must feel satisfied with what's happened so far and, with CEO Ken Choo making optimistic noises a couple of days ago about a striker, who will cost us a transfer fee, arriving during the next week, that figure looks to be rising soon.
As to who this new front man may be, I still have another ex Rotherham man, Danny Ward, down as the most likely candidate, but, maybe, not as confidently as I once did.
One player we now know will not be signing for us is Johnny Hayes whose move to Celtic has been confirmed. It's now pretty obvious that we were after Hayes (who we bid a reported £1.2 million for) and this mystery striker, not one or the other of them. Therefore, even if we do land the striker this week, we can expect us to still be in the market for a winger/number ten type – perhaps it was significant to hear Warnock talking about the loan market earlier this week?
With due respect to Lee Camp, the best news for me on the playing front this week was hearing Mr Choo being as positive as anyone at the club has been in ages about the chances of getting Bruno Manga to sign a new contract with City.
Recently, the Gabon international has been strongly linked with a move to Turkey, but, with talks with Kayserispor having broken down, Mr Choo had the following to say on our chances of retaining a player I'd become resigned to us losing for nothing when his contract ran out at the end of this month;-
"We are still in discussions. But I think it could be a matter of time before we get there.
We are working on it. The latest conversation is that he would love to remain here and I don't think he is interested in going anywhere else. He knows what we are planning here."
One final thing on the contract front, it was also confirmed that Kadeem Harris had signed a new two year deal for us. There were times when it looked like this was not going to happen (Neil Warnock had spoken about the parties being some way apart when talks began a few months ago and I saw it mentioned on a City messageboard that a recent meeting between the player, who is represented by his father, and the club had not gone well) and, with it reported that the player had offers from other clubs to consider, I'd only rate this a little behind Manga's in the good news stakes. Harris has his critics among City fans, but, if he can maintain his improvement over the last six months or so and, in particular show more of his January, February, March form, then, when you also consider how quick he is, we could have an asset worth millions this time next year.
*picture courtesy of https://www.cardiffcityfc.co.uk/