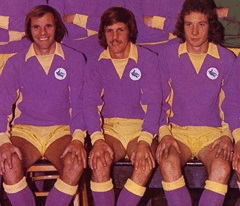 City players reported back on Thursday for what, on paper at least, looks a lower profile pre season programme than in previous years. I should clarify that by adding that what I mean is a week spent in Cornwall could be portrayed as a lot less glamorous, and cheaper, than the trips to, off the top of my head, the likes of Portugal, Scandinavia, Germany, Austria and Switzerland that we've become used to in the past fifteen years or so.
However, Assistant Manager Kevin Blackwell made a good point when he said that both he and Neil Warnock had experienced problems with the quality of pitches and matches being cancelled when they had taken teams abroad for pre season training camps in the past, whereas you know what you're going to get when you go to a location you're used to – a location which has the additional bonus that more supporters can get to watch their team play while also taking their summer holidays.
Certainly, the approach of the current management team looks a sensible one when you think back to how City were forced to go driving around Germany, at very short notice, to find somewhere to play one of their fixtures just under a year ago.
As we enter July, we reach a stage where contracts expire and so there are probably thousands of players around the country who will be formally unemployed from today – they will not include two players who City have not offered new contracts to though.
In some ways, Tom Adeyemi and Theo Wharton represent opposite ends of the spectrum as far as out of contract players are concerned. On the one hand, box to box midfielder Adeyemi was always going to be in demand after making a decent fist of the thankless task of being loaned to a Rotherham team that finished a long way tailed off from the rest in last season's Championship.
Certainly, Rotherham manager Paul Warne made no secret of his desire to take on Adeyemi on a permanent basis for his club's League One campaign, but he was forced to concede that there was little chance of getting his man because there were Championship sides who were willing to offer him a new deal.
It was generally accepted that East Anglian rivals Ipswich and Norwich were chasing Adeyemi's signature and, with the latter, it would be a case of going home for the player who left the Canaries to join Birmingham prior to signing for City in the summer of 2014.
Whether Norwich's interest in Adeyemi was ever that strong is arguable as far as I'm concerned, because you'd suspect they'd have had a big advantage over others if they had really fancied him, but, in the event, it was Ipswich who won the race for him as they secured his services on a two year contract yesterday.
I believe Adeyemi would have a point if he claimed that he was never really given a fair crack of the whip at Cardiff. Certainly, he appeared to be no worse than some of the players who kept him out of the side for most of the eminently forgettable 2014/15 campaign. However, by doing nothing more than okay at an ordinary Leeds side during his season long loan in 15/16 and, as mentioned earlier, being decent at what was comfortably the worst team in the league last year, he didn't do enough to persuade City to extend a stay at Cardiff where he had not been able to establish himself over a three year period under four different managers.
By contrast, Wharton, who signed for York City (now in the National League North following their relegation from the Conference last season) yesterday, came to represent the failure of City's set up below first team level in recent seasons and his name, along with Tommy O'Sullivan's, will, for me, be forever synonymous with what became a wasted and lost generation of talented City youngsters.
Wharton made quick progress when he broke into City's Under 18 side in the early years of this decade and was brought on by Malky Mackay in an FA Cup tie at West Brom in January 2012 for his first team debut as a seventeen year old. In the year after that, he established himself as one of our better players at what was then Under 21 level, but then his career just stalled I'm afraid.
Injuries didn't help and I have to admit that his later performances for our second string were not to the standard he had set three or four years earlier, but I can't help thinking that City didn't do Wharton any favours by the way they treated him. If they weren't convinced by him a couple of years ago, then that was the time to let him go and give him a chance elsewhere – as it was, he was given another contract which served absolutely no positive purpose whatsoever for either club or player.
The legacy Wharton and O'Sullivan left to City was that they were inadvertent catalysts for what has to be a positive change at the club. While it may have looked ruthless to cut someone like Jamie Bird from the staff earlier in the year, the club could argue that this was preferable to giving him a second pro deal at a time when he had not established himself as a possible first teamer of the future when measured against the alternative which could well have seen his City career meander along going nowhere like O'Sullivan and Wharton's did when they were in their early twenties.
Last week I mentioned the need for City to do some balancing of the books following the new arrivals to the first team squad in recent weeks and I also commented on the likelihood of Emyr Huws leaving. Well, Tom Adeyemi wasn't the only City man to join Ipswich this week, as Huws completed a move to Portman Road on a four year deal.
The length of that contract offers proof that Ipswich believe what I suspect to be the truth – they might just have signed a player who could either make them a great deal of money in the future by either providing them with a profit on their investment or by being instrumental in transforming a team that have been on something of a downward curve in recent years.
I believe that I wasn't the only one who thought that Ipswich did not have the transfer budget to pay the sort of fee that we should have been looking for with Huws and that the only was they could get him permanently would be if, like we have done with so many others in recent seasons, we let him go on the cheap.
However, all of the signs are that Ipswich will end up paying a fairly substantial sum for Huws. Of course, much of that could end up going to the player and his agent, but it seems clear that the task of balancing the books will have been given a pretty big boost by the receipt of the transfer fee and the savings made in wages.
Regular readers will know that I have always been a Huws fan and I retain a fairly strong suspicion that we could end up with egg on our faces for letting him go, but, for the sake of balance, I should say a couple of things.
First, in his, albeit very rare, outings for the first team, he did nothing which demanded a regular starting place and, second, when around the time of his sacking, Paul Trollope cryptically remarked about feeling let down by some who he had placed a lot of faith in, the first name I thought of was Emyr Huws.
I watched more of Huws in a City shirt than most, because I saw him play two or three times for the Under 23 side as well and I still can't work out quite what I was watching in those games – was it someone who was going through the motions somewhat or someone who was completely lacking in confidence?
Huws showed some quality for the Under 23s with his tendency to grow into games as they went on, but what was noticeable to me was how simple he kept things in the early stages of those matches with a series of "nothing" passes which did little more than retain possession for his team. As I say, someone who was either taking it easy at a level he should have been very comfortable at or someone who needed to keep things very simple because he did not have the confidence to try anything more ambitious? I honestly don't know.
Either way, the truth is probably that, for whatever reason, it would never have worked out for Huws at Cardiff and, although I would have liked him to have been given a chance to establish himself here during the coming weeks, it was probably the right decision to accept what was a more generous offer than I anticipated for him – even so, I hope Huws prospers at Ipswich for Wales' sake.
So, we now find ourselves in the position I mentioned last week whereby we look very short of viable central midfield options and while, it was reassuring to see Aron Gunnarsson's agent and Neil Warnock confirm that they saw his future as being with Cardiff City, our manager did concede that a couple of midfield men would probably feature among the three new arrivals he still feels we need for next season.
Warnock was also forthcoming on the future of Rickie Lambert when he admitted that the veteran former England striker would struggle to get game time during the coming season, but needed to be playing to get his fitness to an acceptable level – the solution would appear to be that Lambert will be leaving, perhaps on loan, within the next fortnight or so, with Blackburn a possible destination if messageboard gossip is to be believed.
On the subject of strikers, there was speculation in the local media, that Neil Warnock was going to give Idriss Saadi (who made his full international debut for Algeria last month) a chance to convince him that he has a future at Cardiff on his return from his loan spell which saw him score fourteen times in twenty nine matches for Vincent Tan's Kortrijk in the Belgian football's top flight last season.
While one City forward leaves Kortrijk, it appears that another one might be headed there to replace him – Frederic Gounongbe could well be headed back to Belgium on a season long loan deal.
Usually the days following the announcement of City's fixtures for a new season include multiple examples of changes of the dates and/or kick off times of matches. This time around, there have only been two so far and they are both entirely predictable – the match at Bristol City on 4 November will now kick off at midday and he home match with Burton has been moved to Good Friday (31 March) to give the team an extra day's rest before they travel to Sheffield United on Easter Monday.
So, all in all it's been a week where the talk of who may be coming in has been overshadowed by who has gone out or is likely to go out, but I'll end on the very positive news that Bruno Manga has committed to the the club for another two years by extending the contract that was due to run out yesterday – barring any departures in the position in the next couple of months before the transfer window closes, we will have central defensive resources for season 2017/18 that many other Championship clubs will be very envious of.