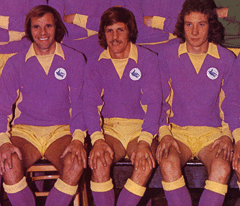 Over the past few years, there have been times when I've done one of these weekly reviews, especially shortly after the last match of the old season had been played, and thought "was it really worth me doing that?" to myself because, in essence, all I'd done is just padded out some, inaccurate as it invariably turned out, transfer gossip – I don't get that feeling at all this week.
The search for a new (or will he be new?) Head Coach goes on and I'll return to that shortly with some words about the man who is the overwhelming bookies favourite to be named currently, but I've got to start with the concrete news that we've already made our first signing of the close season.
After Russell Slade had spoken following the Birmingham match last week with plenty of confidence about the chances of Lex Immers turning his loan move into a permanent one, it didn't surprise me at all to hear the announcement that the twenty nine year old Dutch midfield player had joined us from Feyenoord on a two year deal.
It's early days in his Cardiff career yet, but, so far at least, Immers has maintained the one goal every three matches scoring rate which marked his time with the Rotterdam team (actually, he scored thirty one times in hundred matches for Feyenoord according to Wikipedia).
I can remember watching a You Tube video showing Immers in goalscoring action for Feyenoord and his first club, Den Haag, and being struck by how "ordinary" they all looked. There was barely anything there that would remotely qualify as spectacular and this trend has continued so far at Cardiff, with all five of his goals for us up to now being close to tap ins – his only goal so far at Cardiff City Stadium, against Brighton, from about twelve yards out being the closest thing to a long range strike up to now.
Immers' goals always look so simple to score that you wonder why other midfield men who also play in advanced areas behind the main striker(s) cannot match his scoring rate. However, the more I watch him, the more I think that our newest signing is a very intelligent player who has the knack of finding pockets of space, be it in the penalty area to score or in that area behind the striker(s) in general play to use simple, but effective passes. which can truly hurt opponents.
The news that as many as six other Championship clubs were also keen on signing Immers shouldn't come as a surprise. Obviously, they'd also noticed that this sometimes ordinary looking player has a knack of influencing matches with his goals, key passes, work rate and ability to make the opposition's sitting midfield man's life more awkward that it has often been in the past against Cardiff.
It's got a lot more difficult in recent years to make an educated guess as to how much an "undisclosed fee" was likely to be in reality. For example, Immers' stock had fallen a lot at Feyenoord and I'm not sure how long he had left on his contract there. These are factors which could have driven Immers' transfer fee down, but I wouldn't be surprised if we have paid our largest transfer fee since the arrival of Bruno Manga about twenty months ago for him.
If I'm right there, I wouldn't take that as evidence of us going on a spending spree, when compared to what's happened since September 2014 at least, this summer, but bringing Lex Immers to the club is, for me, a very encouraging start to our transfer dealings before Championship football begins again.
Maybe Immers will eventually be viewed at Cardiff in the same way as he was by many supporters in his latter days at Feyenoord. That is, as something of a clumsy oaf who had become an embarrassment to the team, but his game would have to fall away very, very dramatically from the level shown in his first four months at City for that to happen – for now, Immers remains a very pleasant surprise who is teaching me that I shouldn't place as much value on what the fans of the club a transfer target of ours plays for say about him.
The Immers signing went ahead at a time when we didn't have a person in charge on the playing side at the club. This may mean that "non football" people like Ken Choo, Mehmet Dalman and Vincent Tan had pushed through the deal (as they appeared to do with the loan signing of Ravel Morrison in the days after Ole left), but it could also signify that the new Head Coach is already at the club and given his blessing to it.
In fact, when you consider that he was a 6/1 on favourite to be appointed with one firm of bookies last night, it may well be that our new Head Coach will be the man who currently has the job title anyway!
Paul Trollope has always been pretty high up on any list of candidates to replace Russell Slade that has been drawn up in the last ten days or so. He fits the bill as described by the club in the statement breaking the news of Russell Slade stepping aside to the extent that he is young, by the terms of coaching and managerial jobs in football at least, at forty three and, although I tend to pay very little attention to how much our manager is jumping about in the dug out during a match, he does appear to be more "dynamic" than Russell Slade was –  he also has some previous managerial experience having, by all accounts, done a decent job at Bristol Rovers from 2005 to 2010.
Whether Trollope is "stats driven" or not, I don't know, but, as it's impossible for anyone to be less encouraging when it comes to youth development at Cardiff than Russell Slade was, he could certainly be spun by the club as ticking that particular box.
For me, it's beyond argument that we started playing better quality football from the moment Paul Trollope was appointed in February of last year. Whether this was all down to him or not, I can't say, but it would certainly appear that he is highly regarded in the game, so I wouldn't be annoyed if it did turn out that he was, effectively, given the job of managing Cardiff City.
However, I would not be excited by the appointment either and there's no way that I can see Paul Trollope being named as Russell Slade's replacement leading to an increase in season ticket sales this summer – this would certainly happen with one or two of the names on those lists I mentioned earlier in charge.
It's impossible to know just how influential Paul Trollope was when he was the number two to Russell Slade. As mentioned before, we did play better football as soon as he arrived and, unlike in 14/15, we did provide some entertainment at times last season.
There was always a tendency among many fans to credit anything good we did to Trollope and everything bad we did to Slade in the time they worked together. However, the truth as I see it is that, even if you are prepared to say Trollope should take most of the credit for the fact that we were not boring mid table nobodies last season like we were a year earlier, we were hardly great entertainers playing progressive football either – there was a caution in our approach whether we played at home or away and our lack of attacking pace was never fully addressed.
So, there has to be a suspicion at least that a Trollope appointment would mean more of the largely turgid stuff we played under Slade. This only increases the feeling that many supporters will ask "so, what's really changed?" if the new Head Coach turns out to be the old one – it may be that this will be seen to be a completely unfair charge in time, but, for now, there are surely going to be many who will think that one yes man was being replaced by another one.
That last point goes right to the heart of the matter which is always going to dominate at Cardiff for the foreseeable future – what does Vincent Tan think?
I see that the club are saying that they've been approached by eighteen people enquiring about the new job. This seemed to be portrayed by them as an impressive figure, whereas my first reaction to reading it was to think it was about two or three times less than the number you would have thought there'd be at a club which stayed in the hunt for a Premier League place until the penultimate match of the season.
I still say that, rightly or wrongly, a lot of managers/coaches who would be interested in a job at Cardiff under different circumstances, will not be because Vincent Tan is in charge here. Furthermore, my feeling is that our owner is not too bothered at all with such a state of affairs, because he would have little intention of appointing these, often, more high profile individuals anyway even if they did apply.
A Paul Trollope appointment would be seen as further evidence that our owner is still heavily influenced by the latter days of the Malky Mackay era when Mr Tan felt his trust had been seriously betrayed by his manager.
I firmly believe that there are not many "football people" Mr Tan is prepared to put his trust in now and so it's hardly surprising that when he does find someone in the game who he feels he can work with, he is inclined to show them a lot of loyalty (I still think that at most other clubs Russell Slade would have been sacked ten days ago rather than having a new post created for him).
Maybe Vincent Tan will shock me and many others by showing that he is prepared to look outside the small group of trusted lieutenants he has in football, but, if he doesn't, then I'd say Paul Trollope is probably the best appointment he can make, but it still feels to me that his club is being kept in some sort of footballing straitjacket by this inability to look beyond the trusted few.
Anyway, having mentioned transfer speculation right at the start, I should remark upon the couple of items which have surfaced in the past week. Firstly, Bruno Manga's agent Yvan Le Mee was quoted as saying "All I can tell you is that Premier League clubs are interested.With what he showed at Cardiff for two years, it is logical that Bruno is attracting the interest of the world.".
Those words have prompted rumours that Swansea, Palace and West Ham are looking at the Gabon international centreback. Now, based on how Bruno performed at Sheffield Wednesday and when he came on against Birmingham, I think he'd be lucky indeed to end up at one of those clubs next season, but I've always thought that he could well leave us this summer because he is one of a number of first team squad members whose deals with the club are up in a year's time – some of the others in that category would be more willing to commit to Cardiff again than Bruno would I suspect.
As for players coming in, we've been linked with Norwich's Alexander Tettey who, it's being reported, is going to be released by the East Anglian club who were relegated (along with Newcastle) in the week. On the face of it, Tettey would be a good signing for us, but we could expect plenty of competition from other clubs in the Championship (and, maybe, higher) who'd be interested in him – also, I'm pretty sure that he, like Lex Immers, would do nothing to increase the amount of attacking pace in the squad.
Finally, a few words about the Championship Play Offs. The first legs of the Semi Finals have already taken place and it looks like we will be seeing an all Yorkshire Final. Sheffield Wednesday were 2-0 winners over Brighton at Hillsborough on Friday night – not all over by any means, but with Brighton having not scored against Wednesday in three meetings this season now and having lost four of their players with injuries which threaten to keep them out of tomorrow's return leg, it's hard to see them turning the deficit around.
The other tie looks even more cut and dried after Hull's 3-0 win at Derby yesterday lunchtime where I couldn't quite make up my mind whether it was Hull's brilliance or Derby's ineptitude that was responsible for an away win which was as comprehensive as the scoreline suggests. However, having seemingly turned things around after their defeat here at the beginning of last month, the Championship's biggest spending outfit showed all of the lack of unity which had me thinking a few weeks back that they were the team we could overhaul in the top six.