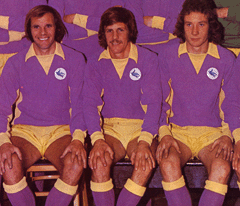 I've been racking my brains trying to think of something I'm missing, but, in a week dominated by the build up to the Wales v Belgium match, there's been very little City info to report, so this review is going to be  shorter than normal.
First, after all of the speculation about who we are about to sign and who is going to leave, there was an actual City related transfer this week as goalkeeper Charlie Horton signed for Leeds (pretty sure there wouldn't have been a fee involved).
This piece covers the move from the Leeds angle, while also confirming that coach Richard Hartis has made the same move north as USA Under 23 international Horton. From City's perspective, it appears that Ben Wilson, who was a regular for the Under 21s in the the second half of the season, was favoured as the young goalkeeper most likely to break into the first team squad and so, with Horton being too old to play youth football, there was nowhere where he was going to get games for us in the current set up.
Apart from that, it's just more transfer speculation I'm afraid with reports concerning one player possibly coming in and another maybe leaving. Starting with the possible departure, reports from the Midlands were suggesting, that having had an initial bid for Joe Mason knocked back by City, Wolves were ready to come in with a second offer – South Wales based media caught up with the story while also adding that it was understood that the first Wolves bid was someway below the initially reported £1.5 million.
A possible replacement in the event of Mason going (I hope he doesn't) would be Derby's Johnny Russell if the story which emerged a few days ago is to be believed. Scottish international Russell can play on either wing and, occasionally, he's been used as a central striker. He scored eight times for the Rams last year in a campaign which ended with some City fans accusing them of "doing a Cardiff" as a widely predicted automatic promotion turned into an eighth placed finish on the back of a run of just two wins in their last thirteen games.
On the face of it, Russell, a regular selection in the Derby first team, seems an unlikely candidate to be sold by the Midland club, but with Paul Clement newly arrived as a Head Coach who might want to shake things up a bit at the club, a possible need to balance the books after the signing of ex England striker Darren Bent and Reading's Alex Pearce last week and their desire to turn Tom Ince's loan move from Hull into a permanent deal, it may be that Russell could be allowed to leave a club for whom he has made almost ninety appearances in all competitions since signing from Dundee United a couple of years ago.
Finally, a couple of other things to quickly mention. First, congratulations to Aron Gunnarsson for his very important goal in Iceland's 2-1 win over the Czech Republic which takes them to the top of their Euro 2016 qualification group and, second, the fixtures for the 2015/16 Championship should be announced next week – after having away games on the opening day and closing day and no home Boxing Day or New Year fixtures, I can remember thinking that the 14/15 programme looked as dull on paper as it turned out to be in reality, let's hope for an improvement on both fronts in 15/16.