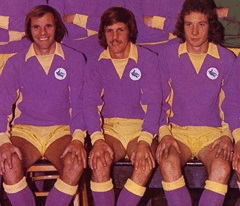 So, we're back at the time of year where, in the absence of any football games to talk about, I post these weekly comments on what has been happening at Cardiff City over the past seven days.
Come August and the new season, Mauve and Yellow Army will be celebrating it's eighth birthday and so, with seven previous summers of summarising weekly news and gossip about the club through the close season, certain things become clearer as to the form these pieces will take as the weeks go by.
For example, it's a given that, if what I write during the months of May, June and July is the summary of weekly news and gossip I mentioned earlier, then it's nearly always the case that the nature of the pieces in the first of these months will be heavily weighted on the gossip, rather than news, side.
So it is, in this first review – in fact, it's probably true to say that you will not read anything which constitutes authentic Cardiff City news in the rest of this piece!
Neil Warnock has been talking about the new players he believes he needs to recruit in the coming weeks for months now and so, it's hardly surprising that City fans have had plenty of speculative media pieces regarding the identity of these summer arrivals since the 16/17 campaign ended seven days ago – truth be told, there were many such stories during the dying embers of the season as well.
Indeed, such has been the number of players the media have linked us with lately, it's hard to keep track of them all, so I apologise now if this breakdown misses out on some of the men City have been said to have been considering signing.
Goalkeepers
It's probably true to say that the position where we are most likely to see new recruits this summer is goalkeeper. Including Allan McGregor, City have four keepers with first team experience currently and it's my guess that only one of them will be with the club next season.
I don't see the two Ben's, Amos and Wilson, being with us come the closing of the transfer window in September which would leave the solid and reliable Brian Murphy as the only senior goalkeeping survivor from those who were on our books on a permanent basis last season.
As for McGregor, his parent club Hull may well be relegated this lunchtime when they take on a Palace side still not sure of their Premier League place next season themselves yet. Wins in their last two matches have made it very likely that Swansea will be staying up, so Hull need to take at least four points from their last two games to preserve their place in the top flight, but in truth, their inferior goal difference means that probably nothing less than a win today and then another one when they entertain Spurs on the final day will do for the Humbersiders.
If Hull do go down, I'd be amazed if they would look to keep their three senior keepers (Jakupovic, McGregor and Marshall) at the club for a Championship campaign and, at the very least, I would expect one of them to go out on loan for 17/18.
So, the opportunity for City to still have the keeper we've had for most of the second half of the season is almost certainly there for them. However, Neil Warnock has said that McGregor's wage demands would probably rule out any move for him (it wasn't clear whether our manager was talking only in terms of a permanent move there mind) and the same reasons would also appear to make the move I'd prefer (a return for David Marshall) a non starter as well.
A lack of funding, or possibly a feeling that any transfer kitty Warnock is given would be better spent on targets in other positions (e.g. striker), would seem to rule out someone like Wayne Hennessey who is very likely to be released by Palace soon. Indeed, it's unclear whether Wales Online, who make a habit of including the Palace trio of Hennessey, Joe Ledley and Fraizer Campbell in any list of City transfer targets they produce, mention that trio as players as ones they know we are interested in or ones they'd like us to be after.
So, while another McGregor type loan move cannot be entirely ruled out, I'd say that it's more likely that one or both of a couple of players available on frees this summer will be with us for 17/18.
Our manager has confirmed that he made enquiries about Walsall's Philippines international Neil Etheridge in January and there have been reports that we're back in for him now. Also, Rotherham announced during last week that Lee Camp would be leaving them and, given his previous experience of working with Warnock, and our goalkeeping coach Andy Dibble, at that club last year, it seems to be taken for granted that the Northern Ireland international is on his way to Cardiff.
If I were asked what was the current transfer rumour most likely to become fact at City, I'd go for Lee Camp being with us for the new season and my second most likely one would be that Etheridge would be here – I'm not sure if it would be a case of one or the other of them either.
Full back
Most pundits appear to be identifying full back as an area where we don't need strengthening, but I'll mention that there are still stories out there linking us with Hearts' Callum Paterson, who we were, apparently, after in January before he sustained the knee injury which ended his season. Paterson is another who is very likely to be making a Bosman type move this summer and I'd rate it unlikely that his destination will be Cardiff, but I'd also put him into the might be worth pushing the boat out a bit for category if we received any encouragement that he would be prepared to come here.
Centreback
Ideally, this is a position where we could go with what we already have, but, with it looking increasingly like any attempt to persuade Bruno Manga to accept a new contract on reduced wages is doomed to failure, it strikes me that this is a position where we would still have good options, but maybe there is a need for someone to come in. If that was the thinking, then it seems to me that someone like Motherwell's Ben Heneghan might be the sort of player we'd look at because he'd be pretty cheap and could be seen as "one for the future".
Central midfield
Again, much depends on whether an established player stays at the club. If I had to guess, I'd opt for Peter Whittingham turning down our contract offer, but, Ledley speculation notwithstanding, I'm not convinced that this should be a high priority area when it comes to new players. I say that because, if the speculation is to be believed, Tom Adeyemi has done enough in his year at Rotherham to make his old club Norwich think of resigning him (Ipswich are supposed to be after him as well).
There's also Emyr Huws of course – on the face of it, with Ipswich eager to make his loan move into a permanent one, his stay at Cardiff is coming to an end, but the Portman Road club have been run on a even tighter budget than us in recent seasons and my feeling is that if Huws is playing for them next season, it will be as a loan player again.
Barnsley's Josh Scowen, another player likely to be available on a free this summer, is someone we've been vaguely linked with in the past and, rather like Callum Patterson, I'd say he's someone definitely worth pursuing if we received any encouragement that he would consider us, but, in the absence of that happening, I'd be telling Huws that he has a fresh start at City if he wants one and a first team place can be his with a good pre season behind him.
Winger
With no confirmation yet that Kadeem Harris or Junior Hoilett have agreed new deals with the club and repeated rumours that Anthony Pilkington and Craig Noone are among the players we would listen to offers for, this could be a position where we'll see wholesale changes in the summer.
However, our manager seems confident that the first two named will opt for staying at City and so, even if the other two leave, I think it may be a case of us just bringing in one newcomer.
Barnsley's Marley Watkins has already said his goodbyes to the club's supporters in a move which seems to confirm that all of the stories over the past six months or so about him rejecting a new contract with that club were true. City's name always tends to be in any list of clubs rumoured to be interested in the Wales qualified former Swansea man, but with Premier League Burnley also regulars in such lists, Watkins seems one for the "unlikely" category to me.
A seemingly more realistic transfer would be this one speculated upon from last week and I'd rate it among the more believable of the rumours heard so far.
Strikers
With Rickie Lambert another of those who it seems likely that the club would like to offload this summer and no sign whatsoever that Adam LeFondre will be offered a new deal, you could say that there is a danger that Kenneth Zohore will be the only specialist striker at City when the players report back for pre season training. Even if someone like Pilkington stays, he's not a specialist in that position as he is more at home on the wing or in a number ten role just behind someone like Zohore – much the same could probably be said about youngsters like Mark Harris and Ibrahim Meite as well.
There is Rhys Healey of course, but is he going to be ready for the start of the campaign as he recovers from his cruciate knee ligament injury in January? So, on the face of it, there needs to be a striker or two signed soon.
So far, the players I've referred to have been ones who would cost us a modest transfer fee at most. The majority of players we've been linked to on a fairly regular basis have been ones that have been given free transfers or are available on Bosmans and yet I've got the distinct feeling that Neil Warnock has wanted to have a sum available to him to spend on transfer fees – albeit a significantly smaller amount than that certain other managers in the Championship would be expecting.
For me, striker has to be the most likely position in which we might find ourselves spending a significant sum in transfer fees compared to what we've become used to in the last two years or so and so, reports of a £3 million bid for Southampton's Sam Gallagher strike me as having enough in them to qualify for a strong possibility ranking.
At just 21 and with some Premier League experience as a teenager, Gallagher looks to be an attractive proposition for a team in City's current position, not just because of what he could offer on the pitch, but also in terms of the resale value he would have if he were to succeed at Cardiff.
Yes, a season long loan at relegated Blackburn gives ammunition to anyone who would want to argue against such a signing, but I've seen and read little to suggest that Gallagher was a failure at Ewood Park – on the contrary, the main reason why I feel we are unlikely to get him if our interest in him is really serious enough to run to a £3 million bid, is that so called bigger Championship clubs than us will be in for him if Southampton decide to sell.
Before finishing, I should say that in the final Wales Online Blakey's Boot Room podcast of the season last week, it was said that the club have told members of the local media that the summer arrivals will be players whose names supporters will immediately recognise – I don't think a few of those I've mentioned here would fall into that category, so maybe we are going to see a more ambitious approach by those in charge of the club's purse strings, but, if pressed, I'd still say that we will be lower mid table when it comes to player budgets in the Championship for 2017/18.