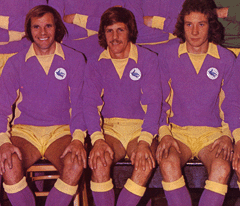 When you consider that there has only really been one newsworthy event at Cardiff City this week which I have decided not to comment on in great detail, I get the feeling that this is going to be one of the shorter pieces you'll find on here – let's see if it works out that way (it probably won't!).
When the Daily Mail (whatever I might think of that paper, I have to admit they've been spot on in their coverage of our bids for Ince and Victor Wanyama – who signed for Southampton during the week) published this story on Tuesday, I thought it had a ring of truth to it and accused Ince of messing us about when I posted it on a City messageboard. Since then my attitude towards the player has mellowed somewhat for a few reasons despite the fact that he turned us down on Friday. Firstly, I would say that the birth of his first child on Thursday goes a long way towards explaining why the impression was created that there were quite long periods where nothing seemed to be going on with the deal. Second the sort of figures being bandied about concerning the salary we were supposed to have offered him makes it doubtful that money was Thomas Ince's prime consideration in arriving at his decision and, finally, he gave us a decision on Friday bringing the uncertainty to an end when I feared that he would keep us hanging about until the end of next month in the hope that a bigger club would come in for him.
So, I'm less critical of Ince than quite a few other City fans are, but, that said, I still can't help feeling that we've dodged a bullet somewhat with this one. To explain what I mean there, every now and then I read some bollox about City only going for players who are "desperate" to sign for them on the messageboards. Now, if that were the criteria applied at Cardiff City, our team would consist of Craig Bellamy (and I'm stretching a point there!), perhaps three or four members of our Academy and six or seven of our most passionate fans from the Canton Stand (or Croeseo Stand to use it's new, sponsorship inspired, name)!
It's ridiculous to suggest our players are, and have been, desperate to play for Cardiff City, but I believe it's realistic to say that in the past two seasons we have had a group who generally seem to enjoy playing for the club and this is reflected in the way they have been prepared to work for each other in the team's cause. Now, while it's true to say that there was some second hand stuff put out about Thomas Ince being impressed with the set up at Cardiff when he visited the club last Monday, I never saw anything to indicate that he was enthusiastic about the prospect of signing for City. I can't help thinking that he would have struggled, or maybe not even tried, to adapt to the "all for one, one for all" mentality of Malky Mackay's Cardiff City.
So, another seven days passes without a second addition to the first team squad and what makes this week particularly significant is that they head off to Switzerland today for their training week with a squad which has only been boosted by record signing Andreas Cornelius. Of course, the coming week was never going to see all of the players we need to stand a realistic chance of surviving in the Premier League being incorporated into the squad (I think we'll probably still be waiting for the newcomers who could do that in the last few hours, or minutes, before the transfer window closes). However, I'm 99.9% certain that Malky Mackay is surprised, and probably disappointed, that all but one of any newcomers we bring in are going to miss out on what is, obviously, viewed as a very important part of the pre-season programme – I presume recruitment processes won't stop while the manager is abroad so the prospect of someone joining up with the squad in the coming days cannot be ruled out.
What all of this means is that the feeling that we have been over ambitious in our recruitment efforts until now still lingers. I've been thinking this for about a month – Andreas Cornelius offers proof that aiming high can work and there's still plenty of time for doubters like me to be proved wrong. When you see players such as Alan McGregor, Maynor Figueroa, Curtis Davies and Ahmed Al-Muhammadi (i.e. players with either Champions League or Premier League experience available at reasonable prices) all signing for the side who finished quite some way behind us in second place in the Championship last season though, it's hard not to have a few thoughts that we may be trying to run before we can walk in the Premier League transfer market.