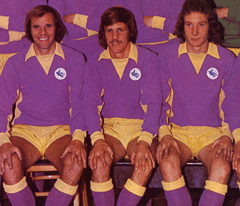 As usual during the summer months, I plan to do weekly reviews rounding up City news during that period, so here's the first of them covering the seven days since we ended our season with that win at Forest.
I'd say that for most clubs, the first piece of news we get from them once football stops for the summer is an announcement of their retained list. City's was released early in the week on their website and most of the headlines were made by the revelation that the very popular Kevin McNaughton had been released. To be frank, it's felt like "Super Kev" has not been a City player for a year already – if one decision epitomised the often bizarre comings and goings of the Ole months at Cardiff, it was the decision to award him a one year contract and then promptly loan him out to Bolton for the whole season!
However, during all of 14/15 Kevin was still, nominally a Cardiff player, so this is the time for goodbyes and all I can do is wish City's most popular player of the last decade all the best at his new club (surely he'll have no trouble finding one) and thank him for nine years of loyal and committed service – for many the abiding memory of the promotion  night just over two years ago were the images that captured just what our promotion meant to Super Kev and I hope that the plans for a deserved testimonial for him some time next season come to fruition.
Regular readers of this blog will be aware of my opinion of Danny Gabbidon, but I'll repeat it once again anyway – he's the best defender I've ever seen play for the club. That said, I have to wonder why City bothered to sign him for a second time. Apart from a minute or two as a sub at Birmingham, the only first team action Danny saw was in the awful 3-0 defeat by Bournemouth in the League Cup back in September. That night Danny looked like an injury prone 35 year old who had nothing left to give and I think it's fair to say that what impact he made in his second spell came in his short tenure as joint caretaker manager with Scott Young when the team did okay overall in losing just one of four Championship games played while they were in charge – those of us who watched him in a City shirt during 2000 to 2005 though will remember the Rolls Royce of a defender we were lucky enough to have in our ranks at that time.
You have to sympathise with Nicky Maynard – after two promising home appearances after signing in August 2012, a serious injury picked up in his first away game for the club at Millwall all but ended his season and, after finding it hard to break into the team in the Premier League, he spent a good part of the 13/14 campaign on loan at Wigan. The high point of his last season with City came early on when he scored the only goal against the team he had earlier been on loan with. This was at a time when City were expected to be challenging at the top of the division over the months to come, but things were to get much worse for both team and player. Maynard had another long term injury and the couple of appearances he made at senior and Under level 21 late in the campaign had the feeling of him just putting himself in the shop window – maybe he can recapture the form which made him one of the best strikers around at this level at his new club.
As usual, there's plenty of youngsters I'd seen play at Under 21 and Academy level who were let go. The two names that stand out for me among them this time are Gethyn Hill, another who suffered through injury (he never fully recovered from the injury picked up in an Under 21 match which kept him out for well over a year) and Josh Yorwerth – I really thought centreback Yorwerth had a chance of becoming a regular in the first team when I first saw him play, but, as a few other good youngsters we have in that position are finding, it is particularly hard to make an impact in the area where we have been strongest in recent years.
The good news for Yorwerth is that he has already found a new club with Ipswich having, apparently, awarded him a two year contract – my best wishes go to all of the other released players in their bid to find a new club.
As players leave, there are always new ones coming in to replace them and I'm sure much of what I write in the coming weeks will be about names we are being linked with. Well, it's started already with reports that we are chasing Chesterfield midfield player Sam Morsy. The 23 year old has a reputation of being a combative (as evidenced by thirteen yellow cards and one red one this season!), but creative sitting midfield player who has the stamina to also play a box to box role – despite his relatively young age, he's captained Chesterfield in the past.
I'll admit to knowing little or nothing about Morsy before the speculation linking him with us blew up, but as it turned out, I was able to watch him turn in a decent performance in the televised League One Play Off Semi Final with Preston on Thursday. He played a full part in helping his team have the better of the second half, but a 1-0 defeat means that his season is likely to be over after today's second leg and, if there is anything to the speculation, then Chesterfield staying in League One would seemingly make it more likely that a deal could be done.
The only other City news I can think of is that details of our pre season programme have been announced. It seems to me that players are asked to report back for pre season training earlier and earlier every year – this time it will be on 25 June with the first game to be played at Forest Green on 15 July before a trip to Shrewsbury three days later. After that, it's off to the Netherlands for a week where two matches with "top" Dutch sides will be played, before returning home for a couple of matches at Cardiff City Stadium before the big kick off at Football league level on 8 August.
Finally, a few words on how the Play Offs are going. As has often been the case in recent seasons, it's the away sides that are prospering at the moment to the extent that Ipswich must really be fancying their chances after drawing 1-1 with Norwich at Portman Road – all three away sides have won the other matches played so far. So, it seems likely at the moment that Brentford (beaten 2-1 by Middlesbrough at Griffin Park) will be facing us again next season and that there may be another local derby to add to the one with Bristol City as Swindon hold a 2-1 advantage over Sheffield United, but I would guess Preston would be favourites to win the League One Play Off Final at Wembley whoever they face, provided they can complete the job in a few hours time when they face Chesterfield at Deepdale.