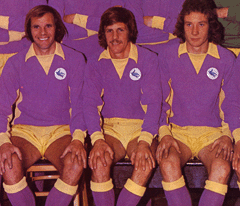 they've played twice this week and I can't avoid this feeling that they'll be in action again next Saturday. Not too much on yesterday's match from me because my second visit of the season to Spytty Park to watch a Newport County match meant that, apart from what was shown on the telly last night, I  have not seen, heard or read anything about it, so, I'll just make a few general observations.
Firstly, it's somehow typically Cardiff City that having brought in three or four top class players during the summer who had independent observers agreeing that we had one of the strongest squads, if not the strongest squad, in the Championship, we now find ourselves in a position where none of these players who were supposed to make the difference for us are in the starting line up because of injury or lack of match fitness. I still can't get my head around all the injuries we are getting and, to repeat what I said on here after the Leicester match, it certainly begs questions about how training is structured on an individual and team basis at the club.
On top of that, the case of Danny Drinkwater has me wondering at the level of professionalism at Cardiff City. Dave Jones has said that the club weren't aware of the player's previous problems with the sort of thigh injury he is now suffering from but couldn't someone have asked Drinkwater about previous injuries when he first signed for us ? Now, I accept that such a question might not have got an honest answer from a player who didn't want to give the manager a ready made excuse to leave him out of the side, but a simple search for "Danny Drinkwater Huddersfield injury" on Google brought back  a couple of hits – the first being a very good thread about him on a Manchester United messageboard which mentions this story concerning the thigh injury he picked up at Huddersfield last season. Surely someone at the club could have done the same sort of Internet search beforehand and spoke to the player and Manchester United about whether his training needed to be structured in some way to reduce the chances of the injury recurring?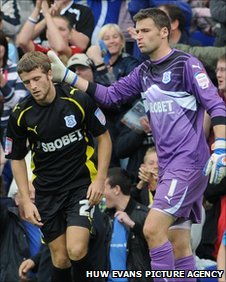 The other point I would make is about Dave Jones comments on Adam Matthews which, again, showed his tendency to name and blame younger players when they make mistakes, but not criticise senior players individually when they mess up. Of course Matthews was at badly at fault for his own goal yesterday, but to single him out for losing out to a very powerful player for the second goal seems very unfair to me and if questions are to be asked it should be concerning the centrebacks and, in particular, Mark Hudson's part in the goal.
Finally on yesterday's match, the side we have put out in our last two matches is one that has the look of mid table Championship team to it (it's a worse side than last season's), so should we really be too upset and/or surprised when it produces the sort of results and performances you would expect from such an outfit?
Moving on from the first team to our youngsters. I went to watch the Academy match with Fulham yesterday and I'm afraid that this season shows all the signs of turning into a long and hard one, in terms of results at least, for the Under 18's. Yesterday's 2-1 defeat was their fourth in five competitive matches so far and, in the early stages especially, it was one way traffic as Fulham created chance after chance. After a while though City managed to gain a foothold in the game and, although it was hard to see where a goal was going to come from, they were competing well when they fell behind in unlucky fashion as a shot from the Fulham centre forward rebounded off the post back onto his knee and into the net past a helpless Reece Ottley.
That was the only goal of the first half and at half time I decided to watch the Under 16s for a change and so only really got to have  a look at the Under 18s when there was a break in the play in the game I was watching. From what I saw though, the City team made a much better fist of it after the break as virtually every time I looked, it was them who were attacking. Sadly, the only exception to that rule came as I saw Fulham double their lead with another close in finish from their centre forward, but a couple of excellent long range efforts from Ibby Farah saw the first well tipped over by the Fulham keeper while the second rebounded off the underside of the crossbar back into play only for the loose ball to be headed over from a good position by one of our centrebacks.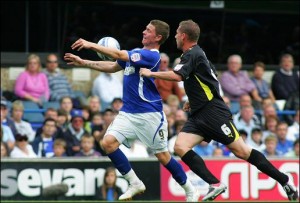 There were other close misses as well, but the game was beyond City by the time Joe Ralls scored following a long throw in with the match going into it's last minute. Not a bad performance overall then, but, unlike in previous years, I've not seen a player new to the team who strikes me as being a possible first teamer of the future – Farah is a good player at this level now, Ottley isn't a bad keeper and Nat Jarvis is going to be available again soon, but they were with us last season and the new intake doesn't look up to their levels at the moment. That's not to say that there aren't some promising first year scholars at the Academy – I was impressed by Oshilaja at right back yesterday and goalscorer Ralls has something about him, but based on what I have seen so far, the 10/11 crop of youngsters doesn't compare too well with other years.
As for the Under 16's, they drew 2-2 in an entertaining game which  saw the visitors finish much the stronger and so they would probably feel, with some justification, that they deserved the win. However,  the Under 16s certainly had their chances and if they could have got 3-1 up then I think they would have gone on to win and they certainly had two or three players who looked like they may develop into something.
Sorry that I don't have any names here because it was the first time I had seen any of them play, but it was hard not to notice the giant ginger haired centre half who, for obvious reasons, brought James Collins to mind – his game was a mixture of good and bad really with him being largely responsible for Fulham's second equaliser, but there were also some moments of quality and skill, which coming from someone as gangly as him, surprised me. Others who took my eye were the number six in midfield who played one or two very nice passes while the two wide players provided a decent service to the lone striker who didn't do badly against a couple of centrehalves who were bigger than him.
After that, it was on to Newport to watch County take on a Mansfield side who were occupying one of the Play Off positions going in to the game. With the match pitting the Holdsworth twins against each other as rival managers, there was also a chance that it would prove to be a feisty affair and, with a referee who had you realising that the officials you see every week in the Championship aren't quite as bad as you sometimes think they are, there was too much whistle for it ever to be a really entertaining match.
Both sides finished with ten men and if you had told Keigan Parker ten years or so ago when great things were being predicted for him as a kid in the St. Johnstone side that in September 2010 he would be getting sent off for a petulant retaliation shortly after coming off the bench  while playing for Mansfield Town at Spytty Park, Newport in a Blue Square Conference match then he would have thought you were mad. That's what a career that promised an awful lot has come to though – as someone once said to George Best, "where did it all go wrong?"!
The game was decided by a tremendous shot from Gary Rose on the hour following Newport's first corner of the game and, with the prolific Craig Reid having hit the post in the first half, it was probably a deserved lead at the time but Mansfield reacted very strongly after Parker's red card and probably deserved a point from the game by the end.
One of the reasons they didn't get the draw though was that Martin John, in his second County match after signing on loan from us, got back to clear a shot off the line with impressive home keeper Glyn Thompson beaten. Although he got done by his winger once, John had a good game – I thought he was one of Newport's best players and he looked confident and assured in most of what he did. On this evidence, he is comfortably good enough for the Conference and I see no reason why he cannot play a big part in what is looking more and more like a challenge for a Play Off spot from Dean Holdsworth's enterprising team over the coming months.