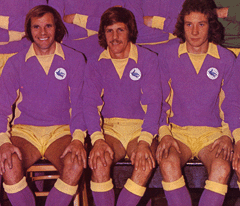 This is the first chance I've had to comment on Malky Mackay's sacking, but, having decided to do a fuller review on his time at Cardiff sometime during the upcoming week, I'll limit myself to a few general comments for now. First, I feel Malky's public comments in the time following his "reprieve" last weekend weren't helpful both for himself or for the club and, second, stories like this only serve to give more ammunition to those who argue that last summer's transfer money was badly spent – I really want Andreas Cornelius to prove the critics wrong because I have a natural sympathy for any 20 year old trying to settle into a new club, and country, under the pressure of huge transfer fee, but I have to admit that, on the evidence we've seen so far he is both overpriced and overpaid if the figures in that story are correct.
However, unlike some, I'm not going to lose sight of a couple of things. Number one is Malky Mackay's outstanding record in his first two seasons (he was doing okay in his third one as well in my opinion) and number two, the last three months of his time at Cardiff saw him trying to do his job under conditions which would test the abilities of an Alex Ferguson. That's why I rate him the best Cardiff City manager I've seen by some distance – he wasn't perfect by any means, but I'll always think of him as a man more sinned against than sinning.
It's a shame that Malky's last match was not the one at Liverpool where a strong second half performance saw his team leave with pride intact and the travelling fans came out with a tremendous impromptu show of support for him. Instead, it was the wretched defeat to Southampton that proved to be his swansong and that, combined with the awful showing at Palace meant that, in my opinion, we looked like a relegation side in two of our last four matches under him – now, after last night's desperately disappointing 2-2 draw with Sunderland at Cardiff City Stadium, I'd say we've produced performances which will see us get relegated in three out of our past five games.
In saying that, we were nowhere near as poor as we were against Southampton and Palace last night. Indeed, Sunderland could, and probably should, have been blown away in the first half hour where we looked as dangerous going forward as we have done at any time in the season so far. City's attitude, confidence and ability during this purple patch were a great credit to stand in bosses David Kerslake and Joe McBride – unlike under Mackay at this level, a fast start was maintained and there was even the tangible reward of a goal when Jordon Mutch (a player who actually seems to have improved at the higher level) scored in the fifth minute when his shot from the edge of the penalty area flew past Mannone with the aid of a slight deflection.
There were so many chances during the opening third of the game, some were missed due to poor finishing, some due to bad luck and, in one case, a lack of confidence on the part of Peter Whittingham (he's a fine finisher, but there was another instance in the second half when the Whitts of old would have shot rather than look for the pass). However, the longer it went on at 1-0, the more it felt that Sunderland were being let off the hook – the visitors came into the game in their best form of the season and buoyed by a superb win at Goodison Park on Boxing Day and you just knew that they would have a dominant period sometime in the remaining hour.
As it was, the visitors went in at half time still trailing almost entirely due to some fine saves by David Marshall from Borini, Ki and Borini again (good to hear that he has been released from hospital after collapsing in the dressing room at half time). It looked at the interval as if the pendulum was swinging in favour of Sunderland, but for most of the second half, they looked just like a team with only three away goals to their credit before yesterday and only a Cattermole shot from a clever corner routine which flew inches over suggested they had a goal in them.
City had long since lost the attacking vibrancy and momentum of the opening stages, but, right to the end, they retained an ability to cause the Sunderland defence problems when they could get forward and when the outstanding Mutch burst past a couple of defenders to lay a goal on a plate for Fraizer Campbell (having another fine match in front of the television cameras), the points seemed secure. For the next twenty five minutes or so, there was the closest thing we've seen to a mood of celebration at a City match for some time. Sunderland were coming forward, but there was little conviction in their attacks and the what we have we hold substitutions of Cowie and Gunnarsson for Noone and Kimbo (both very impressive during our dominant period) may look wrong ones now, but I doubt it if there were too many who were criticising them at the time.
Everything changed though when Steven Fletcher got away from Ben Turner to nudge the ball home on 83 minutes. From  this point onwards, Sunderland, rightly, sensed they could get something from the game and as the match stats which had shown us on top in terms of goal attempts for ninety per cent of the time, swung in the visitors favour as the shots rained in, it was hard to deny them the slice of luck they got deep into added time when Colback's shot was deflected beyond Marshall.
I feel a draw was the right result in the end, but it has to be said that Sunderland were helped enormously in the closing minutes by some incredibly naive and incompetent play from Cardiff. There may have been a command to sit so deep in front of the keeper from the bench, but I very much doubt it because it was a suicidal policy doomed to failure. Our ball retention was not just poor during the last ten or twelve minutes of play, it was appalling – certainly nothing like the standard you would expect from a Premier League side. It seemed to me that the side were crying out for some leadership from a Bellamy or a Hudson during those frantic final stages, someone who saw the danger of having ten men in and around their own penalty area just booting the ball clear was making  a Sunderland equaliser almost inevitable, but instead we got a surrender which bore all of the hallmarks of a team destined for the drop despite the very good things in the performance which had come earlier.
One last thing before finishing on the game. There were some good individual performances from players I've already mentioned, but I've not said anything about Declan John yet – I thought he turned in a very promising display in which he showed, probably for the first time after being almost solely used in away matches up to now. what he might be able to add to the team in an attacking sense. The young left back was also one of the few members of the team who played with composure for the whole ninety minutes and, on that display, I'd retain him in the side even if Andrew Taylor is fit for Wednesday's daunting trip to Arsenal.
On the new manager front, David Kerslake ruled himself out of the running saying (albeit in a joking fashion) the last twenty fours hours have put him off and citing  the six phone call he received from Board members and club owner within the space of three hours as evidence of a lifestyle he could do without! Mind you, if Mehmet Dalman is to be believed, there is only one candidate for the job – all of the indications so far are that man is former Manchester United striker Ole Gunnar Solskjaer.
Now, I've got no real confidence in the current hierarchy finding a manager good enough to turn around our imploding season who is willing to work with Vincent Tan. That said, I think Solskjaer is an interesting candidate who I would far prefer to see in charge than the likes of Sven-Goran Eriksson or Yilmaz Vural (who Mr Dalman again dismissed as a candidate yesterday). Trouble is, there are increasing signs that the willing to work with Vincent Tan part might prove to be a problem in Solskjaer's case. The aforementioned Alex Ferguson has, apparently, advised his former player to choose an owner rather than a club when making a choice on the next move in his managerial career – if that is the case and it is advice that other good managers follow, then the amount of managerial talent available to the club would appear to be dramatically reduced.
Now, it has to be said that a good deal of the anti Tan stuff peddled by the likes of Talkshite and the Daily Mail is probably down to the fact that he is not from good yeoman Anglo Saxon stock – would an item like this  have even been mentioned if it had been, say, Steve Parish doing the "booing" at a Palace game? In saying that though, Mr Tan doesn't do himself any favours. It's as if he believes in the old adage that "any publicity is good publicity". Wouldn't a show of dignity after his "triumph" in the war with his former manager have been the best way to go last night - one thing Mr Tan antics weren't is dignified.
I could go on for a lot longer about our illustrious owner, but I'll just say one more thing. I've suffered from a heart condition called atrial fibrillation for nearly seven years and I suppose I've been lucky that I have not had an "episode" before yesterday which prevented me from attending a game. Unfortunately, I had one yesterday which started first thing in the morning and persisted throughout most of the day (ironically it stopped just before Sunderland's equaliser!) and so I missed my first home game since January 2004 and ended up watching it on Sky.
The strange thing is I went to bed on Friday night toying with the idea of giving the match a miss anyway as a protest against the circus that Cardiff City has become under Vincent Tan. I'm fairly sure that, when decision time came,  I wouldn't have followed through on that thought, but, having now ended my long run of attending home games, the question "do I want to be associated with a club where stewards try to stop a thank you Malky Mackay poster being displayed?" seems an easier one to say no to than it did before.
Now, I think the reality is that the fact that I've got the Cardiff City bug so bad will mean I'll still be there against West Ham, but what a sad indictment of what the club has become under our current owner that incident was. It needs to be said that it may be that Mr Tan was unaware of the situation and did not give the order to confiscate the banner, but someone in authority at the club must have informed the stewards to do this and I would say that there is a very strong possibility that the decision was made because the person responsible thought that it was what Mr Tan would have wanted.
Similarly, the Journey Back was not published on the date we originally wanted it to be (the Newcastle match on 5 October) because the club's media department kept on palming us off for seven weeks while we tried to get their permission to include photos from old programmes in the book – we never got a decision from them and had to go to another person at the club to get the go ahead. The distinct impression I formed at the time was that the reluctance to answer the question was based on a fear of what Vincent Tan might say or do if they made what he saw as a wrong decision (this was before the Moody sacking and the bonuses row, so I'm not using this to suit some agenda here). Given the events of the last three months, I'm more sympathetic to the media department's position than I was at the time – in December 2013 Vincent Tan's Cardiff City is a hard club to support, but imagine having to work for it.
* pictures courtesy of http://www.walesonline.co.uk/