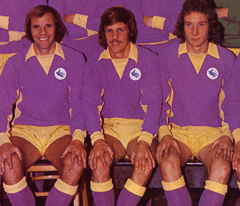 With the passing of time, the hurt of Cardiff City's complete capitulation at the end of the 2008/09 has eased somewhat and there may be a tendency to begin to believe that, actually, it wasn't quite as bad as it seemed at the time. However, hearing Craig Burley using us an example of the maxim about the fat lady singing being proved right while he was commentating on some obscure game up in Scotland last week served as a reminder as to how spectacular a cock up those last four matches really were.
With about a month of the 08/09 campaign left, I started a thread on a City messageboard in which I posed the question "When did you just know that we were going to make the Play Offs?". This was to prove a source of later embarrassment to me, but it really wasn't as arrogant and ill judged a question as it may seem now – after all, we were looking certainties to finish in the top six at the time with the only real question being would we be able to go up automatically?
Anyway, the answer to I gave to the question I posed was that I "just knew" we were going to finish in the top six after we beat Watford 2-1 on the 18 March in a game which had one of the most incredible finishes I have ever seen us involved in.
With City in fine form at home after taking twenty two out of the last twenty four points on offer at Ninian Park and Watford down in sixteenth position with twelve defeats from their eighteen away matches, the game had the look of a home banker to it, but the visitors were in the process of turning their season around under their new manager Brendan Rogers – after spending the first half of the campaign struggling in the drop zone, they had only lost one of their last six matches and came with a side full of attacking pace.
After a minutes applause for recently deceased former Chief Steward Jeff Richards before kick off, Watford didn't take long to to show the threat they posed on the counter attack as former City winger Jobi McAnuff burst away on ten minutes to break into the penalty area where he was brought down by a struggling Steve McPhail for an obvious penalty. Top scorer Tommy Smith ignored the catcalls and abuse of the Grange End to beat Stuart Taylor (who was making his home debut after signing on loan from Arsenal) and City were 1-0 down and faced with an enormous challenge. Back in those days, there was a tendency to think "oh well, that's the result sorted then" when the first goal was scored in a Cardiff City match because, while they hadn't lost after scoring first so far that season (and wouldn't do so all through the campaign), they also hadn't won up to then after going 1-0 down either.
City's response to the setback was impressive though and they were level within five minutes when Jay Bothroyd made scoring from Tony Capaldi's headed flick look a lot easier than it actually was as his half volley flew low into the corner of the Watford net.
The game settled down after those early goals with City tending to have the lion's share of possession and pressure, but Watford also showing from time to time that they remained a threat when they got forward. Half time came and went with the sides still level and City were now finding chances hard to come by – Ross McCormack should have done better with a header, but they had lost their earlier fluency and, with Watford beginning to look as if they had settled for a point, it was hard to see where a goal would come from.
When the fourth official indicated that there would be three minutes of time added on at the end of the ninety, the roars that greeted this came more from hope than expectation and a good portion of the 17+ crowd were heading for the exits (I know, I was one of them!). Having spent forty five minutes watching us barely threaten from my usual position at the front of the Grange End, I watched added time near the exit at the top corner of the stand – with so many doing the same as me, the view wasn't great, but at least I got to see what was to come, unlike those who were out on Sloper Road heading home.
The first inkling that we might be in for something special came when McCormack fired in a shot from twenty five yards which was turned over the bar by Watford's young keeper Scott Loach – there was just about time for that last corner to be taken and, in a blur of action, I saw Gabor Gyepes head the ball towards goal and then a loud shout go up as as the ball was diverted wide. I didn't have a clue what had happened, but immediately saw the referee point to the penalty spot only for him then to go and have a chat with his linesman for what seemed like twenty minutes before he confirmed that City had, indeed, been given a fantastic chance to pick up all three points.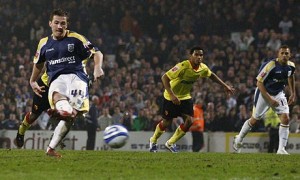 What happened next was predictable as Watford players surrounded the officials to protest at the decision and by the time that had subsided it had been a full seven minutes since the fourth official had told us how much added time there would be. By now, it had become clear that the penalty had been given for handball by the Watford player guarding the far post, but, tellingly, Ross Jenkins had not been given a red card as is usually the case in such offences. Quite what all of the uproar had done to Ross McCormack's nerves as he stood waiting to take the penalty, I don't know, but mine were absolutely shredded as he shot low to the keeper's left – Loach guessed correctly, but the shot had too much power and was placed too well for him to get near it and pandemonium broke out as McCormack ran to the Bob Bank where he and about three quarters of the City team seemed to be in with the fans celebrating an incredible win.
This video captures the emotion and intensity of the occasion perfectly and also shows why Watford protested so strongly at the decision because there has to be some doubt as to whether the ball hit Jenkins' arm or chest, but the real stroke of luck City got was that Gyepes' header would have gone wide but for the defender's intervention.
Wins like that are the ones which send out a signal that this is going to be your season hence my message a couple of weeks later. However, as we all know now, City didn't stick to the script and the moment I "just knew" we weren't going to make the Play Off's came about five weeks later when, having watched City say goodbye to Ninian Park in shameful fashion with a 3-0 surrender to Ipswich and a cheap and tacky farewell "party" after the game, I then watched Preston snatch a last minute win in a televised match at Birmingham. This meant that the last play Off spot was still up for grabs going into the last match of the season – those who had deemed that this was to be our season had, obviously, changed their mind for some reason.
18 March 2009
Cardiff City 2 Watford 1
City Taylor; McNaughton, Gyepes, Johnson (R), Capaldi; Burke (Chopra), McPhail, Ledley, Parry (Whittingham); McCormack (1), Bothroyd (1); Subs (not used) Rae, Kennedy, Johnson (E)
Watford Loach; Mariappa, Williamson (M), DeMerit, Doyley; Cowie, Jenkins, Cork, McAnuff, Smith (1); Priskin; Subs (not used) Lee, Williamson (L), Cauna, Hoskins, Hoyte
HT 1-1
Att. 17,899