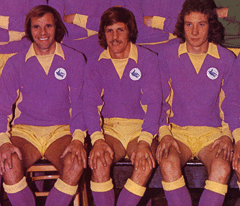 In the aftermath of the Ipswich match someone on a City messageboard I use started a thread in which he made reference to something which Mansfield manager Steve Evans said in a recent interview.
Now, if I ever got around to compiling a list of my least favourite managers, Evans would be very near the top of it for all sorts of reasons, but I have to say I admired his honesty when he said he thought that a manager's influence on the team was perhaps five per cent, the rest was down to the players' abilities.
I put it fifteen per cent when I made my contribution to the thread and I daresay some boffin (I love that word!) somewhere has devised a method whereby the influence of a manager can be measured in percentage terms. However, my point was more that I thought Evans was selling his profession short somewhat with his estimation rather than trying to put a figure on how much he was selling it short by.
Whenever I think of Evans now, it tends to also bring to mind our former manager Russell Slade because the two men have had quite a rivalry down the years with the former Leeds and Rotherham boss tending to come out on top more often than not.
If one game typifies how a Slade v Evans encounter tends to go, it was the 2014 League One Play Off Final where Rotherham beat Leyton Orient on penalties after they had been 2-0 down. To my mind, there were two men most responsible for the Yorkshire team coming out on top that day, one was former City striker Alex Revell and the other was Evans – I maintain that Evans' influence on proceedings that day should be rated at higher than five per cent.
The reason I mention this is that I believe my take on this matter gained a bit more credibility last night after Cardiff City overcame both a woeful first half showing and the curse of playing towards the Canton Stand in the second half (I admit that the latter only ever existed in my head!) to end up well deserved winners in a game with Wolverhampton Wanderers which, if hardly falling into the relegation six pointer category (such things don't exist at this stage of any season), could be argued to be both teams' most important game of the season so far.
While defeat would hardly have qualified as a catastrophe for City (and it certainly isn't one for Wolves), it would have given a "must win" feel to Saturday's game when we entertain Barnsley, but now we can go into that fixture with confidence that another one of those curses which only exist in my mind (we never get six points when we have two home matches in a week) can also be put to the sword.
Going back to managers, it's my opinion that we would not have won last night without Neil Warnock in charge, but, before I develop that theme, it also needs to be said I suppose that it could be argued that our first half problems were, to some degree at least, of our manager's own making.
Certainly, my reaction when first hearing the starting eleven was one of shock – Bennett and Lambert on the bench, Immers and Richardson in and Pilkington up front. Now, it must be another one of those intangibles I suppose as to how much a manager who brings players in from the cold to give them a chance to prove him wrong should be blamed when said players only go on to demonstrate exactly why they had been barely featuring. Suffice it to say though that the pressure was definitely on Neil Warnock as his team trooped in a goal down having played as poorly as they did at any time under Paul Trollope's management.
After an early dalliance as a kid, I've not been a booer of my team for forty years or more, but what I couldn't get my head around last night was not why some did boo the players off, more what on earth was making a few in the ground clap City off after they had been so inept!
Unfortunately, it was the autumn 2016 version of Lex Immers who turned up last night, not the spring 2016 one, while I'm afraid that Kieran Richardson did nothing to dispel the growing feeling that, after four signings, Neil Warnock's success to failure rate in the transfer market can be put no higher than fifty per cent so far.
This is not to say that these two players were solely to blame for Wolves having such an easy time of it in the first half. For example, they couldn't be held responsible at all for the atrocious goal City gave away with barely two minutes played – it wasn't Immers or Richardson who failed to put Wolves left back Matt Doherty under any pressure at all after a free kick had been rolled to him forty yards from goal and it wasn't those two whose rabbit caught in the headlights reaction to the resultant pot shot from thirty yards meant that the ball ended up in the back of our net.
On a similar theme, Immers and Richardson weren't wholly responsible for the fact that Wolves' 19 year old keeper Harry Burgoyne, who was making his second Championship appearance for the club after conceding four on his debut on Saturday, had so little to do in the opening forty five minutes.
Entirely predictably, Burgoyne's only anxious moment came from a dead ball situation when he missed an Aron Gunnarsson long throw, while the one time City threatened a goal was when Sean Morrison headed a Peter Whittingham free kick narrowly over as, yet again, we looked like a team unable to create anything in open play.
I think anyone who has been reading this blog for some time will know by now that I don't really enjoy a direct, long ball approach, but, having seen where trying to play in a way that is more easy on the eye got us earlier in the season, I accept, albeit reluctantly, that it's probably the best way for Neil Warnock to go with this group of players.
However, when the long ball game is played as poorly as City played it in the first half, then, surely, it must be so easy to play against?
One thing that became clear as the half progressed though was that, after strolling through the opening quarter, Wolves were showing that they were no great shakes themselves – their lucky goal apart, they had done nothing to indicate why they had managed to score six times in their last two matches.
The visitors found themselves coming under more pressure as half time approached, but, given the ease with which they were containing us, the suspicion was that they were happy to let us come on to them. There was another possibility, Wolves were trying to get out, but we were stopping them and so we were gradually beginning to take command. However, half time came and, given that we'd not come up with a single second half goal in a home match this season after not scoring in the first forty five minutes, I spent the interval thinking the game was as good as lost already.
Thankfully, not everyone was as pessimistic as me and Neil Warnock spent the fifteen minutes proving why there was virtually unanimous approval from City fans when his appointment was announced in October.
Now, I think most of us have probably seen those videos on You Tube which show full on Warnock half time dressing room rants, so I'm sure that I wasn't the only one who thought that the paint would be coming off the dressing room walls as our manager laid into our misfiring players – apparently, the truth is that it was nothing like that.
In a post match interview Anthony Pilkington said that the squad had still not seen that side of Warnock's character yet, remarking that, in fact, he was pretty calm at half time – I see no reason why Pilkington would say this if it wasn't the truth.
Instead, Warnock was obviously of the opinion that the second of the two possible reasons I gave as to why Wolves spent so much time defending just before half time applied as he told the team that our opponents were there for the taking.
Nevertheless, it was hardly a surprise that the manager felt the need to make a couple of changes after forty five minutes. Although only the recalled Bruno Manga had reason to be satisfied with his performance so far, it was predictable, and right, that Immers and Richardson should be the players to be withdrawn, but the identity of one of the men to come on was far from predictable.
Craig Noone's introduction was to be expected and, given Pilkington's struggles against Batth and Stearman in the middle of the Wolves defence, a striker had to be brought on, but it wasn't to be Rickie Lambert, instead Warnock opted for Kenneth Zohore.
I've mentioned before on here there were times last season when Zohore really impressed me – it didn't happen too often, but he made defending harder for two teams now playing in the Premier League (Burnley and Middlesbrough) when he came on last season.
The young Danish striker had blown his two big chances to make an impact this season when he was anonymous after being given a start against Bristol Rovers in the League Cup and looked out of his depth when brought on after less than fifteen minutes in the home defeat by Derby, but four goals in two appearances for the Development team in the last month might well have meant it was a more confident player now who waited for the second half to get under way.
Incredibly, with one exception which I'll mention later, all of the significant action in the final forty five minutes took place at the dreaded Canton End, as Wolves came under sustained pressure which, this time, often threatened to have something on the end of it.
Initially, it was Noone who took the eye most, as he probably started playing as well as at any time since we last met Wolves. It was Noone who first raised the pace from the ponderous opening half by taking a quick crossfield free kick aimed at Junior Hoilett which only needed to have been a bit more accurate to have completely caught out the Wolves back line and then he switched to the left to beat a couple of opponents and hit a right foot shot that forced Burgoyne into his first meaningful action of the night.
The youngster passed this test with flying colours as he superbly tipped Noone's effort around the post, but, increasingly, a resurrection of a chant that I've not heard in ages (one that had been thoroughly inappropriate this season until last night!) seemed in order – it really was beginning to feel like we were going to score in a minute.
One of the main reasons why City were looking more threatening attacking the end of the pitch where they had enjoyed so little success this season before last night was that Batth and Stearman had been forced to throw away their cigars and take their slippers off because Zohore was not giving them a moment's peace.
In the past, the striker has looked diffident on his first team appearances – it was if he didn't really believe he should be out there. It was completely different this time though, as mentioned before, goals for the Under 23s may have helped, but, watching the difference the two subs were making, you had to think that Warnock had got them so motivated and their enthusiasm had the effect of lifting others, as City began to show that there was a little bit more to them than biff bash stuff and a reliance on set pieces.
An acrobatic overhead effort that flew just over, was as close as Zohore got to a goal and it was certainly not a case of everything he tried coming off, but this was the best I've seen from him in a Cardiff shirt. He thoroughly deserved the bit of luck he may have got when the corner Matt Connolly scored the equaliser from was given despite it looking to me as if no defender had got a touch on his mishit shot that flew yards wide.
At 1-1 with a quarter of the match left, Warnock was being proved right – Wolves were there for the taking. However, for a while, it looked like the goal had revitalised our opponents rather than inspired us. We seemed to lose the intensity that Wolves had been unable to cope with and when they were able to force a corner, the ball broke to George Saville who looked a certain scorer until Amos was able to partially atone for his earlier error with a brilliant stop at point blank range – although there haven't been any mistakes as glaring as last night's from our keeper, there had been a strange lack of outstanding saves from him as well, this was, by some way, the best one I've seen from him for us so far.
If Wolves had been able to go back in front at that stage, I think it's likely they would have won, but that was the last we saw of them as an attacking force as the game reverted to it's former course of City domination – albeit, it wasn't as total as earlier and when the winning goal did arrive in the eighty sixth minute, there was not that feeling that it had been coming like there was when Connolly scored.
Again, Zohore was right at the centre of it influencing proceedings. This time, bursting through a tackle to find himself in space some twenty five yards from goal – in the past, Zohore has been guilty of getting over excited in such positions and he'd try a shot that went nowhere near goal, but, he chose exactly the right option now, playing the ball into Pilkington's path.
In the lead up to the game, Neil Warnock said he wanted his forwards to show more belief in front of goal and I'm pretty certain that Pilkington was one of the men he had in mind at the time – Freddie Gounongbe  still gets terrible stick for that miss up at Birmingham, but Pilks' at Forest was almost as bad. There was no hesitation or nerves from him here though as he took a touch before dispatching a left foot shot from just inside the penalty area beyond Burgoyne.
Now was the time to prepare for the inevitable siege on our goal as we desperately tried to hang on to our lead in the eight minutes or so that remained, but, truth be told, we survived quite comfortably as much of the time was spent with us keeping the ball by the Wolves corner flag on the Grandstand side.
I'm not saying it will happen, but what in the end was a well merited win has the potential to be a season changing game because it was so out of character with so much that we had seen so far this season – the squad still needs some new faces, but, despite what happened to Immers and Richardson, all of a sudden it looks like Neil Warnock has a few more realistic options for his squad than he may have thought.
Just a few words on youth football to finish. At the same time as the first team was playing, the Academy side crashed out of the FA Youth Cup with a 5-0 defeat in the Third Round at holders Chelsea. To be frank, we were always going to lose this match, but, hopefully, not by such a margin – based on what I've read, dogged defence kept us in the tie into the second half, only for Chelsea to then score four times in seven minutes.
It wasn't all bad news though, because earlier in the day the club announced that Craig Bellamy had been appointed as City's Player Development Manager. City CEO Ken Choo explains what this will entail in this piece and my first reaction to this news is that it's a great appointment – after all the frustrations of the last three or four years, it looks like the club are not only listening, they are learning as well.
*picture courtesy of http://www.cardiffcityfc.co.uk/