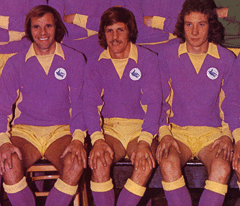 I think there was a general acceptance that Wales v Georgia would not be as straightforward an affair as most pot one v pot six matches are. Shorn of their two representatives from the UEFA selected best eleven for this summer's Euros, Wales always looked a little vulnerable against improving opponents with an ability level that should never have got them outside the top one hundred in the FIFA rankings in the first place.
Georgia always looked the strongest of the pot six sides and, before a ball was kicked in the group, were, pretty obviously, a stronger outfit than Moldova, but, nevertheless, it came as a shock to me to see just how good they were as they emerged with a deserved point after a 1-1 draw at Cardiff City Stadium last night.
In fact, the general consensus among many of the pundits and journalists was that Georgia were worth three points, not just the one they ended with. Indeed, when you consider their strong second half showing in which they missed a one on one and also hit the crossbar, you have to concede that there might be something to such an argument.
Overall though, I'd say a draw was fair because the visitors were certainly second best during a first half in which Wales started much the stronger and, although Georgia came into things more in the game's second quarter, the home side undoubtedly deserved their lead after forty five minutes. Wales also enjoyed a dominant spell after Georgia's fifty seventh minute equaliser, so I'd say their point was merited and, you never know, I suppose it could turn out to be vital come twelve months time.
Whoever deserved to win though, I thought it was a good game for any neutrals who were watching and, while accepting that it has had very little competition for such a title, it was the best match seen at Cardiff City Stadium this season.
I believe the important question to ask is does it signal that Wales are entering a decline back towards their more "normal" levels after a two year spell that has, arguably been the best in our footballing history? Speaking for myself, I'd need more evidence before I became convinced of that.
However, for all that I have said about how impressive Georgia were, the fact is that Austria were able to beat them in Tblisi last month and Ireland edged them out, albeit quite fortunately, in Dublin on Thursday. People were saying after last night's game that Georgia will take points off others among the top four seeds in coming weeks and months, but they hadn't before last night and, as things stand, Wales are the only ones not to have beaten one of the two lesser lights in the group when they've played them.
If Georgia seriously entertained any hopes of qualifying for the 2018 Word Cup, they really needed to be winning last night I feel. Therefore, the possibility has to remain that they will become less competitive as the group goes on and qualification becomes more of a lost cause, they may not prove to be as awkward opponents as some think they will.
Certainly, Georgia began like a team not expecting much from their trip to Wales as we swarmed all over them in the opening stages and they could easily have conceded before they eventually did in the tenth minute, when Gareth Bale demonstrated his aerial ability once again to nod in Joe Ledley's corner.
While Georgia were able to have a comparatively comfortable fifteen minutes in the lead up to half time as Welsh intensity faded, I don't think there were many at the interval who foresaw anything other than a pretty comfortable home win. However, after a misleadingly bright start to the second half by Wales, Georgia began to take a grip on things to the extent that when Okriashvili headed his side level, there was a definite feeling that a goal had been coming from the visitors.
For a while, Wales reacted well to being pegged back and it looked like the goal they conceded had been something of a wake up call, but it didn't last.
Once it was 1-1, both sides tried to win the game by differing means, Wales threw on attacking players and really went for it, whereas Georgia looked to exploit the counter attacking opportunities this provided and it has to be said that it was the visitors approach that looked the more likely to succeed as the minutes ticked away – while Wales huffed and puffed, Georgia so nearly got the win through their more subtle methods.
Whatever else you may think of Chris Coleman, he has always struck me as someone who is very honest in his post match comments and he admitted that he may not have helped matters by making three such attacking substitutions once Georgia had scored.
That said, the introduction of Hal Robson-Kanu for Andy King coincided with the upturn in our football after their equaliser that I mentioned earlier, but then the subsequent substitution of David Cotterill for Neil Taylor as Wales switched to a 4-4-2 manifestly did not work. This wasn't wholly down to Cotterill who managed to get over one cross from the left that was as good as anything his team mates produced throughout the match, but, Bale, so good before then, was less influential on the right and, with Emyr Huws replacing Ledley as the 4-4-2 morphed more into a 4-2-4 with each passing minute, we were, more than anything else, playing right into Georgia's hands.
To be fair to the manager, his usual 5-3-2/3-5-2 had not been working perfectly even when it was 1-0 as, just as in Vienna, the left side of our defence were having an uncomfortable time of it. Neil Taylor's evening had started so well as he skipped past his marker to swing a threatening cross over in the opening seconds, but his lack of game time at Swansea has to be a contributory factor in what have been two below par showings from him in the last few days and,with Ben Davies alongside him being in the same boat at Spurs, we may have to look at either a change to a flat back four or a change of personnel if the pair of them are still struggling to get into the club teams when Serbia (who have scored eight times in their three matches) come calling next month.
Certainly, the left hand side of the Welsh defence was nowhere to be seen as they appealed vainly for an offside flag when Okriashvili was given yards of space to nod past Wayne Hennessey (who has probably been Wales' best player over this pair of matches) and so I don't believe it's a simple as just saying get Joe Allen and Aaron Ramsey back and we'll be fine.
In saying that, there can be no doubt that those two players bring a subtlety and class to the Welsh midfield that just isn't there when they are missing. With Georgia being able to cope with the aerial stuff without too many problems, Sam Vokes' shortcomings in other areas became more relevant and, consequently, the attacking burden was carried almost exclusively by Bale who, when you think back, was responsible for nearly all of the meaningful goal attempts we had.
With Ramsey and, to an increasing extent, Allen there we have a goal threat in other areas, but their replacements, Andy King and Dave Edwards, both seem unable to ask defences the questions they once used to these days as they develop into deeper lying midfielders.
For a while, Ledley, King and Edwards buzzed around industriously to deny the Georgians the time on the ball they wanted, but for the last two thirds of the match, the Welsh midfield was struggling as the fact that we had three players who were all pretty similar in there became clearer.
With Ramsey now close to entering his third month of injury absence from the Arsenal team, I think there has to be doubts as to whether he'll make the Serbia game and, if he's not there, I'd give serious thought to using Bale in a number ten role behind a front one or two. Hopefully, Allen will be available to give us more steadiness and quality because I would not be optimistic if we faced Serbia in what I'd now say is a must win match with the same central midfield three or with Huws in there for, say, Edwards.
I daresay that there will be some who'll say it's far too early to be labeling games as "must win" – after all, our next match will only be our fourth out of ten. However, we'll only have two home games left after we face Serbia and, with four of the following five of them being away, anything but a win next month could see us in a position where'll we'll go into the return game, and the one in the Republic of Ireland, needing to win.
At the moment, Serbia, Ireland and Austria have that little bit of wiggle room that we don't because we were unable to follow up a very good result in Vienna with a good one yesterday. Having only managed four points from two matches at home to them, we cannot afford to drop any more when we go to Georgia and Moldova next year – yesterday's result is far from a fatal blow to our qualification hopes, but, for now at least, the three sides seeded immediately below us have to have a better chance of making it than us.
*pictures courtesy of http://www.walesonline.co.uk/