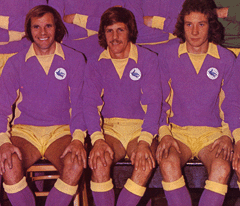 The first thing to be said is that friendly matches usually don't count for anything, so anything about Wales entering a bold new era based on the back of yesterday's comprehensive 3-0 win over Scotland at the Cardiff City Stadium carries a danger of being regarded as just hype which might look foolish once the real stuff starts again next September.
However, there are a few reasons why yesterday may be a bit more significant than your average International friendly game. Firstly, it was a rare opportunity for two countries within the United Kingdom to face each other and so you would have thought that this would have meant something to the players of both teams to the extent that the game would at least be a bit more competitive than if either side were playing, say, Austria.
The second reason I can think of is that, with players like Edwards, Ramsey, Church and Evans in from the start, Wales had a good sprinkling of the attacking talent that got us so many goals in the qualifying group for the 2009 European Under 21 tournament in their line up. Add in players like Hennessey, Bale, Nayatanga, Ledley, Vokes, King, Allen and Cotterill as well and, almost for the first time, you had a Welsh team that was dominated by a group who had grown up with each other, knew how each other played and didn't have to tailor their game to fit in with a dominant player like Giggs, Bellamy or Koumas who was meant to be the fulcrum of the sides attacking play.
That is not meant to be a criticism of the three players named or any of the other experienced internationals we have, but sometimes I wonder if their presence has had a stifling affect on youngsters who have proved that they have it within them to play attractive, winning football against the best in Europe in their age group? Last season, the best football I saw from a team I was supporting came from Wales Under 21s in their games with England and some of the stuff played yesterday reminded me of that.
There was an interesting stat shown on the scoreboard at half time yesterday which showed that Wales had only had possession of the ball for 42% of the time in the first forty five minutes, yet they did so much more when they had the ball than their opponents as their sharp, accurate passing tore the Scots apart.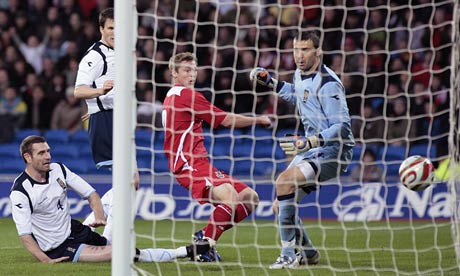 However, this brings us to the crux of the matter – were Wales very good or were they made to look that way by a very poor Scotland team? To be honest, there is plenty of evidence that the latter might be the case – after a promising first few minutes, Scotland did next to nothing with all the possession they had and when Wales upped the pace, they completely fell apart in a manner which strongly suggested that they had little faith in their manager.
The marvellous Scottish support which helped to ensure that Cardiff City Stadium had a decent atmosphere despite a disappointing turn out for it's first international, deserve much better than what they got yesterday and what they have been getting over the past year or so. Whether all of the blame for the Scot's woes can be placed at George Burley's door is a moot point – after all, he doesn't have a great pool of players to pick when compared with other managers over the past thirty years or so. There were a lot of experienced internationals in that team yesterday though and I can't help thinking that, rather like Steve McLaren, George Burley is someone who is a proven decent to good club manager but doesn't have it in him to succeed at the next level up.
Even if Scotland were that bad though, I don't believe that can entirely explain away why Wales looked so much more confident and classy. As mentioned earlier, the team had a nucleus of players who know they can play good quality football together and, although it's, obviously, going to be harder for them to do that at senior level, I see no reason why they won't be able to ensure that the Welsh team will carry far more of a goal threat over the next few seasons than they have done in the past year or so.
There were good performances right through the Welsh team yesterday. Starting up front, Church and Evans caused the Scots lots of problems with their movement, while, on a difficult day, Dave Edwards' first touch was far more assured than it has been at times in the past and there are definite signs that he is benefiting from regular first team football at Premiership level. Ashley Williams looked a natural in the holding midfield role, at the back, Sam Ricketts showed why he has to be regarded now as an established Premiership player and, despite Wales' dominance, Wayne Hennessey had ample opportunity to show why he is so highly rated.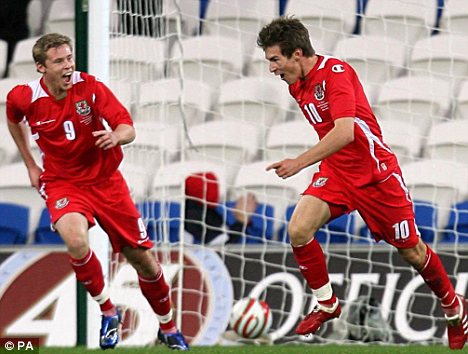 It's got to be admitted though the reason why this Welsh display might just be the first sign of an exciting new era for the senior side was the performance of Aaron Ramsey. Virtually all of the best players I have seen in my life had an innate ability that made them look like they were playing the game in some sort of bubble which somehow kept them separate from the hoards charging about hither and tither outside. Inside that bubble the player had complete control of the ball and played at his own pace – Ramsey was in that bubble for the hour or so he played yesterday.
To get an idea of how good Ramsey is when he is "in the bubble", I'll mention two names. Firstly, there's Darren Fletcher, who the pundits say is now Manchester United's most important player. Fletcher is the man that Sir Alex Ferguson always selects for the big matches – Ramsey made Fletcher look like a lower division journeyman at times yesterday, Then there is Lee Cattermole who got a big money move from Wigan to Sunderland in the summer and is often cited as one of the main reasons for the Wearsider's better results this season. Cattermole is sometimes mentioned as a possible target for the big four and is very highly thought of as a holding midfielder and yet, when he played for England Under 21s against  Wales last year, he found Ramsey far too hot to handle and was withdrawn from the fray for tactical reasons after just thirty minutes!
Increasingly, good quality Premiership footballers are finding it hard to live with Ramsey and I find myself wondering if City fans saw the best British prospect in his age group playing for their club in the 2007/08 season? When you look at the age group that has been emerging into first team contention over the past year or so, I hear the name of sixteen year old Connor Wickham of Ipswich being mentioned a lot and seventeen year old Jack Wilshire is a much hyped young talent, but, for me, the only real rival Ramsey has at this stage is Jack Rodwell of Everton who, at three months the younger, looks an outstanding talent – I'll still opt for the young man who lit up Cardiff City Stadium yesterday though.