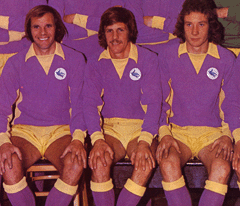 It was odd watching the City play last night while at the same time wondering how Wales were getting on and I must admit that Ali's half time announcement that it was 1-1 at Parc Y Scarlets had me thinking that I wouldn't bother watching the recording of the match when I got home. However, as it turned out the two games last night were very similar in that, after an, at times, very uncomfortable evening, both home sides ended up with big wins.
Therefore, at about half past one this morning I finished watching my recording of Wales' win over Luxembourg and, by then I was a little bit more confident about our chances in our qualifying campaign for Euro 2012 which begins next month. As is usual with Wales these days. there were players dropping out of the squad left, right and centre in the days before last night's match and I would have to qualify any optimism I might be feeling with the hope that we can get something resembling our best team onto the pitch over the coming month.
If nothing else though, last night again showed that an old fashioned 4-4-2 system doesn't tend to work in International football any more as, even a side as limited as Luxembourg were able to cope quite easily with Wales' predictable efforts. Indeed, the visitors probably had the better of the first ten minutes to quarter of an hour as Wales struggled to come to terms with their extra man in midfield – things got slightly better after that and Wales were able to take the lead after thirty five minutes when David Cotterell scored his first international goal courtesy of an Earnie cross on one of the few occasions when we were able to threaten the Luxembourg goal. Having gone ahead, this should have been the signal for Wales to make their superior ability count, but instead the visitors drew level just before the break when a shot from Kitinge from the edge of the penalty area got a slight deflection which took the ball beyond the reach of the helpless Wayne Hennessey.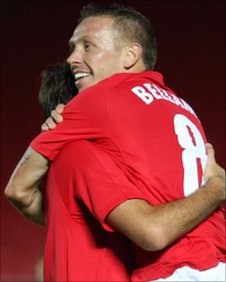 Something needed to be done to prevent the game turning into another one of those miserable friendly match experiences that Wales supporters have had to put up with in in the last year or so and John Toshack responded by taking keeper Hennessey off and replacing him with Boaz Myhill while Brian Stock and Earnie (who didn't get the sort of memorable 50th International cap that he must have hoped for)  made way for Andy King and David Vaughan.
More importantly though, Toshack changed systems as the now lone striker Steve Morrison (who was quietly effective on his debut) found himself supported by Bellamy and Cotterell on the flanks while a central midfield three took it in turns to break forward. The impact was immediate as Bellamy went down under challenge from Da Mota Alves in the penalty area to win a slightly fortunate looking penalty which Ledley put away with the minimum of fuss and when King beat keeper Joubert to Bellamy's corner to head his first Wales goal shortly after, the game was over  as a contest just ten minutes into the second half.
Chances came and went at regular intervals for a by now dominant Welsh side and all Luxembourg could offer in reply was a more physical approach which eventually saw Mutsch dismissed  with just under a quarter of an hour to go for a second yellow card. This was the signal for Wales to quickly add to their lead when Ashley Williams claimed his first goal for his adopted country with another header and there was still time for Bellamy (whose performance on the night brought back memories of his inspired display in Slovakia in 2007 on the last occasion when Wales scored five in a match) to add a fifth to round off a much improved second period for his team.
So what does all of this tell us about Wales' chances in the qualifying campaign that kicks off in Montenegro in three weeks time? Well, first allowances have to be made for the weakness of the opposition who were poorer than anything they will face in those eight matches, but I would say that it showed again that we have a quality International footballer in Craig Bellamy who prospers in a more flexible system than old fashioned 4-4-2, that even without the injured Collison and Ramsey, we have a pool of midfield players who are at clubs in good quality leagues (the Championship is stronger than many European country's First Division in my opinion) and that in Steve Morrison we might just have someone who can act as an effective focal point for others to play off in a 4-5-1 formation.
As to individual performances, I've already mentioned Bellamy and I didn't think the midfield player who plays in a poorer quality league than the Championship did badly either. Joe Ledley reacted positively to being one of the senior players in the side and in the second half showed a creative side to his game that wasn't always evident at City – I thought he looked an established performer on the international stage last night. Others who did well for me included King and Vaughan while Cotterell probably had his most influential match in a Welsh shirt – add Bale, Collins and one or two others to last night's side and we can feel reasonably confident going into those early qualification matches which have to be played without Ramsey and Collison.