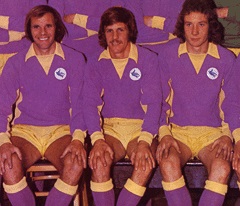 Did a combination of Wales' predictable 2-0 win in Moldova and the Republic of Ireland's not so predictable 1-0 loss to group leaders Serbia in Dublin feel like a crucial moment in what has probably been the most competitive of all of the European World Cup qualifying groups?
They say "momentum" is hugely important in deciding election campaigns, but I would argue that it can be just as vital in sport and it cannot be denied that there has been a distinct change of momentum in the race for qualification in Group D in 2017 – although it has taken nearly nine months for it to become recognisable as such.
Wales went into the draw for the qualification stage of the 2018 World Cup in the unprecedented position of number one seeds, but a fat lot of good it did them, because it was pretty obvious from the start that they had been "rewarded" with a group full of potential pit falls.
At the time of the draw, Austria looked to be one of the emerging forces in European football, there was the always competitive Republic of Ireland and a Serbian team that were due a successful qualifying phase given their recent history of seeming to alternate between brilliant and terrible ones. Granted, Moldova were a weak fifth seed, but this was more than made up for by the fact that improving Georgia were the strongest sixth seeds in the draw by some distance – they were almost as unrealistic sixth seeds as Iceland (who reached the Play Offs by finishing second in their group) were in the draw for the qualifying stages of the 2014 World Cup.
Although a crowd of under 8,000 for their opening game in Belgrade offered evidence of how little public confidence there was in the team at the time, it soon became clear that the "good" version of Serbia had turned up this time and, so, sadly for Wales, the most naturally talented side in the group were going to be playing to their potential.
However, it was the Republic of Ireland who had that momentum I talked about as they came through a very tough opening period where three of their first four games were played away (including very tough trips to Serbia and Austria) with ten points taken from a possible twelve. A return of one point from home games with Wales and Ireland, together with a 3-2 defeat in Serbia left the Austrians with a an awful lot to do and this latest round of fixtures has seen the four way fight for a top two finish turn into a three way one as the Austrians joined the qualification also rans.
With Wales failing to take advantage of having three of their first four games at home, it appeared as if things could have tilted decisively in favour of the Irish as, while they were winning in Moldova and Austria, Wales were illustrating the inability to hold on to a lead which had dogged them throughout the campaign until this week by being held to 1-1 draws in Cardiff by Georgia and Serbia.
By now, it wasn't just the difference of four points that was making the gap between Wales and Ireland look like a chasm, it was that Wales were faced with three of their next four matches being played away from home, while Ireland had their destiny very much in their own hands as they prepared for visits from their three qualification rivals during the same period.
Already, Wales' remaining home matches against Austria and the Republic had the look of must win games – as did the autumn trips to Moldova and Georgia if the intention was still to qualify automatically.
With three consecutive draws behind them, Wales had now got themselves in a position where while further one pointers in their next two matches may not end their hopes of a top two finish, they would, realistically, strengthen the position of the two sides above them if they could maintain something like the form they had shown up to now.
So it was then, that, when Wales went to Dublin in March and came away with what, on the face of it, looked a useful 0-0 draw, the overriding feeling after the match was that it was the Irish who were the more happy with the outcome. Indeed, the home side had shown little attacking inclination even when their visitors were down to ten men for the last twenty minutes following the red card shown to Neil Taylor for a tackle which broke Seamus Coleman's leg.
When you consider that Wales next faced a trip to group leaders Serbia while the Irish could look forward to the chance of, effectively, ending Austria's qualification hopes by beating them in Dublin, it was easy to see why they still looked far more likelier top two finishers than we did, but it was now that the Irish momentum stalled.
Although Wales, yet again, let a 1-0 lead turn into a 1-1 (or 2-2 in the case of Austria away) draw, a point in Serbia was not a bad outcome – particularly when Ireland had to rely on a very late equaliser to salvage another 1-1 draw against the Austrians.
Nevertheless, with one match less to go and that four point gap maintained, the odds still had to be firmly stacked against Wales overhauling either of the top two – they were now in a position where they just had to end their record breaking run of five consecutive draws by beating Austria in Cardiff if they wanted to maintain qualification hopes.
It could be argued that Austria not losing in Dublin made things tougher for Wales, but, for me, the fact that the game was now, effectively, a one off cup tie where nothing but a win for either side would do, helped Wales somewhat because they had the advantage of being at home.
Further incentive for both sides came when, in the hours before kick off, the Republic took their run of games without a win to three by drawing, unimpressively, in Georgia.
So, with Wales having closed the gap to a couple of points by passing their Austrian test thanks to Ben Woodburn's stunning debut goal, we arrived as a situation whereby Ireland went into their top of the table showdown with a Serbian side that were giving off no signs that they were likely to falter, anxiously looking over their shoulders – after all Wales had to win in bottom of the table Moldova didn't they?
Well, yes they did, by 2-0 as it turned out and so as Ireland, again, failed to take advantage of playing against opponents who were a man short following a red card shown around the seventy minute mark, the top two changed for the first time in almost a year – whereas Ireland had at least managed a draw against ten man Wales, former Man City man Aleksandar Kolarov's goal was enough to give the visitors a win which left them firmly in control of the group.
Serbia now need a win from one of their two remaining games (away against an Austrian team with nothing to play for now and then at home to Georgia) to ensure they take the one automatic qualification spot on offer by winning the group and there's nothing in their campaign so far to remotely suggest they are going to slip up now.
Therefore, I'd say it is about ninety per cent certain that if Wales are to make it to Russia for next summer, it will have to be via the Play Off route, so how confident should they feel after last night?
Well, I'm not going to go into too much analysis of what happened, because all that mattered really was that Wales got the job done in a game they should have won when you consider that it was a case of the eighteenth best team in the world against the side rated one hundred and fifty ninth in the latest FIFA rankings.
When you look at the sides at the bottom of each of the European qualification groups, Moldova compare quite favourably with the others. They began their campaign with a 4-0 defeat in Cardiff and this is still the heaviest beating they've suffered – their record suggests they can be stubborn opponents, but their lack of firepower means that it usually only takes one goal to beat them.
In many ways, last night's match was the sort of game you are likely to get in any league in the world when a side in the chase for end of season honours visits the one that is adrift at the bottom of the table – it's scrappy, it's tight and the so called better team do not impress, but, invariably, they have enough about them to get a win that does not tend to live in the memory for too long.
So it was last night. It may have taken until the eightieth minute for the breakthrough to come, but, although it was nerve wracking to watch as the minutes ticked by if you were a Welshman/woman, I think a neutral watching it, would have figured that something would happen eventually that would decide the game in the favour of the side which has become far more used to winning and against the one for whom losing is a habit – that's what happens most of the time anyway when I'm the neutral watching a game like last night's.
What is more important to me now is whether Wales will be able to maintain the momentum that they have gained and Ireland have lost over their final two matches – to return to the question I posed in the first paragraph, was last night the decisive moment in this qualifying group as far as the identity of the eventual top two are concerned?
I'd love to be able to answer that question with a yes, but, having watched the level of performance from the Welsh team in the past few days, I can't do that.
To return to those World rankings for a short while, our next opponents Georgia are down there in one hundred and twelfth place currently, but their record since providing a fatal blow to Scotland's hopes of making it to Euro 2016 is much better than that position indicates.
In the unlikely event of there being any Welsh complacency beforehand, we only need to remember the way the Georgians had the better of the draw here last October – if there was a side hanging on at the end that afternoon, it wasn't the Georgians.
In a group full of drawn games, Georgia have matched Wales in drawing five out of their eight – they will have been disappointed by one pointers in both of their encounters with Moldova, but their 1-1 draws with Ireland and then in Vienna last night offer proof that they are certainly competitive in a very competitive group.
What's held the Georgians back is their complete lack of wins so far and and that's why I'd be very surprised if they were able to beat us next month, but if you look at all of those draws the two sides have managed between them so far, then another one has to be the most likely outcome as far as I'm concerned.
That would not be a disastrous result for Wales though if it were a case of the second place finisher automatically qualifying for a Play Off, because that change in momentum I've been talking about means that we are now in a position where Wales only need four more points to clinch second place – in fact, even if we were to lose in Georgia, a win over Ireland in Cardiff would see us finishing above them.
Unfortunately, it's not as straightforward as that. There are nine qualification groups, not eight, so one second placed team will miss out and, in this group full of drawn games, the runners up in Group D are among the favourites to be that team.
This is why the attitude in Georgia has to be to go for the win – if Wales were able to manage a victory, then, with Ireland kicking off after our match has finished, even a home game with Moldova could become a real challenge for a side in the form they are in currently.
I think one of Ireland's problems in recent years has been their lack of match winners or game changers. In terms of squad depth, they have tended to have more of it than we have, but the fact that they've had to rely on talented, but hardly major figures on the World or even European stages like Wes Hoolihan, Aiden McGeady and Robbie Brady to provide their "X factor"moments offers the clue that their strengths lie more in stopping sides playing than forcing the issue themselves.
This is where Wales have the advantage over them, we have Gareth Bale as well as two players who were chosen in the Select eleven for the best players in Euro 2016. Okay, Joe Allen is more a knitter together of things than an out and out match winner, but, for the last few years anyway, we have been able to face "must win" games thinking we've got  a chance because Bale or Rambo can come up with something special – and, for much of the time, they've delivered.
Unfortunately, apart from the second half against Austria, we've seen little from the both of them over the past few days to make me hopeful they can make the difference in the big games to come next month.
I watched Bale at the Euros and often wondered if he had lost a little bit of pace, but then figured that the better defenders he was up against were giving him less chances to use that blistering acceleration in areas of the pitch where he can cause most damage – anyway, if Bale was not leaving his marker gasping for breath like he had done in the past, he was still producing the goods for his country.
However, I can only hope that his subdued and lethargic form over this international period has been down to the sort of niggling injury which doesn't prevent someone from playing, but does limit their effectiveness – even a Bale at seventy per cent fit is probably worth his place in the Wales team because he's been that good for us and, because of this, I don't like being critical of him, but he's been a long, long way short of what we've come to expect from him over the past few days.
If there is a problem with Bale, then I'm fairly sure it is a physical one, but I believe it's more what's going between his ears with Aaron Ramsey. All the signs were that he was back to his best at the end of last season, but I can't help thinking that playing for a club which is always just one poor performance (it doesn't even have to be a defeat) away from being in a state of crisis is taking it's toll – especially when he is one of the main targets for supporter disapproval when things go wrong.
I know how I would have reacted if my performance had been the subject of the sort of media abuse that Ramsey received after the recent Liverpool v Arsenal game – yes, he was poor, but it did seem over the top to me and I thought it was more ferocious than it needed to be because of the team he played for (a bit of Arsenal bashing is always good for the ratings on an otherwise quiet weekend).
Many players would look to go for the "safe" options after the sort of public mauling Ramsey got following the Liverpool game, but he's not like that. Paradoxically, it is both a strength and a weakness of his game that he does not rein things in when he's not at his best – instead he is more likely to keep on looking for the killer pass or the eye catching piece of skill.
That tendency to press too hard was there again last night with passes often over or under hit and wayward shooting, but I think the problem this time had more to do with a feeling that, as one of Wales' very few matchwinners, the pressure was on him to come up with something special.
Ramsey will be twenty seven on Boxing Day, so I'm not sure he is ever going to change now and, in many ways, I hope he doesn't, but, I can't help thinking that his country is going to need better from him and Bale than we saw during this international period.
If there is a feeling that Bale and Ramsey have to produce the sort of skill and flair that makes all of difference because no one else will, there has been encouragement in the last two games that this is changing. Hal Robson-Kanu has always had the capacity to change the way games are going when he comes off the bench for me and, like he did yesterday, also has his moments when he is in from the start.
It's also good to see Tom Lawrence playing more of a part as injuries continue to take their toll on Johnny Williams and George Williams' career appears to be fading away. However, the huge bonus from Wales' September matches has to be Ban Woodburn – I certainly wouldn't do it, but it's possible that some might want to dismiss the Austria goal as some sort of fluke, but after the way he changed the game again last night, even any critics would have to admit that the kid has got something!
On an night when we didn't see the real Bale, we did at least get a convincing Bale impression as a Welsh player flew down the wing past an opponent and delivered a perfect left footed cross (his twenty five yarder against Austria was hit with his right foot) from which Robson-Kanu provided the finish which it deserved.
The likelihood is that, although the criteria for coming second may have become less taxing, it's still two wins required next month (conceivably, even that may not be enough), but at least if we are deep into either game and the goal we need still hasn't come, at least we have another X factor player we can rely on to, perhaps, provide it – putting such a responsibility on a seventeen year old would not be advisable usually, but Ben Woodburn has responded remarkably well to the pressure situations he found himself in when he came onto the pitch in the last three days and it's impossible to avoid the Giggs/Bale comparisons that are being made.
Finally, Wales Under 21s followed up their excellent 3-0 win in Switzerland with a 2-0 loss in Portugal last night. there's no disgrace at all in losing to a home side with plenty of experience in this level of football, Wales have plenty of good players coming through who will be eligible for this competition again in two years time.