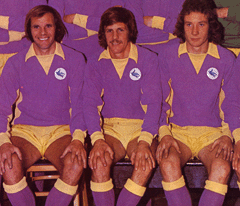 It was Andy Gray, Sky's voice of the Premier League at the time, who ludicrously suggested when Barcelona were at the peak of their powers that Lionel Messi and co would "struggle on a cold night at the Britannia Stadium".
That pompous comment offered a glimpse into the arrogant and antiquated outlook which brought about the subsequent fall from grace of he and his "partner in crime", Richard Keys. However, what Gray was doing with his Stoke analogy was merely rehashing a cliche which had been used in the game before that for years, or probably decades, before he "upgraded" it in his effort to do down the greatest club side I've seen (presumably because they weren't in the Premier League).
Previous entities of the line had seen Wednesday night changed to a Tuesday and the venue changed to some unfashionable footballing outpost like Grimsby or Carlisle, but the thought process behind it was always the same – let's see how good this bunch of fancy Dans are when they are at taken out of their comfort zone (they don't like it up them you know!).
Now, although I've tended to be critical here of the type of thinking behind these generalisations, I have to admit that you cannot truly measure the worth of a team unless they have been through a test provided by an inferior or hardly glamorous opponent whose aim is to make up for the talent they lack with a very high work rate and an in your face attitude. Throw in a pitch which negates much of any technical superiority the visitors may have and some dodgy officiating as well and you have a set of circumstances which have seen many a fancied team come a cropper.
Well, the temperature may have been tens of degrees higher than in the middle of the week in the Potteries and the high humidity may have meant that any moisture dripping from the bodies of the players came from their own sweat rather than out of the sky, but Wales passed their "night in Stoke" test last night as their 1-0 win in Cyprus took them to within touching distance of participation at the Finals of Euro 2016.
Right from the moment the draw was made for this qualification group, Cyprus away struck me as a possible banana skin for Wales and, with three important members (Joe Ledley, Joe Allen and James Chester) of the team which beat Belgium in June ruled out with hamstring injuries, I was not as confident of a good result as I had been for the, apparently, sterner test in Israel last March.
In Haifa, Wales looked poised and confident from the first whistle, but in Nicosia they were nowhere near as smooth in the early stages and the home side would have been very encouraged with an opening few minutes which saw some decidedly uneasy defending from the visitors.
What Wales could take some heart from was that there were opportunities for them going forward in those early minutes. Aaron Ramsey narrowly missed from the edge of the penalty area being set up by Gareth Bale and when the latter tried his luck with a free kick from thirty five yards, Cypriot goalkeeper Georgallides' unorthodox save with his knees presented Neil Taylor with a great chance from the rebound. Unfortunately, but hardly surprisingly, the left back, who has never scored a goal for Swansea or his country, was unable to accept the opportunity as Georgallides redeemed himself by blocking Taylor's effort.
The initial suggestions were that there would be a few goals in the game, but this proved to be misleading and, instead, it turned into a tight affair with not much more in the way of meaningful goalmouth action in the opening forty five minutes.
The reason for this at one end of the pitch was that Wales' defenders began to show the qualities which had led to them conceding just two goals (one of them a penalty) in their first six games. Chester's replacement Ben Davies and captain Ashley Williams had not been their usual composed selves early on, but the former gradually settled into a perfectly acceptable performance, while the latter was, arguably, the best player on the pitch over the ninety minutes.
Watching Williams play for his club in their win over Manchester United last weekend and again last night, you have to ask if there is a better British born centreback in the game at present – I honestly don't believe there is and to think he was playing for Stockport County when he won his first international cap!
Chris Gunter, the Mr Dependable of this qualifying campaign, was steadiness personified and while Taylor may not get you many (make that any!) goals, he is now a proven performer at this level, while, on the right, Jazz Richards, now has an assist to go with the two fine displays he has produced for his country over the past three months.
So, the back five were their usual selves for ninety per cent of the game, but I'm sure they were grateful for the protection they were given by two midfield players not really known for performing the holding roles the two Joes fill when fit.
Andy King may be more of an all round midfield man now than he was at the start of his career, when his ability to support the strikers made him such a goal threat for club and country, but I had my doubts about his ability to adequately perform the duties he was given last night.
Much the same applies to Dave Edwards who is another who you don't associate with doing his most effective work in front of his defence, but I thought the pair of them did well, with Edwards giving one of his better performances in a Wales shirt.
Up the other end, Wales certainly carried more of a threat, but promising situations came to nothing because of a mixture of the bobbly pitch and some poor first touches. Even when they did get things right as Edwards headed in Bale's lovely cross from the right, the poor referee, Szymon Marciniak from Poland, saw an offence which I still haven't after repeated viewings of the incident and penalised Hal Robson-Kanu for a foul.
Although Wales had not played that well in the first half, Wayne Hennessey had been a spectator throughout it, but he had to shovel away a long range shot within a minute or so of the restart as Wales endured their worst spell of the match up to the hour mark.
Having come through that dodgy period, Wales looked to be well capable of keeping a clean sheet, but there was nothing happening on the attacking front to suggest the deadlock could be broken until, like a hunter who is able to sense a weakness as it stalks its prey, they suddenly upped their game around the eighty minute mark.
In such humid conditions, tiredness was bound to be a factor, but, surprisingly, it seemed to be affecting the home side more as Ramsey forced Georgallides to beat his shot away to signal the start of a brief period where Cyprus were being forced to hang on.
Unfortunately for a team which still entertains hopes of sneaking into the Play Offs in November, they were unable to do so, because Richards was able to fashion a good cross, after he had been worked into space by a clever Ramsey pass, which was headed emphatically home by the inevitable Gareth Bale.
Although Hennessey was forced into his second moment of concern on the night when he turned aside a shot which may have been going wide anyway and a rebound after Williams' headed clearance hit a Cypriot attacker and flew too close to the Welsh goal for comfort, the team were not to be denied now. Roared on by the biggest travelling support in years (estimated to be between three and a half and four thousand), they held on for a win which leaves them knowing victory over Israel at Cardiff City Stadium on Sunday will see them qualify for the Finals next summer.
Wales are not sure of going to France yet, but, given that we have just about the biggest banker win possible in this competition to finish off our campaign when Andorra come to Cardiff next month, I'm not going to urge too much caution – it would take an upset of a sort I cannot remember happening on the international stage before to stop us getting to the twenty point mark now.
However, let's do some worst case scenarioing and assume we don't get those twenty points, what is likely to happen then.
Let's start with Andorra who have to travel to Bosnia as well as Cardiff in between entertaining Belgium – they cannot qualify or reach the Play Offs, but let's say they don't lose to us while picking up nothing from the other two matches.
If we were to finish on seventeen points, the only way Bosnia could finish ahead of us now is to win all of their remaining matches (they have to go to Cyprus after entertaining Andorra and us). I don't think it's beyond the bounds of possibility for them to do that and, in that case, their better record in the games with Wales would see them ahead of us even though we had the same number of points – but we would have to lose to Andorra for that to happen, any other result and they cannot catch us.
Cyprus can get to eighteen points by beating Belgium at home on Sunday and then winning in Israel and seeing off Bosnia when they visit next month. Again, we would have to lose to Andorra for them to finish above us even if they managed a hat trick of unlikely wins, because we have the edge with our wins over them if the two of us finish on the same number of points.
Even if we beat Andorra, Israel can finish above us. They would have to win on Sunday, in Belgium in their final fixture and beat Cyprus at home next month though to get to 21 points. If it finishes as a draw on Sunday and then we draw with Andorra, while losing in Bosnia, even wins for Israel in their other two matches won't be enough for them because our better record against them would be like an extra point for us in the event of both countries finishing on 19 points.
Belgium can get to twenty three points by winning in Cyprus this weekend, then following that up next month with victories in Andorra and then when they entertain Israel. Again, our better record in head to head matches means that we finish above them at the top of the group if we win our two home matches. However, in the event of Israel being able to get ahead of us with twenty one points, that would have to mean that they had won in Belgium and this then ensures that we would need nothing more than a win over Andorra to finish above the favourites, because, yet again, in effect our record in the head to head matches is worth that extra point.
So, even if we don't get another point, we may well have already done enough to secure a Play Off spot, one point makes third place virtually guaranteed and second place likely, while two points would only see us not qualifying if Israel were to beat us by at least a three goal margin. Of course, all of this assumes that we can't beat a country which has not taken a point in it's previous four World Cup and European Championship campaigns, has not taken one in this qualifying group yet (this means they have lost at least forty nine consecutive qualifying matches in these competitions) and has yet to avoid defeat in the forty seven matches they've played in the European Championships since first taking part in it nearly twenty years ago!
All of those years of qualifying heartbreak still mean that I cannot quite bring myself to say we are going to finally make it, but we have to do it now, don't we?
*pictures courtesy of  http://www.walesonline.co.uk/