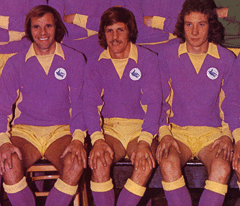 Wales supporters of a certain vintage will remember this game from 1978, where a striker who played for Chester named Ian Edwards scored four times in a 7-0 win over Malta. There's also been the occasional five or six goal victory, but, historically, Wales don't really do big wins in competitive fixtures.
If I remember rightly, only San Marino have really copped a thrashing off us in recent years – the concept of "routine" 4-0 wins in a qualifying tie is an alien one for Wales fans during this century at least.
Not any more though, Wales' 4-0 win over Moldova at Cardiff City Stadium as they got their 2018 World Cup qualifying campaign off to an emphatic start last night, was made to look routine by a team that sometimes gives the impression that it is developing too quickly for us fans to keep up with them!
Of course whenever your team wins by four goals or more, it is equally as valid to ask how bad the opposition were, as it is to question how good your side was.
In this instance, Moldova, with their record of two draws and eight defeats from the Qualifying campaign for Euro 2016 and FIFA World rating of 165 (August rankings), may have been the fifth seed of the six which make up our group, but the reality is that Georgia (the bottom seeds in the draw) are a stronger team and so Moldova at home is a match Wales should always be winning – in fact, it's probably the easiest game in the group for us.
However, although I couldn't see anything but a Welsh win, I did feel it would be a hard fought affair that would finish either one or two nil. Moldova may not be very good, but so much of this is down to the trouble they have scoring goals. They managed only four in their ten qualification games for the European Championships and I make it that they've scored sixteen times in their last twenty games – that might not sound terrible, but seven of them came in successive wins over Andorra and Saudi Arabia.
By contrast, their defensive record prior to last night was a lot better than you'd expect from a country ranked below sides like Myanmar (where's that?), New Caledonia and Yemen.
At end of last month, I posted the following on a Cardiff City messageboard I use;-
"A look at this site
http://int.soccerway.com/teams/moldova/moldova/1506/
shows that no one has scored more than two in a match against Moldova since England beat them at Wembley three years ago and they have the sort of defensive record which could see them go to one of the fancied sides in our group and nick a draw. We have to ensure that it isn't us that this happens to, but injuries to two of our most creative players and Robson-Kanu's lack of game time make this an awkward game for us – as has been mentioned above, I'd gladly take a 1-0 win with the goal preferably coming from someone who is actually playing for the home team!"
The mention of Hal Robson-Kanu there alludes to one of two reasons why I was a little concerned about last night's match from a Wales perspective. When you look at the side which started last night, I would argue that only Chris Gunter and Sam Vokes have been playing week in, week out first team football so far this season.
Many of the others (and a few of the subs) have been easing their way back into things after their exertions in the Euros. while others have been sidelined through injury – in the case of Aaron Ramsey and Johnny Williams, they were unable to shake off their knocks in time to be considered for selection.
The second reason for my caution was the memory of what heavy weather Wales made themselves of scoring during their previous qualifying campaign. Andorra have already been mentioned in this piece, but our two matches against one of only five European sides currently ranked below Moldova (and it won't stay that way with Kosovo for long) in the first and last matches of the successful qualification process did strongly suggest that Wales did not pack the punch that someone with their lofty ranking should do.
Granted, there were extenuating circumstances in both matches with that awful pitch in the first game and the fact we had already qualified in the second one, but the ease with which the Andorrans dealt with us for much of the time must have given hope to any "minnows" that we were likely to face in the next few years.
To be fair, the signs were there in France that Wales had become more potent in front of goal and, while it's always a little dangerous to suggest that former weakness have disappeared forever, last night's outcome suggests that Wales are continuing to evolve and that opponents of all shapes, sizes and qualities are going to find it harder to get a clean sheet against us than they did in the past.
For thirty eight minutes though, there was a gnawing doubt that we may be in for the sort of blunted attacking that offered Andorra hope in both of those games mentioned earlier. On  second thoughts, I should rephrase that to "For thirty eight minutes though, there was a gnawing doubt in my mind that we may be in for the sort of blunted attacking that offered Andorra hope in both of those games mentioned earlier", because it seemed like most of those present did not countenance such doubts.
I've mentioned before that people throw around words and terms like "legend" and "world class" far too easily these days and so they've tended to lose their true meanings. However, the wicked cross which Gareth Bale swung over onto Sam Vokes' head seven minutes before the break was genuinely world class, as it was the perfect combination of pace and precision which only comes easily to the very best, given the temperamental nature of the modern day football.
Three minutes later Bale's thirty yard shot forced Cebanu to concede a corner which Joe Ledley swung away from the keeper, but he seemed to have got a decent punch on an awkward ball only for Joe Allen to show admirable technique by keeping his half volleyed effort from the edge of the penalty area down – a little luck may have been needed for the ball to find it's way past the forest of Moldovans between Allen and the goal, but it was deserved because it gave the Stoke man a long overdue first goal for his country.
From that point onwards, the match was as good as over and the object of the exercise for the visitors was to try and keep their defeat within what was a normal margin of defeat for them.
In times past, Wales might have been content to hold on to what they had as well, but, while they hardly went gung ho looking for more goals, there was a desire to give their goal difference an early boost.
Having assisted with one goal and forced the corner which led to the second, Bale took a more prominent role in the second half and when Jardan's inexplicable back pass five minutes after the break rolled into his path, Wales' talisman accelerated away from the defence (something I never ever managed while running with the ball at my feet during my illustrious career and I bet there are very, very many players far better than me who have not done it either), drew the keeper, then dinked the ball over him and into the net for another example of a great player making the difficult look simple.
Bale's fall for the penalty Wales were awarded in the last minute was more dramatic than it needed to be, but there was a foul committed nevertheless and so the decision was a correct one and the Real Madrid man brought the curtain down on the evening by ignoring the shouts from the crowd to let Chris Gunter take the spot kick and scoring with ease.
Those two goals mean that Bale is by himself now as Wale's second highest scorer and four more will see him overtake Ian Rush record haul – barring horrendous injuries or a decision to retire to a convent somewhere, it's now a question of when not if, Bale becomes our greatest goalscorer.
I've concentrated on Bale there because I do believe there is a slight tendency by some to take his excellence for granted. Many were advocating Allen for the man of the match award that was given to Bale and I understand this (in fact, he would have been my nomination if I'm being honest), but TV analyst Dean Saunders had a point when he said that 85% of Wales goals feature some sort of contribution by Bale and last night he exceeded that in a match in which we scored four times.
So, I'm not demeaning what Allen did – far from it,  he's one of those players who you watch playing for his country and think "why isn't he playing for a better club than………..?" – James Chester is another one.
Wales did everything they had to last night and, just as in the summer at times, did it with a bit of style. With Sam Vokes' career at a peak on the back of a promotion with his club and two goals from three matches for his country and Hal Robson-Kanu now a Premier League player, there is something looking a bit like strength in depth in the area where we were weakest.
Also, when someone like Andy King comes into the team and plays well enough to make the notion of our best player in the Euros not walking straight back into the team once he is fit not seem entirely ridiculous, you have to think that we aren't just seeing a flash in the pan (albeit a pretty lengthy one!) here, Wales are good enough to feel justifiably confident about winning a pool which might not be a group of death, but does feature three other teams you could make a good case for as automatic qualifiers.
The results in the other two matches played last night offer proof of the size of the task facing Wales. With a recent win in Spain behind them, Georgia appear to be an improving team who can feel they have it in them to take points off the leading sides when they come to Tblisi, but they won't be taking them from Austria as the side I cursed with a nomination of dark horses to win in France this summer returned home with a 2-1 win.
After looking very ordinary in the Euros, a result like that means that my slight hopes that we will be facing a team on the slide when we go to Vienna next month appear to have gone west.
In Belgrade, the Republic of Ireland rode their luck somewhat in ending up with their usual away draw – 2-2 against Serbia. The Republic will be tough, awkward opponents and I really hope it doesn't come down to us needing to beat them at home in our final match to qualify or finish second, because they just don't lose many at all on their travels.
As for Serbia, they have to be one of the most inconsistent teams around, but one thing they have been able to do on a consistent basis is get the better of us when we've faced them. Hopefully we can beat them in front of a passionate Cardiff City Stadium in a couple of months time, but we have a truly dreadful away record against the countries which came out of the break up of Yugoslavia and I'd willingly take the point the Irish got when we go there next June – in fact, give me an away draw against Austria and the Republic as well and I'd be perfectly happy.
So, a 4-0 win which keeps morale high for the seniors, but defeat by the same scoreline by group leaders Denmark at Wrexham on Friday ended Wales Under 21s hopes of topping their qualifying group. The Danes look a strong side, but, having got a goalless away draw with them last autumn, it was disappointing to see us succumb like that in such an important match.
All Wales can do now is beat Luxembourg today, then get three points when they visit bottom team Armenia in their final match and hope that this gets them above Romania into second place. If that happens, then we might earn the right to a Play Off spot if we are deemed to be one of the four best runners up, but, looking at all of the current tables, it seems like something of a long shot to me.
*pictures courtesy of http://www.walesonline.co.uk/