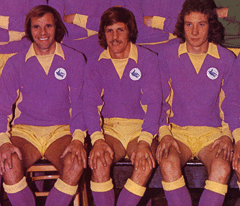 Last week City's Under 21 Development side followed up the senior's 2-0 win over Bristol City on the previous weekend with a victory by the identical scoreline over the same opposition and yesterday at Leckwith they were at it again – Ipswich Town's Under 21s dispatched 1-0, just as their first team had been a few hundred yards away at Cardiff City Stadium a couple of days earlier.
Unlike the win over the wurzels eight days ago where City scored two early goals and then coasted through the remaining seventy five minutes, this was a competitive affair decided by a goal scored after the ninety minute mark played in tricky conditions that made it hard to play good football. However, the stiffer challenge in terms of opposition and weather helped make it a much more watchable match than last week's in my opinion.
Main interest for me before the game came from the chance to compare and contrast the only two specialist strikers still available to the first team who were likely to stand any chance of earning a starting place in Russell Slade's team. Kenneth Zohere and Idriss Saadi were both in from the start and must surely have known that good performances in matches like these could lead to them playing more than a passing role in the very important nine games to come for the seniors.
As the match got underway though it soon became clear that the fresh, cool breeze that had been blowing all day would play a big part in proceedings. Blowing straight down the pitch from the east, the gusty wind in combination with a surface which, at last, has been able to dry out as the virtually continuous rains of November to February have eased, presented a set of conditions which would test the touch and technique of all twenty two players.
It was Ipswich, with the wind behind them, who dominated early on in terms of territory at least. Despite having a young looking side on show, they did have three players in their ranks who had turned out for their first team this season and they began confidently by forcing a series of corners.
In truth, it was the conditions that were most responsible for these dead ball opportunities for the visitors as City struggled to come to terms with the wind which would sometimes see an aerial ball suddenly gain an extra ten yards or so from where you would have expected it to land.
It wasn't just the outfield players who were affected either – City keeper Luke O'Reilly was only able to find touch about forty yards from his goal with his first few goal kicks and struggled to reach the halfway line with his kicks out of hand, while the challenge for Ipswich's impressive Welsh qualified shot stopper Michael Crowe was to avoid just booting the ball the length of the pitch to give possession back to City – it was a task he was unable to complete every time he tried it.
It was significant though that when City were able to put together a good passing movement down their left by taking the conditions out of the game as they kept the ball on the deck they came closest in the game's first quarter to getting it's opening goal as Zohore's effort on the turn from around the penalty spot flew not too far wide.
In many ways, Ipswich resembled their first team on Saturday as they were having plenty of the ball in City's half, but were doing very little with it in terms of working the goalkeeper.
Indeed, in the closing fifteen minutes of the half as the wind eased slightly, it was City who took a firm hold of the game and they could, and probably should, have got themselves the lead at the break.
The Ipswich goal came under threat twice as Zohore worked his way to the byeline on either side of the pitch. The first time he cut in towards goal before trying to find a colleague only for Ipswich to scramble the ball clear and the second he fired what may have have been a cross or a shot, low across the visitor's goal – either way, the ball was no more than a yard or so from crossing the line with it just being out of the reach of Saadi on the edge of the six yard box.
With Robbie Patten and captain Theo Wharton getting something of a grip on proceedings in the middle of the park, the chances continues to come City's way and it needed a fine save by Crowe to deny Marco Weymans when the Belgian got his head to a cross. Weymans was also denied by a combination of keeper and a defender after good interplay down the right by Ashley Baker and Macauley Southam had opened up the visitor's defence, while Saadi was off target when he tried his luck from outside the penalty area.
With the game goalless at half time, it would have been easy to fall into the trap of thinking that City could go on to win comfortably now they had the "advantage" of the wind. However. thinking back to my hardly illustrious playing days, I always found it easier to play into the wind, than having it behind me and, for the majority of the second period, there was some evidence that both sides might have felt the same way.
For Ipswich's part, they had offered little to trouble City when they had the wind at their backs, but they were more of a threat when they were playing into it. With home centrebacks Jordan Blaise and Rollin Meyenese (the latter continuing his good form of recent weeks as he, again, looked very comfortable at this level) dominant, it was hardly as if City were being cut apart all the time, but the visitors were more threatening as O'Reilly was forced to make a good save from a free kick and one of their players was unable to get his effort on target when he found himself unmarked six yards out.
Despite Crowe's kicks barely travelling fifty yards when they had been reaching double that in the first half, City were unable to make much more of having the wind behind them than Ipswich had done as too often a sidefooted pass twenty to thirty yards from goal would run on harmlessly for a goal kick.
Increasingly, it looked like the pace and athleticism of David Tutonda may offer the best chance of the deadlock being broken as the left back repeatedly went past opponents only to come up short when it came to delivering his cross – any criticism of him for this should be tempered though because it was just as difficult to try and produce quality when crossing as it was when shooting.
With Tutonda's sorties down the flank coming to nothing, there was only one real sight of goal for City in the second half as the game entered it's final five minutes – Eli Phipps, on after an hour to replace Zohore, being crowded out when the wind blew the ball over a defender's head to present him with a fleeting chance some six yards out.
If one thing finally turned the match City's way, I would say it was the introduction of Jamie Veale with about fifteen minutes. Veale is an accomplished passer of the ball with the skill to defy conditions like yesterday's and I thought City started to use their possession a bit better as soon as he came on. It took a while for this improvement to be reflected in goal attempts, but, just as in the first period, City were able to get on top as the half came to an end.
Crowe was forced into a diving save from Saadi's best effort of the game as City stepped things up, but the keeper was beaten when Tutonda's shot from the edge of the penalty area glanced off a post and went wide.
That piece of bad luck seemed to indicate that the game would end up goalless, but when a cross from the right was half cleared into his path, Veale made no mistake with a low shot beyond Crowe to win the game.
If Ipswich could claim, with some justification, that they merited a point on Saturday, they could have few complaints about the outcome this time. Yes, it must have been very disappointing to lose the match so late on, but on the balance of play, the result was right, despite City's struggles to impose their superiority on proceedings when they, supposedly, had the elements in their favour.
As for the Saadi, Zohore comparison, if I had to pick one of them for the first team based solely on what I saw yesterday, I would opt for the latter. It was a frustrating afternoon for Saadi who worked very hard but to little effect, whereas Zohore's pace and power was too much for the Ipswich defence to handle when he got the chance to run at them – his heading was adequate, but no more than that, and I still wonder about his finishing, but, for the first time, I began to see why City wanted to add him to the squad in January.