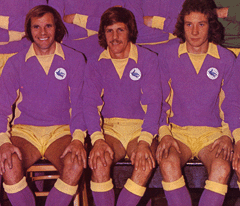 It's funny how people can come to totally different conclusions whilst watching the same thing. The two blokes who sit behind me spent virtually all of the second half of yesterday's match talking about how we were being outplayed by a team who wanted it more. According to them, we were hanging on to our 1-0 lead and in danger of conceding an equaliser at any time while from my position a yard or two away I was watching the game in a contended frame of mind because we were doing such a good job of reducing the number of chances Hull had to a bare minimum.
Of course, when a team is defending a single goal lead there is always that chance that something could go wrong no matter how comfortable they are looking and I think it is fair to say that we started the second period pretty sloppily as we surrendered possession cheaply at times. However, when you look at yesterday's match from the perspective of who was missing from our line up, then I agree with Dave Jones when he says that yesterday's win was our best so far this season.
You only have to think back to the last game of last season to be reminded of how important Jay Bothroyd was for us with so many being convinced that our chances of being in the Premiership this season disappeared when Jay limped off a quarter of an hour into the Blackpool game. Well, Jay was missing yesterday and Michael Chopra was and Craig Bellamy was – not to mention Danny Drinkwater who, in his own way, has been as impressive as any of the high profile new arrivals this season.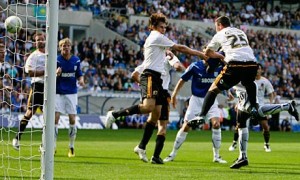 Going back to those two blokes sat behind me, their anxiety was certainly not helped by the sight of Seyi Olofinjana leaving the pitch ten minutes into the second half. The man who was playing against his "proper" club had been the most influential player on the pitch until then and there was almost a sense of inevitability about his goal given the circumstances of the game. Olofinjana's bullet header from a quality free kick out on the right hand side of the pitch by Peter Whittingham was a reminder that he is not a one goal a season merchant, like so many who play in his position are, but someone who scored eight times in a season from midfield in his Wolves days.
Olofinjana is already establishing himself as a very important player for City this season and the sight of Gavin Rae coming on to replace him in an already severely depleted team did nothing to ease my two neighbour's anxieties, but, as it turned out, Rae's performance was one of the main reasons why I found yesterday's win so satisfying.
Now, it has to be said that Rae has become the subject of a lot of negative  comment on messageboards lately with the recent speculation about him moving on being a source for celebration amongst many contributors. From my own point of view, I can understand this attitude to a slight degree – Rae has never been one of my favourite players of recent years and I think it's fair to say that he is going to have to up his 2010 performances levels to become a genuine candidate for a starting place in the current team if everyone is fit and available. After not playing badly at all against Sheffield United in the season opener, Rae was poor against Burton in the League Cup and was deservedly left out for the trip to Derby, but yesterday he gave a reminder to those who have written him off and ridiculed him that he is still a decent operator at this level. If anything, Rae is a victim of the improved standards seen at the club over the past couple of years, with much of the current criticism he gets stemming from the fact that he has not been able to improve in the same way that the team has since he signed for us.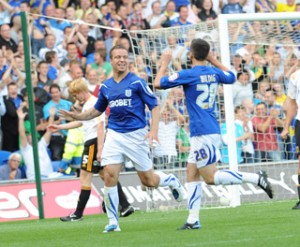 Rae still has something to offer though and his run into the box for his goal, his pass which created a chance for Jason Koumas and his work ethic (which is always spot on) proved this – he is not as bad as he is made out to be by messageboard contributors who appear to think that they have to have at least one player at the club they can take the piss out of.
Ironically, when Rae did make a mistake, it was another player who is a frequent target of the messageboard critics, Mark Hudson, who bailed him out. As with Gavin Rae, I wouldn't put Mark Hudson amongst the players I rate highest at the club currently, but he is a decent to good performer at this level and, just as it was with Gavin Rae, I suspect that it would be Championship clubs who would be considering bidding for him if there were ever any speculation about him leaving us. I keep on looking at the Hudson/Gyepes partnership as the weak spot in our team and they keep on coming up with the clean sheets – I thought Anthony Gerrard had a good, solid game for Hull yesterday, but did the player who I rated as our best centre back last season look better than the two who have kept him out of the team this time around? No, I don't think he did.
Although Olofinjana would have been my man of the match, the pleasing thing about yesterday was that it was the relatively unsung players who made an impact. I've already mentioned Rae, Hudson and Gyepes, but someone else who reminded us that he was still around was Aaron Wildig who, along with Andy Keogh and Whittingham, played a full part in Rae's goal with his classy little reverse pass – if Wildig struggled at times last season, it was in the physical aspects of the game, not the technical.
Even with the under strength line up we had out yesterday, you got the impression that there is more to come from some of them. Steve McPhail will benefit from having a full ninety minutes behind him, as will Andy Keogh (whose attitude I thought was outstanding in the way he worked so hard for the team), while, even though I find it a bit of a concern that Jason Koumas still looks some way short of full fitness, the fact is he could have had a hat trick and he was usually involved in anything which City produced which had a touch of quality to it.
Of course, everything I have said has to be put in the context that we were playing a team which probably would still not have scored if they were playing now. When the Hull side was read out by Ali before the kick off I said that it didn't sound a bad one at all to me, but, as their manager remarked, they have picked up a losing mentality away from home and, like the other relegated side we played in our previous match, they are going to have start improving very quickly if they want to challenge for that top six spot. Although there are signs that Sheffield United are improving under Gary Speed and Doncaster are doing well enough, I think it is fair to say that we face some tougher challenges over our next five matches – that said, if the mood is as positive in a week's time after two tough looking away matches as it is now, then even an old sceptic like me will start thinking that this could be our year!