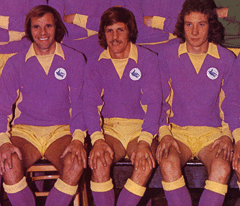 Very occasionally on here I've said that the piece I was about to write would be a short one and then a while later I've thought "well, that's 2,000 words I've done, I'd better bring it to a close now" – rest assured, that will not happen here!
Even if I was minded to give the development team's 0-0 draw with Charlton at Leckwith this afternoon the 2,000 word treatment, I'd have to quickly admit defeat because there was nothing that happened to justify a quarter of that amount.
City included, Brian Murphy, Semi Ajayi, Matt Kennedy and Kenneth Zohore and there were one or two names I recognised in the Charlton line up as well and, for a short while, it looked as if it could be an entertaining affair as both sides showed a willingness to attack early on.
Indeed, City had the ball in the net twice in the first five minutes only for both goals to be disallowed for offside. While the second one was an obvious offside, Tommy O'Sullivan's flicked close range finish for the first one was a tight, but probably correct, decision by a linesman who acted as good barometer for the match. Early on, he was eager to get his flag up in the air as soon as possible and there were a couple of decision which looked wrong to me, but, as time went on, you saw less and less of his flag being raised – no bad thing in truth, but it gave the impression that, just like so many of those present, he was losing interest in the game being played out in front of him.
It was mentioned around the twenty minute mark that Charlton looked the more likely scorers and that was the feeling I had for about the next fifty minutes of the game, but, looking at it now, I'm struggling to think of many times when they did suggest they had a goal in them – Murphy reacted well to get across his goal to block a far post effort in the second half, but mainly it was all about promising positions which fizzled out for the visitors.
City finished the stronger side and, on an afternoon when the back three of Ajayi, Tom James and Ashley Baker were the most impressive part of the team, it was the first two named who came closest for them in the second half as Ajayi headed a Marco Weymans free kick straight at the keeper from close range and then nodded not too far wide from a corner. James' poor touch cost him a good chance after City had attacked well down their left, but then came as close as anyone to ending the deadlock with a volley which flew just wide inside the last ten minutes.
That's about it really – much ado about nothing I'm afraid.