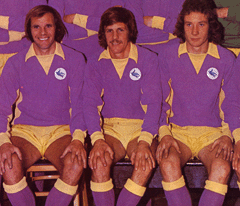 Thirty five minutes into yesterday's game I thought Wales were on to a winner, their pace and movement up front was causing Finland all sorts of problems and, they were beginning to get a foothold in the middle of the park- by the time the final whistle went though Wales were a well beaten team after a dismal second half performance that had to have even those still supportive of John Toshack questioning whether any progress has been made at all in the past thirteen months.
For me two things in particular meant yesterday's match made for miserable viewing. I've touched on the first already because Wales contrived to lose a game that was there for the winning – they had shown how Finland could be beaten but then either forgot how they were doing that or, more likely, were not good enough to keep on doing what they had been.
Secondly, they started the game as if they had not learned a single thing from the first match at the Millennium Stadium when they constantly allowed the ageing but still very gifted Jari Litmanen to play in the hole between defence and midfield with little or no attention being paid to him. Completely predictably, it took Finland less than five minutes to exploit this as they scored a goal which owed as much to poor defending as it did to any creativity.
Finally after going 1-0 down, Wales did something about the Litmanen situation as James Collins began to step out from his defensive role and patrol the area in front of the central defenders that had proved so fruitful for Finland. Surely though, it would have made more sense to have used Ashley Williams, who has been playing in midfield lately for Swansea as a holding player with responsibility for that area from the start – especially when you consider that the 34 year old Jonatan Johansson (who is currently without a club) was Finland's only genuine striker, did we really need to start with three centre backs marking him?
Questions have to be asked as well as to what Aaron Ramsey's role was in the team. Maybe he was meant to be the deep lying midfield player with responsibility for looking after the area Litmanen likes to occupy – this would at least explain Ramsey's curious positioning throughout the game. When you consider that we had a back five already, is it really making the best use of Ramsey's precocious talent to have him playing as if he had been given orders not to cross the half way line?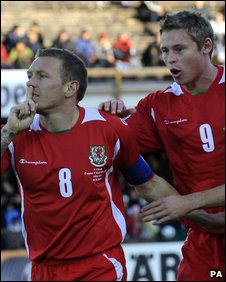 Whatever Ramsey's role was, there is no doubt that he was nowhere near his best throughout the game. Even when Wales were going through their good spell, Ramsey didn't feature too much. The same can be said of David Edwards who, for a player who has been a regular Premiership starter this season, still has a very poor first touch and, though his ability to get forward in support of the strikers is a definite plus point, it is rather negated when it comes with the sort of finishing which has seen him miss very important one on ones with the keeper in his last two international games. No, if Wales were getting on top in midfield in the first half, it was down to the efforts of the unsung David Vaughan (who, sadly, faded after a very good opening forty five minutes) and the wing backs rather than the two Premiership players we had in central midfield.
The second half offered very little in the way of encouragement and while it's true that the lack of midfield options on the bench in particular made life hard for Toshack, that doesn't excuse the poor performances in the second forty five minutes from the likes of Bellamy and Collins who really needed to have big games if Wales were to get the win that they needed to keep their chances of finishing third alive.
The Welsh performance was almost as poor as the one in the first game with Finland in the Millennium Stadium. Trying to look for positives is hard, but Wayne Hennessey did make a brilliant second half save from sub Hamalainen, I've already mentioned Vaughan and Gareth Bale did look good going forward at times – I also like the intelligence of Simon Church's play. However, the realistic challenge of this qualifying campaign was to push Finland hard for that third place and Wales have failed miserably in that respect. In mitigation, it has to be admitted that John Toshack has never been able to put out anything like what he would consider his strongest team over the past thirteen months, but let's not forget either that, despite all the injuries, Toshack was telling us before yesterday's game that this was the starting eleven that he had wanted all along.
Craig Bellamy was right – the current Finnish team is nothing special, but they still proved much too good for us on the two occasions we met them and, even if we manage to win on Wednesday, the qualification campaign for World Cup 2010 can only be viewed as another Welsh failure.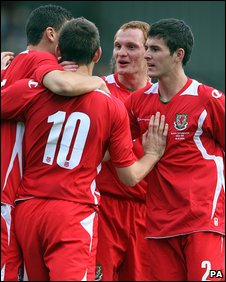 By complete contrast, Wales' Under 21s continue on their winning ways. Okay, yesterday's 2-0 win over Bosnia did not see a performance anywhere near as good as last months against Italy and there was little in the way of entertainment It really goes to show though how far the youngsters have come under Brian Flynn (who fully deserves the two year contract extension he signed last week) when you can carp on about poor performances and lack of entertainment only because it so unusual when it comes to watching a Wales Under 21 game these days!
It is only a few short years ago that even a 0-0 home draw with Bosnia at Under 21 level would have been greeted as some sort of triumph because we really were pretty bad in the ten years either side of the Millennium. However now we have a new group of youngsters who are showing that the brilliant qualification campaign of 2007/08 was no one off fluke.
I must admit that when I compared the starting line up yesterday with the one which faced Italy, I feared that we might see a disappointing outcome to the game and, in a first half which saw Wales create very little against efficient and capable opponents who were concentrating very much on keeping a clean sheet, it looked like I might be right.
However,the second half  saw the game open out a bit and, although there was an element of luck about both goals as one was offside and the other got a deflection, Wales still found a way to chisel out the three points and it is a measure of the respect in which they are now held, that Bosnia came with such a negative game plan.
That Wales were able to do this was in a big way down to the efforts of Ched Evans who appears at the moment to have fallen behind Sam Vokes and Simon Church in the pecking order for the senior side. Here though he showed the sort of finishing, for his first goal in particular, which made him look such a great prospect a couple of years ago (I think his second goal may have gone in without the deflection as well).
There weren't too many other stand out players for Wales yesterday because it wasn't that sort of game, but Andy King did some good things in midfield and Christian Ribiero again looked a good prospect. As for the City contingent, both Aaron Morris and Darcy Blake were solid rather than spectacular and they showed their versatility by switching their positions between right back and centre back. Although Darcy has not been able to force his way into the City squad s much as he would like, I would say that he deserves his call up into the full squad solely on the grounds of his performances for the Under 21's – I hope he gets that first full cap on Wednesday (I suspect he won't though).