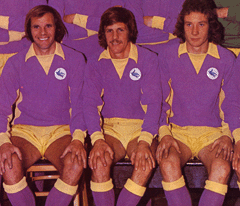 I might think they sound shrewd at the time, but most of my utterances during a game about how it is going and how it'll end up turn out to be complete and utter rubbish. Occasionally though, I get things right and that rare event happened last night at Cardiff City Development team's game with Gillingham in a Second Round Under 21's Premier League Cup tie.
As Anthony Bell's shot rebounded back off the post a minute or so into the second half, I proclaimed "that's it, we're never going to score tonight, we're going to lose this". About twenty five minutes later Gillingham grabbed the only goal of the game in one of their very isolated attacks and City's Under 21s, who had been unbeaten this season until a week ago, had lost their second consecutive match.
However, although a defeat by a side whose first team are struggling in the division below us will be reported as some sort of giant killing act, there were mitigating circumstances behind this so called shock result. Firstly, with another game at this level arranged against Chelsea tomorrow, it was an odd looking side consisting of senior players (Ben Turner, Declan John, Mats Dæhli and Javi Guerra), current Academy team members (Robbie Patten and Eli Phipps) and players who are too old now for the Under 18's, but not normally first choice selections at this level (Ben Wilson, Brad Wickham, Curtis Watkins, Bradley Williams and Anthony Bell) which was selected.
The likes of Jazzi Barnum-Bobb, Josh Yorwerth, Tom James, Maximiliano Amondarain, Theo Wharton, Tommy O'Sullivan and Jaye Bowen would normally have played in such a game , but, presumably, most of them will be in action against Chelsea as could  Magnus Eikrem, Juan Cala and Etien Velikonja among the older players – you never know, Kadeem Harris and Guido Bergstaller (both of whom appear to have dropped off the face of the earth in recent weeks) may also get a run out – while I'm  on the subject of tomorrow's match, it seems that Richie Towell, a 23 year old former Republic of Irleand Under 21 international midfield player whose contract at Dundalk expires on Friday, will be given an opportunity to try and earn a deal with us.
So, rather in the way that so many clubs field weakened senior sides for domestic cup matches these days, City picked a team some way short of the strongest they could have put out at this level.
Also, there's no explaining this, but sometimes a team is fated to lose, no matter what they try, you just know that the opposition that has been hanging on for an hour or more are going to break down field and get a sucker punch goal.
To be fair to Gillingham, it would be wrong to put their win solely down to luck. Their experienced goalkeeper Glen Morris had a very good night before being forced off with an injury with about a quarter of an hour left, they got any number of defensive blocks in to deny City just as it seemed their defence was going to be opened up and their goal was well constructed and finished. Even so, if the sort of statistical analysis for first team matches were available for games at this level, I'm sure it would show City well ahead in terms of possession, goal attempts (on and off target).corners etc.
The pattern of the game was set inside the first minute when City forced a corner. Bell's generally good dead ball delivery ensured that Ben Turner won a lot of headers all night and some in the crowd were cheering a goal from that first corner but the header didn't have the power required to beat Morris who held onto the ball just before it crossed the line.
For a spell after that, things got scrappy with both sides cancelling each other out, but, after Gillingham had wasted a good chance as centre forward Millbank fired wide from about ten yards out after the visitors had got in down City's right, the home side got on top.
John fizzed a shot across the face of goal, Morris again had to flop onto an effort that looked to be going in, Williams shot wide after being put into a good position by some neat passing and Bell was not far off at all with a well struck shot after weaving past three or four opponents, but it was Guerra who came closest to breaking the deadlock after Wickham's fine run and subsequent cross found the unmarked Spaniard (who put the effort in this time that was missing against Bournemouth a month ago) only for his header to be a bit too close to Morris who was able to push the ball on to the post and out.
Those weren't the only times a goal looked to be on either, but Gillingham got to half time still level. Bell's low shot against the upright that I mentioned earlier began the second period on the same note as the first half had ended, but, truth be told, although Gillingham still had to absorb a lot of pressure, they were a little more comfortable than they had been. City, with Abdi Noor a half time replacement for Dæhli, still had their chances when, for example, Phipps' well struck shot forced Morris into action and Noor's goalbound shot was deflected wide, but Guerra's replacement by defender Ashley Baker with twenty five minutes left seemed a strange decision at the time and didn't look any less so as the minutes ticked by – I can understand the need not to overwork someone like Dæhli who will probably be involved on Saturday, but surely, Guerra needs as much game time as he can get at the moment?
This was especially true after Gillingham took the lead with about twenty minutes when City's second string showed themselves to be as poor as their senior colleagues at keeping clean sheets (just like the first team, they've only kept one so far this season). As mentioned earlier, Gillingham passed the ball neatly enough to fashion the chance, but it was all a little bit too easy for them – I don't know who scored I'm afraid, but it was from a well hit shot from the edge of the penalty area that Wilson (who had virtually nothing else to do) had no chance of saving and it made me smile at least to see virtually the whole of the Gillingham team follow the scorer in celebrating right in front of the completely empty away fans seats.
Apart from that one shot in the first half, it was the first time the visitors had looked like creating anything, but, within a minute or two they might have had a penalty when Turner clashed with Millbank – it certainly fell into the "I've seen them given" category as far as I was concerned.
Declan John was moved to left wing (I still think this might turn out to be his best position) in the rearrangement following Guerra's withdrawal and the Wales international represented City's best hope of getting back on terms as Gillingham closed in on their win – when Morris picked up the injury which was to force him off as he collided with a team mate as Noor chased a through pass, John got to the loose ball, stepped past an opponent and his shot looked destined for the net only for the stricken keeper to push the ball out for a corner. John was also not too far wide with a long range free kick, while replacement keeper Hadler knocked a fairly tame Noor shot into the sort of area that a goal poacher like Guerra may have been able to take advantage of.
Williams had the ball in the net late on, but it looked to me as if the linesman was correct to raise his flag and give him offside and Ben Turner ended the game playing up front – he must have won something like about 80% of the headers he had to go for in the game, but, there was a lack of precision in the balls that were knocked up to him which meant he was never able to offer the same threat as he had done from set pieces.
The Gillingham teams loud celebrations at the final whistle showed just what the win meant to them and good luck to them in the rest of this tournament.
This was only the second Development team game I've seen this season and, in contrast to the previous two seasons where they invariably won, I've yet to see them score this year. Having sat through much the same sort of game when the Under 18's lost to Brentford on Saturday and then watched the first team's latest lamentable away showing a few hours later, I must admit that 14/15 is not up there among my favourite City seasons at the moment!