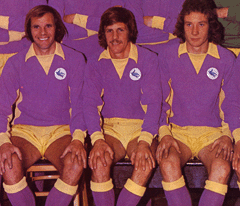 In my last piece in this section, which was posted after our 3-1 home win over Ipswich on 25 March, I said that wins in our last two matches would clinch us a top two finish in the Under 21 Professional Development League Two – South which would take us into end of season Play Off's with the best two teams in the Northern section. On 3 April, the Development team traveled to Ashton Gate to face Bristol City in the first of these games and gained a hard fought 3-2 victory – Rhys Healey opened the scoring in the first minute and Filip Kiss added a penalty after the home side had grabbed a quick equaliser. The wurzels came back again and the teams were level 2-2 at half time, but substitute Declan John's volley from the edge of the penalty area proved decisive.
With what looked to be the hard part of their double task completed, the team faced bottom of the table Barnet at Underhill on Wednesday. The hosts had only one win and two draws to show for their thirteen games played, but this didn't stop them going ahead in five minutes and when they still held that lead at half time, things were beginning to look ominous for Kevin Cooper's team. The third quarter of the game was almost over before City's pressure finally told, as Healey equalised and the young striker soon had an assist to his name when his long throw broke to Kadeem Harris and the winger netted his first goal of the season from close range. Etien Velikonja then gave the side some breathing space with a third goal in the eighty second minute and so, after having not picked up an away point until the end of February, the Development side recorded a sixth consecutive win with five of them coming on their travels.
What happens now is there will be a four team play off for the overall title – this league table does not include the three points we got at Barnet, but it does show that, with their far superior goal difference, Charlton realistically only need one win from their remaining two matches to clinch the title. For a long time it's looked like Leicester and Derby would fill the top two places in the Northern section with the former taking the title, but the most recent table I could find is three weeks old and Derby's results have not been great since then, so it may be that someone like Huddersfield could sneak in at their expense.
I had presumed that the Play Off's would be contested over two legs, but I've noticed that the fixture list I was given at the start of the season says that the Play Off Semi Finals and Final will be one off games to be played on 4 and 11 May respectively. I take it therefore that, with us likely to finish second in our league, we'll be playing away again, almost certainly against Leicester, in the Semi Final and it will be down a toss of a coin or something like that to decide the venue for the Final if we get there – I suppose neutral venues cannot be ruled out, but you'd think that these matches could attract decent crowds if they were played on the ground of one of the teams taking part, whereas it would be a case of the proverbial one man and his dog on neutral territory.
Anyway, there has to be a good chance that the Under 21's have played their last competitive home match of the season. Having seen all ten of the games we played at Cardiff City Stadium, I must say that, speaking just as a supporter and spectator, that the Development League has proved to be a very welcome addition to Cardiff City season. Obviously, a winning team helps and with nine victories and just the one loss at home, they were certainly that, but there was also an entertainment factor in virtually all of the matches I watched which hasn't always been present with the first team.
At this time of the campaign I have nominated my player of the year for the Academy side on here in previous years and I'd like to do the same now for the Under 21 Development side. With thirteen goals to his name, Etien Velikonja has to be a strong contender, but the primary purpose of this competition is to continue the development of young players, so I'm going to look at them rather than the seniors who were allowed to take part as over age players and I'd say that, based on the matches I've seen, Declan John is a real candidate, but injury limited his participation in the closing weeks of the season and so I'm going to give it to someone who I'm pretty sure played in all twenty matches and became increasingly assured in his defensive work as the weeks went by – Adedeji Oshilaja's progress was rewarded by him being given the captaincy when Ben Nugent and Joe Ralls were absent for a game or two and the centreback is my Under 21 team player of the season.
Finally, here's our results for this season for anyone who is interested;-
Mon 20/8/12. H………. Brighton & Hove…..7.00 pm…..2-1 W Darko (pen), Hill
Sun 26/8/12.. A………..Ipswich Town……..11.00am. Training Ground. 0-6 L
Mon 3/9/12….H………..QPR…………………..7.00 CCS. 1-4 L Keinan
Fri 14/9/12….A…………Brentford……………2.00pm Griffin Park. 1-2 L O'Sullivan
Tue 25/9/12..H…………Charlton Athletic…..7.00pm CCS. 2-0 W Conway, John
Mon 29/10/12.H…………Millwall………………7.00pm CCS. 4-0 W Velikonja (3), Jarvis
Mon 5/11/12…..A………..Brighton………………TBC. 0-1 L
Tues 13/11/12..H…………Swansea City………7.00pm CCS. 2-1 W Conway, Darko
Tues 20/11/12.H…………Colchester…………..7.00pm CCS. 4-0 W Velikonja (2), Mutch, Kiss
Tues 27/11/12 H…………..Bailey Academy………………………….3-1 W Hill, Bowen, Darko (pen)
Mon 3/12/12…..A………..QPR……………………TBC………..1-2 L Coulson
8/1/13 H Exeter (Friendly) 0-0 D
Mon 14/1/13….H…………Barnet………………..7.00pm CCS. 2-0 W Kiss, Velikonja
Mon 28/1/13…H…………Brentford……………..7.00pm CCS. 2-1 W Velikonja, Ralls
Mon 11/2/13 H Bristol City…………… 7.00pm CCS 4-0 W Velikonja 3, Mutch (pen)
Mon 18/2/13….A…………Charlton Athletic……1.00pm Sparrows Lane. 0-4 L
Tues 26/2/13….A……….Swansea…………….7.00pm Stebonheath Park. 2-1 W Mutch, Gestede (pen)
Tues 12/3/13..A…………Millwall………………1.00pm….The New Den. 2-1 W Velikonja, Coulson
Mon 18/3/13.. A…………Colchester………….7.00pm..Weston Homes C. Stadium 3-1 W Healey 2, Kiss
Mon 25/3/13…..H…………Ipswich……………..1.00pm ……CCS 3-1 W Velikonja, Healey, Kiss.
Wed 3/04/13..A…………Bristol City…………..7.00 Ashton Gate. 3-2 W Healey, Kiss (pen), John
Wed 10/4/13…..A……….Barnet………………..1.00……..Underhill Stadium.. 3-1 W Healey, Harris, Veikonja
Sat. 4.5.13 SEMI FINAL.
Sat 11/5/13 FINAL.