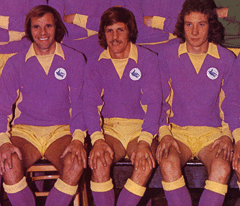 I've been banging on a lot this season about the lack of goalmouth action, for either side, at the Canton End of the ground. I'm not too bothered about how little our opponents have done when playing towards the end of the stadium where I sit, but I must say I have had better seasons watching us play at home than this one has been up to now – with us having lost half of our our matches at Cardiff City Stadium, I'm getting into the habit of going home in a foul mood as I make mental note that I really must get my eyes tested after watching ninety minutes of football where the ball always seems to be about seventy yards away from where I'm sitting!
It took me about three games to cotton on to the fact that nothing worth recalling ever happens at the Canton End this season, but I do have to say that I can sometimes jump to these sort of conclusions too early – for example, three awful Development team matches watched at Leckwith this season had produced just one goal (scored by a Barnsley player as his saved penalty fortunately came straight back to him) and, worse than that, each match was getting progressively worse.
So, when I was waiting the usual ten minutes for the gates to reopen at St Fagans level crossing while driving to today's Academy game with Bristol City, I wasn't too bothered about missing some of it because, after all, matches played at Leckwith this season are always rubbish aren't they.
As it turned out, I only missed a minute or so and I was there while three goals were scored in the first six minutes of the game. However, as the first one went in as I was getting out of my car some one hundred and fifty yards away (I really must get my eyes tested), I cannot describe it in too much detail – some Bristol player headed in from what looked like close range with no defender near him.
With a steady drizzle coming down, it was a no brainier to shelter under the single stand at the ground and so I began to climb the steps to where I usually sit right at the back to avoid the sun getting in my eyes (not a problem today you'll be surprised to hear). I'd only gone a few steps when a small cheer made me turn around to see Isaak Davies being congratulated after his equalising goal – the way the City players went over to Ibby SoSani on their way to the halfway line made me suspect he had provided the assist, but I'm just guessing there and will have to wait for the video to appear on the club website to see what sort of goal it was.
I watched the wurzels restart the match and then resumed my climb, but this time I was determined not to be caught out again like I just had been. Therefore, it was no more than fifteen seconds later when I turned round to see Bristol's Cam Allen in glorious isolation with the ball at his feet about eight yards out – he duly knocked the ball passed Scott Coughlan to make it 2-1 – how the ball got to Allen in such a position so quickly though, I've not a clue.
Obviously, it was only the Under 23s who hadn't been able to locate the goals at Leckwith then and as I took my seat to watch the match restart for the fourth time in seven minutes, I reasoned that a very high scoring draw was certainly a potential outcome. As it was, there were just two more goals, both scored by City as they recoded a win in which the 3-2 score line gave no sort of indication as to their superiority throughout.
The truth was that the wurzels time as an attacking threat in this game came and went before I had reached my seat in the stand. After the ball hit the net for their second goal, all they could muster was one shot from about twenty five yards in the second half that was well enough struck, but as it was straight at Coughlan and travelling at a comfortable height for the keeper, he had no trouble at all in making a routine save.
The rest of the first half was one way traffic towards the wurzels goal as City recovered their poise impressively to completely dominate. With Davies and captain Cameron Coxe consistently making inroads down the right, City were able to work some very promising positions for themselves – sometimes, they could have done with more care with the final ball, but they did more than enough to be well in front, rather than level at 2-2, by the interval.
Forced into constant defending, the wurzels showed character and resolution as good anticipation and a few last ditch blocks and tackles kept City out and their keeper Carey had surprisingly little to do considering how the game was shaping up.
However, when he could only palm out another teasing cross from the right to James Waite, some twenty yards from goal, he did tremendously well to palm the resultant shot aside, but he still needed a couple of his team mates to come to the rescue when the ball bobbed about no more than a yard from the line as Mark Harris waited to pounce.
The increasingly influential Jarred Welch seemed to have beaten Carey with a fiercely struck shot from twenty five yards, but the ball flew just wide, then SoSani fired over when well placed and Harris seemed to lose his bearings when in a great position about six yards out.
Just as it looked like City would, unbelievably, reach half time still trailing, they were able to move the ball smoothly from right to left towards Welch who curled in a delightful cross that Harris was able to nudge in from close range as he got ahead of his marker.
The young player singled out for praise by Neil Warnock had at times seemed more interested in his running battle with Bristol's number six for the opening forty five minutes, but, having scored a pretty simple goal, he showed his quality seconds later when some clever movement took him free of his marker and his low cross was turned narrowly wide of his own goal by a desperate defender.
The wurzels made a couple of substitutions at half time, but the early minutes of the second period saw no change in the pattern of the game as City forced a series of corners, one of which was headed on to a post by centreback Lewis Baldwin.
A goal seemed inevitable and it arrived in the fifty second minute when the ball was again worked neatly from right to left, but this time it was SoSani who did well to put in a dangerous cross that was only half cleared to Waite who took a touch before showing his finishing ability by firing a left foot shot across Carey and into the net from the corner of the penalty area.
To borrow a term from a film franchise I'm no great fan of, the force had been with City for fifty minutes as Man of the Match Welch drove them forward with a series of precise and perceptive passes and, at this stage, City doubling their goal tally did not seem beyond them.
However, although they still pushed forward, the desire they had shown while behind and level had, to a large extent, deserted them and the rest of the game passed off with little of note happening at either end of the pitch – although the fact that Bristol had scored from their only two serious attacks would have given them hope that an equaliser was not beyond them if only they could rediscover their attacking prowess of the first few minutes.
It never happened though and the game finished in low key fashion with City pleased to be going into Tuesday's daunting Youth Cup clash at Chelsea with a win behind them and me having learned not to jump to premature conclusions about what sort of game I'm about to watch – I wonder what the odds are on us scoring five at the Canton End against Wolves on Tuesday?